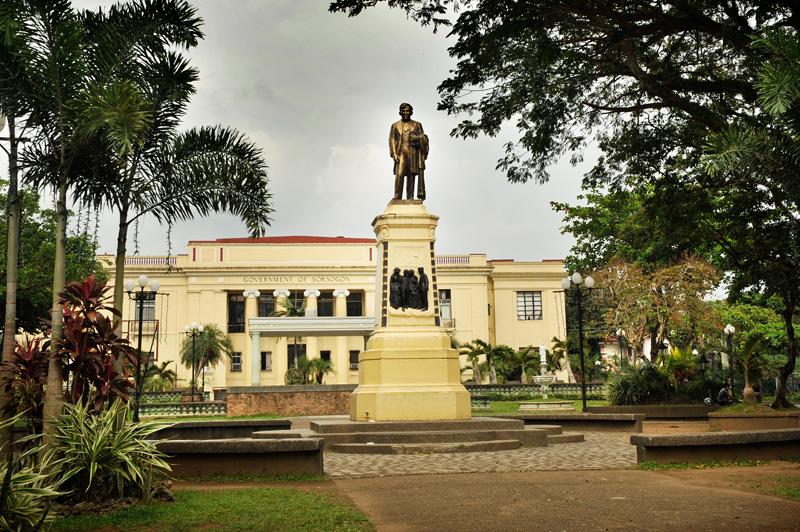 Provincial Hall of Sorsogon
Overview
Sorsogon City is a 1st class city in Sorsogon. It is the capital city of the province of Sorsogon. The city is located in the southernmost tip province of Luzon. Formed by merging the Bacon and Sorsogon towns, it serves as a trans-shipment point from the Visayas and Mindanao provinces. The city is also dubbed as "Gateway to Southern Philippines". Sorsogon City is one of the region's leading cities in urbanization, Bicol's largest city in terms of land area and one of its most populous cities.
History
Sorsogon City was created by virtue of Republic Act 8806 which was enacted on August 16, 2000 and ratified in December 2000. Prominent politicians of the locality behind its creation were former Sorsogon 1st District Representative and now Senator Francis Escudero and former Bacon Municipal Mayor Leovic R. Dioneda. Former Bacon Vice-Mayor Aurelio Destacamento, joined by former Sorsogon councilors Antonio C. Detera, Azel Diesta and Telo Mella fought before the two local legislative chambers, for the approval of appropriation ordinances providing budget for the holding of its plebiscite.
Prior to its ratification, a petition to declare RA 8806 null and void was filed by lawyer Atty. Gil Gojol. Because Bacon municipality was enjoined as one of the respondents in said petition, a young practicing lawyer from Buenavista, Bacon District, in the name of Atty. Glenn Olbes, defended its constitutionality. The legal battle for its constitutionality was upheld later on by a majority decision of the Sorsoguenos who desire for the development of the newly created local government unit.
Opponents for its ratification were incumbent Governor Raul R. Lee and his wife, Sally A. Lee who became its first contested City Mayor. According to the 2007 census, the city has a population of 151,454 people spread across 64 barangays.
The merged municipalities of Bacon and Sorsogon which created the city have their own long histories from Pre-Hispanic Era to present.
Infrastructure
The proposed Sorsogon Business and Leisure Park is a 20 hectare reclamation area linking the 3-hectare Pinaculan Island to the Sorsogon Pier in Sorsogon Bay, forming part of the expansion area of the Sorsogon City's central business district. The area shall have a rock causeway and seawall, complete with wide and well-paved roads, underground electrical and telephone systems and water supply. Low, medium and high density zones shall be identified for business establishments, plants and factories, including a central park.
This is located in Barangay Bucal-Bucalan along the national highway, about 15–20 minutes away by car from the center of the City. Already in place is a small rest area for travelers, complete with a mini-park and a small canteen with a view deck. The proposed development of the area involves the construction of a seafood trading and rest facility, complete with seafood stalls, bayside restaurants and cafes, and adequate parking space. The food stalls and restaurants will specialize in fresh blue crabs which Sorsogon is known for. Customers can have their pick of crabs and other seafood from the stalls and have them cooked at the adjacent restaurants or open air grill shops.
Places of interest
Bucalbucalan Spring – Natural cold spring located in Brgy. Bucalbucalan, a coastal barangay near Pepita Park and Rest Area.
Tolongapo Beach – located in Bacon district
Danao Lake – this is located in Bacon District, near Brgy. San Juan. However, it's also accessible by foot from the side of Brgy. Guinlajon.
Paroja Hill and Grotto – across Pepita Park
Pepita Park and Rest Area – traveler's area, approx. 10 km north of city proper
Sorsogon Bay Walk (also known as Rempeolas)
Beaches of Bacon
Bacon Church

Sorsogon Provincial Capitol and Rizal Park – located in city proper. The provincial capitol dated back during the American occupation.
Sorsogon Provincial Museum and Heritage Center – located in the old Sorsogon Provincial Hospital. It has 3 galleries, with a library, containing a large collection of old Mr & Ms magazines.
List of accommodations around the city
Selvinas Hotel & Restaurant - Maharlika Highway, Pangpang, Sorsogon City, Sorsogon

Fernandos Hotel - 3799 Rizal Street Piot, Sorsogon City, Sorsogon

Ingko Hotel Gabao - Gabao San Roque Bacon, Sorsogon City, Sorsogon

Mayorga Pensione - Pangpang, Sorsogon City, Sorsogon

Tentyard Hotel - Pangpang - Blk 33 St. Rafael Subdivision, Sorsogon City, Sorsogon

Carolina's Hotel - Magsaysay Street Cogon, Sorsogon City, Sorsogon

Villa Isabel Hotel - Flores Street, Burabod, Sorsogon City, Sorsogon

Santa Clara Park Hotel - Maharlika Highway Pangpang, Sorsogon City, Sorsogon

Tentyard Hotel - 105 San Juan East District, Sorsogon City, Sorsogon

Fritz Homestay - 507 Block 21 Executive Village Tugos, Sorsogon City, Sorsogon

Ingko Hotel Macabog - Macabog Diversion Road, Sorsogon City, Sorsogon
Transportation
By Land Transport
The province is accessible from Manila and Visayas via the Pan Philippine Highway. Air conditioned buses plying the Manila to Samar and Leyte routes in the Visayas Island across the San Bernardino Strait from Allen/San Isidro to Matnog.
To get around within the province, taxicabs, for-hire cars, air-conditioned buses, jeepneys, and tricycles are readily available at all hours of the day. One can do an exotic city tour on the ubiquitous 2-passenger tricycles.
By Air Transport
From Manila, one can take direct flights to Legazpi City in Albay province. Flying takes only about 50 minutes. From Legazpi, it is only a 45-minute pleasant drive overland to Sorsogon City.
By Sea Transport
Sorsogon is also accessible via the Manila-Cebu; Masbate-Pilar/Bulan route. Luxury ships from Manila to the Port of Cebu. From Cebu another ship can take you on a twelve-hour trip to the Port of Cebu, Masbate and from Masbate, a fast craft can take you on another two-hour ride to the rustic town of Pilar. For-hire motorized bancas are also available.
Rating:
1 people rated this.