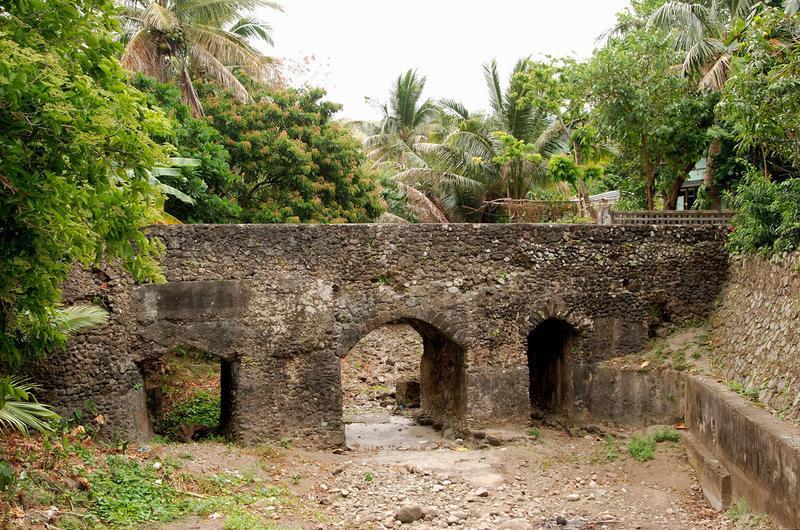 Bringing back our memory to the rich history of Batanes as we go back to one of the province historical landmarks – Tuhel Bridge – serves as a living museum of the spirited past of Batanes.
The Ivana Tuhel Bridge is one of the very few intact bridges constructed in the Philippines during the Spanish colonial period. It is located over the Tuhel Creek in the middle of the poblacion. The bridge was constructed during the term of the vicar of Ivana,the engineer-architect is Fr. Nicolas Castano, from October 1802 to March 1810, he was the one who ordered the construction of this bridge and all in Batanes, such as the bridges of San Vicente, Basco and San Felix.
Batanes - Spanish Bridge

The bridge was about 12 meters long and 3 meters wide. There are three arches of different dimensions which functions as supports of the bridge. The altered sizes were caused by the use of cement in repairing it instead of lime mortar. Cracks can be seen on the bridge because of seismic movements and consequent efforts to stabilize it with cement, but is still used by vehicles and pedestrians.
Another historical landmark is the Japanese Tunnel. It is setup by the Japanese in the hilly Batan Island during the Second World War. This tunnel was dug and built by the locals under forced labor by the Japanese.

Japanese Tunnel

How to Get There
By Sea – The Batanes Multipurpose Cooperative now operates the MV Ivatan Princess which runs the Currimao, Ilocos Norte–Basco, Batanes route. It leaves Ilocos Norte at 8pm on Wednesdays and Sundays and arrives in Basco at 4pm the next day. From Basco, it leaves at 3pm on Tuesdays and 10 pm on Fridays. The fare is 1,200 pesos and the travel time is about 18 hours.
By Air – The fastest way to get to Batanes from Manila is by plane. Peak Season is from March-June so be sure to get your tickets months before your scheduled trip to Batanes.
Rating:
2 people rated this.