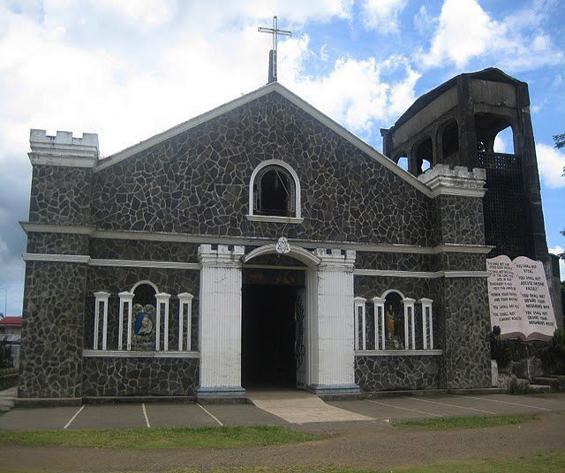 For ages, the church of St. Andrew the Apostle has given the people of the quiet town of San Andres in Catanduanes a place for worship and introspection, as well as a source of pride as being one of the oldest churches in the area.
Old sources said that when the town's Catholic Church was constructed about the end of the 18th century, there was a much bigger unfinished church at the left front of the present church. Parts of its foundation are still seen among the squatter's shanties in the town's section called Campo. The church has undergone a major renovation in 2000.
The parish of St. Andrew the Apostle has a number of pious associations, many of which are dedicated to the Blessed Virgin Mary. These associations provide the parishioners with a powerful means of sanctification and an opportunity to take part in apostolic activities. Members of these organizations consecrate themselves to God in a very special way by means of prayer, Mass and daily Holy Communion. They strive to promote their devotion to the Blessed Mother by every means, especially by example.
In observance of the Lenten Season or Holy Week, religious activities are commemorated traditionally through processions of the devotees with live reenactment of the Stations of the Cross and the Resurrection of Christ celebrations on Easter Sunday.
Location
The church is located in the town of San Andres in the province of Catanduanes.
How to get there
By Air
Zest Air and Cebu Pacific fly from Manila going to Virac, Catanduanes.
By Land and Water
Numerous bus lines operate air- conditioned coaches from Manila to Tabaco, Albay. From the seaport of Tabaco, hop on either at MV Calixta 2, 4 and 5 or MV Eugene Elson to reach the island of Catanduanes going to the seaport of San Andres or Virac.
Another way is to take RSL bus from Manila to Catanduanes that has terminals at Alabang near Metropolis or Ermita.
If you get off to Virac, then going to San Andres will take about 35–45 minutes by jeepney or tricycle.
Going around the Island
Tricycle is the primary mode of transport within the capital town of Virac. PUJs and buses ply from Virac to the different municipalities daily on scheduled time. For the more daring and adventurous, the entire province could be reached by motorcycle.
Where to stay
• Catanduanes Midtown Inn - San Jose, Virac Catanduanes
• Marem Pension House - Sta. Cruz, Virac, Catanduanes
• Kemji Resort and Restaurant - San Isidro Village, Virac, Catanduanes
• Rakdell Inn - San Pedro, Virac, Catanduanes
• Rhaj Apartelle and Executive Inn - Rizal Avenue, Gogon, Virac, Catanduanes
Rating:
2 people rated this.