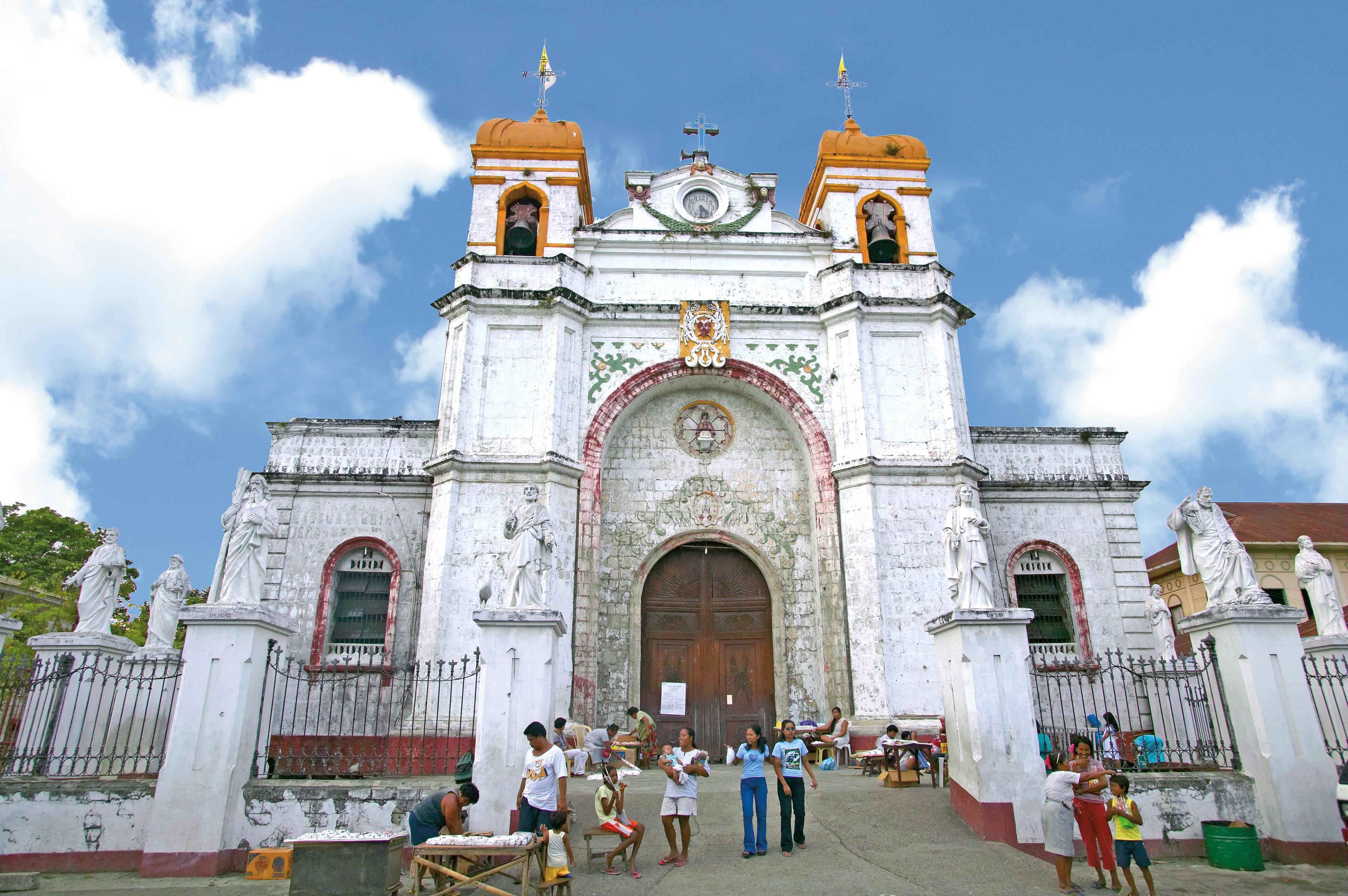 St. Catherine of Alexandria Church and convent was destroyed by Muslim raiders in 1622. The present stone church, which might be the second or the third church to be built, was constructed on top of a hill for security purposes. The construction began in 1860, continued in 1865, and finished in 1875. The church's roof was destroyed by a typhoon in 1876.
The wide Graeco-Tuscan facade with Muslim decorations has a double-indented arched main entrance,a blind wheel window under the upper arch, baroque pediment. The church's patio is surrounded by a fence of coral stone and wrought iron. It has 12 statues of the 12 apostles painted white except for Judas, standing alone on a pedestal in front of the convent, painted black.
The two Muslim-style bell towers have geometric buttresses with no openings except at the third level where ogee arches are used for the bells. The convent was established on May 23, 1559 under the patronage of the Visitation of the Virgin. It measures 33 meters in front and 22 meters at the side. It was ruined during a 1876 typhoon.
Where to Stay
Here is the list of accommodations in Cebu City
Parklane International Hotel - Archbishop Reyes Avenue and Escario St.

Montebello Villa Hotel - Banilad

Waterfront Cebu City Hotel & Casino - Salinas Drive, Lahug

Radisson Blu Hotel Cebu - Sergio Osmena Boulevard corner Juan Luna Avenue

Marco Polo Plaza - Cebu Veterans Drive Nivel Hills Apas

Golden Prince Hotel and Suites Cebu City - Acacia Street, Corner Archbishop Reyes Avenue, Barangay Kamputhaw

Cityscape Hotel - Ayala Access Road, F. Cabahug Street corner Hernan Cortes Street

Harolds Hotel - 146 Gorordo Avenue corner Rosal St., Lahug

Rajah Park Hotel - Fuente Osmena

The Beverly Boutique Business Hotel Cebu - F. Manalo St.

Citi Park Hotel - F. Cabahug Street, Kasambagan Road

Crown Regency Hotel & Towers Cebu City - Fuente Tower 1 Osmena Boulevard

Summit Circle Hotel - Fuente Osmeña

Alto Pension House - D. Jakosalem St

Marriott Cebu City - Cardinal Rosales Avenue
How to Get There
By Plane: From Manila, there are daily flights going to Cebu City.
By Boat: Cebu City's domestic port is the country's busiest. Cebu City is home to almost 80 percent of the country's passenger vessels. The country's largest shipping lines, namely WG&A, Sulpicio Lines, Trans-Asia, George & Peter Lines and Lorenzo Shipping Lines, are headquartered in Cebu. Large passenger ferries with a capacity of 2,000 to 4,000 passengers ply the more distant routes such as Manila, Davao, Butuan City, Zamboanga, and Cagayan de Oro.
From the airport, you can ride a multicab, jeepney, or taxi. Simply ask around for which route to take. They are available 24 hours and cover most of the nooks and crannies of the city.

Rating:
8 people rated this.