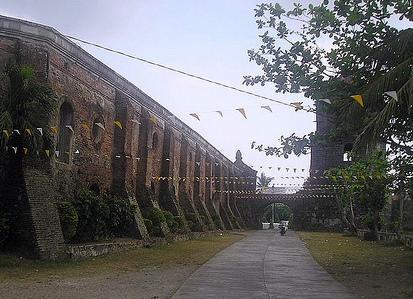 Even among the many interesting churches that can be found in the province of Camarines Sur, St. Joseph the Worker Parish Church remains one of the most visited and most revered places of worship in the province, attracting the faithful for miles around.

The St. Joseph the Worker Parish Church which stands today was once a big convent and monastery built by Frays Juan del Sacramento and Jose de la Virgen in 1585. Although both edifices were destroyed by fire and again were reconstructed by Fr. Francisco Delos Santos in the year 1740, the same year when it was also burned. This Church was dedicated to St. Joseph and its annual celebration of fiesta is observed every 19th day of May.
St. Joseph the Worker is the titular patron saint of the municipality of Milaor. The vision of the parish is to continue forming basic ecclesial communities, locally called as SKK or Saradit na Kristiyanong Komunidad. The locus and focus of this dream of the Church is by clustering all the neighboring families. Each cluster is composed of 15-20 families.
How to get there
By Air
The province of Camarines Sur can be reached by plane within 45 minutes. Flights are serviced by the Air Philippines (Pal Express), Zest Air and Cebu Pacific from Manila to Naga City Airport. Riding a plane is the quickest way to go to the province.
By Land
A number of bus lines like PhilTranco, Isarog Bus Co. and Peñafrancia Bus Lines ply routes daily through Quirino Highway from Manila to Naga.
Going around the province
Buses, vans and Jeepneys are available when traveling outside the city of Naga going to connecting towns of Camarines Sur.
For other municipalities, jeepneys, tricycles and trisikad (manpowered tricycles) are the main transportation.
Where to stay
These are some hotels that can be found in neighboring towns like Pasacao, Pili and Naga City.
• Euresian Paradise Resort - Zone 2 Balogo Pasacao, Pasacao - Camarines Sur, Bicol
• Surfers Paradise Beach Resort - Zone 3a, Caranan, Pasacao - Camarines Sur, Bicol
• Camsur Tourist Inn - Maharlika Highway Palestina, Pili - Camarines Sur, Bicol
• Moraville Drive-In Hotel - Anayan, Pili - Camarines Sur, Bicol
• Tabuco Homestay - 59 Renacimiento Street Tabuco, Naga City - Camarines Sur, Bicol
• CBD Plaza Hotel - Ninoy & Cory AveCBD 2 Bgy. Triangulo, Naga City - Camarines Sur, Bicol
• Sandton Chalet Boutique Hotel - Victoria Heights, San Agustin Canaman, Naga City - Camarines Sur, Bicol
Rating:
0 people rated this.