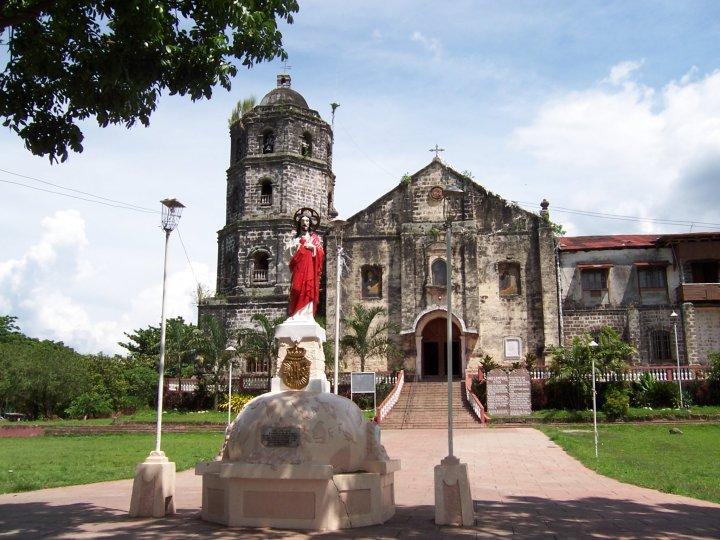 Overview
The glass enclosure contains the blood-stained bolo and hat of General Emilio Jacinto, a young hero of the revolution who is honored for his valor during a fight between Spanish forces and the Katipuneros in the Battle of Maimpis. Wounded, he sought refuge in the church and was later brought to Sta. Cruz for treatment. The blood-stained bolo and hat are found inside the church.
St. Mary Magdalene Church
Magdalena is the home of St. Mary Magdalene Church. This church was constructed in 1851-1871, and made of stones and bricks with a sandstone facade. The church is located at the town center or plaza, just across the municipal town hall of Magdalena. In February 1898, after being wounded in a battle with the Spaniards at the Maimpis River, Philippine revolutionary hero Emilio Jacinto sought refuge in this church. His bloodstains were found on the floor of the church.
About Emilio Jacinto
Born in Manila, Jacinto was proficient both in Spanish and Tagalog, but preferred to speak in Spanish. He attended San Juan de Letran College, and later transferred to the University of Santo Tomas to study law. He had Manuel Quezon, Sergio Osmena, and Juan Sumulong as classmates. He did not finish college, and at the age of 20, he joined the secret society called Katipunan. He became the advisor on fiscal matters and secretary to Andrés Bonifacio. He was later known as "Utak ng Katipunan".
Jacinto also wrote for the Katipunan newspaper called Kalayaan, under the pen name Dimasilaw, and used the alias Pingkian in the Katipunan. Jacinto was also the author of the Kartilya ng Katipunan.
After Bonifacio's death, Jacinto pressed on the Katipunan's struggle. Like general Mariano Álvarez, he refused to join the forces of general Emilio Aguinaldo, the leader of the Katipunan's Magdalo faction. He contracted malaria and died in Magdalena, Laguna, at the age of 23. His remains were later transferred to the Manila North Cemetery.
Accommodations
Location : Sta Rosa Tagaytay Road, Santa Rosa, Laguna, Philippines
Location : Sta. Rosa Business Park, Santa Rosa, Laguna, Philippines
The Green Glass Boutique Hotel
Location : Crossing Calamba City, Calamba, Laguna, Philippines
Tahanan Ni Aling Meding Hotel
Location : Dagatan Boulevard, Sampaloc Lake, San Pablo, Laguna, Philippines
Rockpoint Hotspring Resort Hotel & Spa
Location : Maria Makiling Hot Springs Village, Purok Uno, Brgy Pansol Calamba City, Los Banos, Laguna, Philippines 4017
How to get here
Here is the list of terminals where you can spot buses that have trips going to Laguna.
Kamias, Quezon City (near Cubao)

Buendia corner on Taft Ave., Manila
Rating:
0 people rated this.