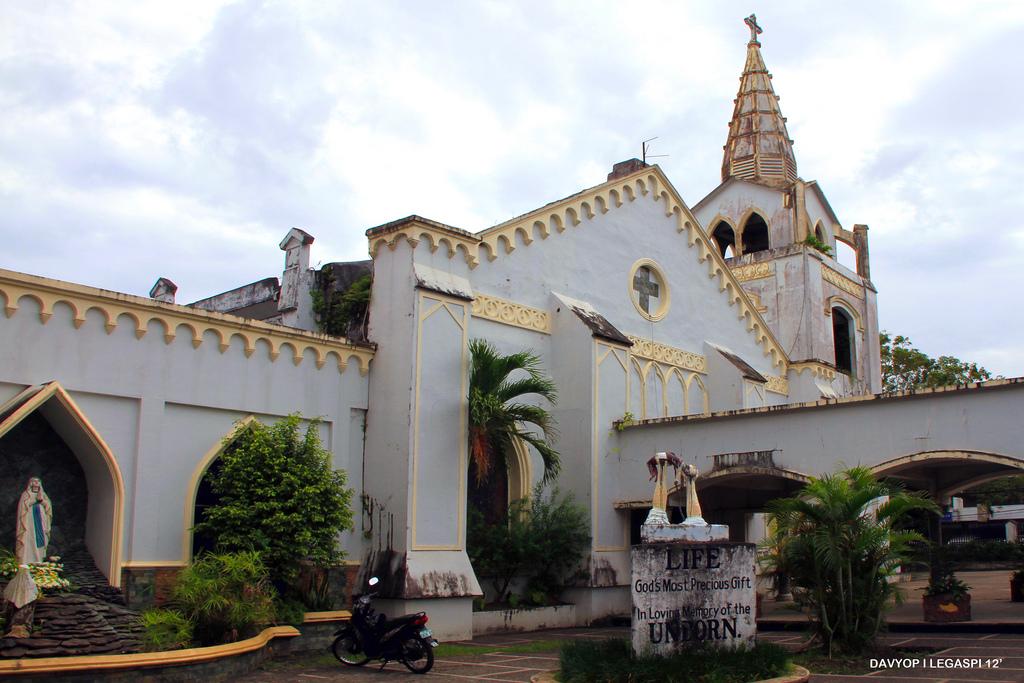 Aside from the many natural wonders that can be seen in Legazpi, Albay, the city is also home to many attractions that reflect the colorful history of the city and the province. St. Raphael Parish Church is one such piece of history that can be found in the Legazpi Port District on Peñaranda Street in Legazpi City.
An old historical marker by then Philippine Historical Committee, now National Historical Commission of the Philippines, gives visitor an insight on the history of the church. The spiritual administration of the town from 1587 to 1616 was under Cagsawa the church was burned in 1754 along with several houses. On February 1, 1814 an eruption of Mayon Volcano destroyed the newly built church and buried half the town. In 1856, the town's old name of Pueblo Viejo was officially changed to Legaspi. In 1834, the new church of Legazpi was established with the help of Pedro Romero. The church was damaged during the Second World War. Again, the church was reconstructed to its present structure.
List of Accommodations in Legazpi City
There are also inns, hotels, and accommodations throughout the city where you can stay.
Vista Al Mayon Pensionne - Washington Drive Legazpi City, Legazpi - Albay

La Roca Veranda Suites & Restaurant - La Kandula Dive, Gogon, Legazpi, Albay

Salvador Manor de Legazpi - 153 Washington Drive, Legazpi - Albay

Mayon View Apartelle and Restaurant Sa Bukid - Narra Drive, Pagasa Rawis, Legazpi - Albay

Corner Place Hometel - Barriada, Legazpi - Albay

Magayon Hotel - Penaranda Street, Legazpi - Albay

Legazpi Airport Hotel - Brgy. 40, Cruzada, Legazpi - Albay

Shell Inn - Purok 7, Arimbay, Legazpi - Albay

Carlo's Hometel Bed and Breakfast - 719 , Legazpi - Albay, Bicol , Philippines

Legazpi Tourist Inn - 3rd Floor V and O Building Quezon Avenue corner Lapu-Lapu Street, Legazpi, Albay
Getting Here
Legazpi City is accessible by practically all modes of transportation, making it the gateway to Bicol. Visitors can choose from several transportation options when going to Legazpi.
The fastest and most convenient way is by air travel. The city is served by the Legazpi Domestic Airport, the region's busiest airport with seven daily flights from Manila to Legazpi and vice-versa via:
The most common way to reach Legazpi is via land transportation. There are several bus liners that have daily operations between Manila and Legazpi. Buses vary from ordinary coaches to deluxe coaches with modern amenities. Travel time ranges from 9 -12 hours.
Legazpi is also accessible by sea. Its very own Legazpi Port caters mainly to passengers going to nearby municipalities and international cargo ships delivering goods. The nearby Tabaco City Port is an international port of entry.
Rating:
20 people rated this.