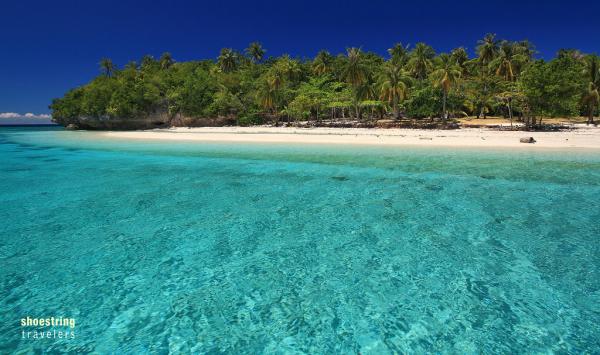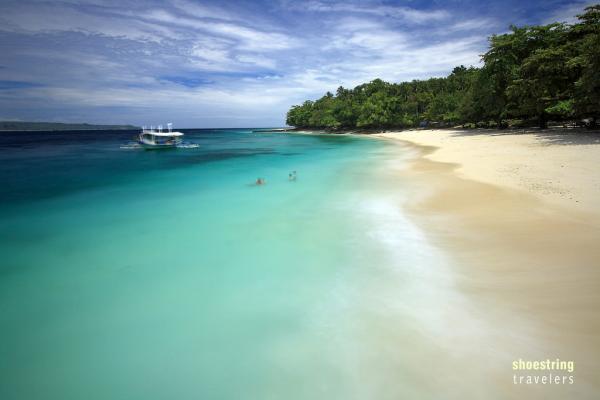 You may also check these sites:
https://www.shoestringtravelers.com/?q=node/106
https://shoestringdiary.wordpress.com/2015/04/05/start-of-summer-at-mahaba-island/


For several days we've been tracking the progress of Tropical Storm Bavi as it made its way across the Marianas group of islands in the Pacific. It was forecast to enter the Philippines possibly hitting the Eastern Visayas – long the seemingly preferred route of typhoons. With this development it might have been wise to postpone our trip to Leyte but, unfortunately, we had already paid for our discounted tickets and it was practically impossible to rebook flights. It seemed like another one of those goof-ups when you try to save on travel expenses but end up spending more in the process.

A few days later though, the threat did not materialize and it was with relief and grateful hearts that we made our way to the sleepy town of Inopacan on the way to Cuatro Islas. The sun was up with just a few specks of white clouds framed by a beautiful blue sky. It was officially supposed to be the start of summer in the country. The weather could not have been any better for an island-hopping adventure.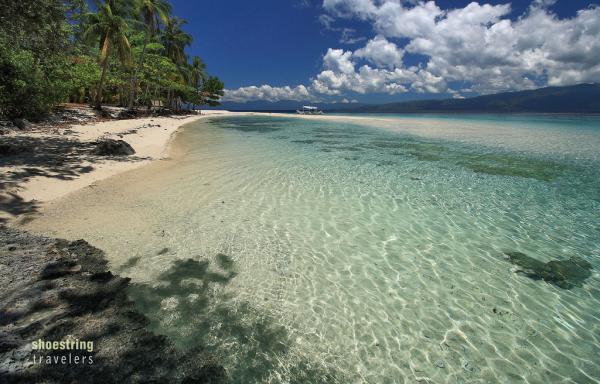 The seemingly deserted white sand beach at Mahaba Island's eastern section

We've known about Cuatro Islas for more than ten years now but it was only recently that we embarked on a serious move to visit the place. One of Leo's old friends from college – Dr. Oggie Hermosilla, a retired UP Math professor – had gone back to live at his native Ormoc years ago. We thought now would be a good time to reconnect with him in person and then visit a few tourist destinations in his home province. Funny, but Oggie himself had never been to Cuatro Islas despite the fact that Inopacan is less than 70 kilometers away from Ormoc. Cuatro Islas – which stands for the 4 islands of Digyo, Mahaba, Himokilan and Apid – has never been featured prominently on the tourism radar unlike Kalanggaman Island farther up north. It was just what we have been looking for.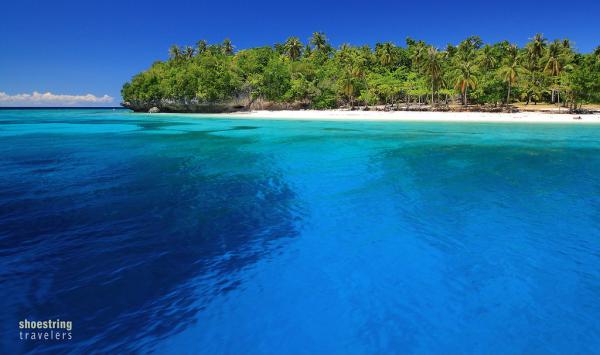 Approaching Mahaba Island

First on our list of this group of islands is Mahaba. After a little more than 30 minutes of sailing by motorized outrigger from Inopacan town proper, we were greeted by the sight of a beautiful elongated island encompassing a lush verdant forest, a small number of rock formations and a gorgeous white sand beach – all set against a backdrop of crystal clear turquoise waters. There was hardly any other soul in sight as our small group of five landed on the long white sand beach on the island's eastern shore. Just perfect!

The place was practically deserted so we found it easy to just change into our swimming attire under the shade of trees behind the beach. In no time we were swimming to our hearts' content in one of the clearest waters we've ever encountered.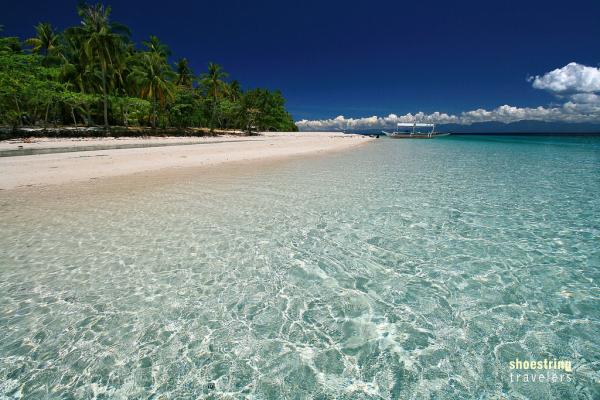 The crystal clear waters off Mahaba Island

The immediate area of the beach is relatively shallow and free of rocks making it perfect for swimming. A long depression of soft sand runs parallel to the beach front trapping water and small fish along its length and producing beautiful patterns of emerald green water whether in high or low tide conditions. Leo was taking pictures of the phenomenon when he took a step and sank knee-deep into the soft sand, almost losing his balance and the camera in the process.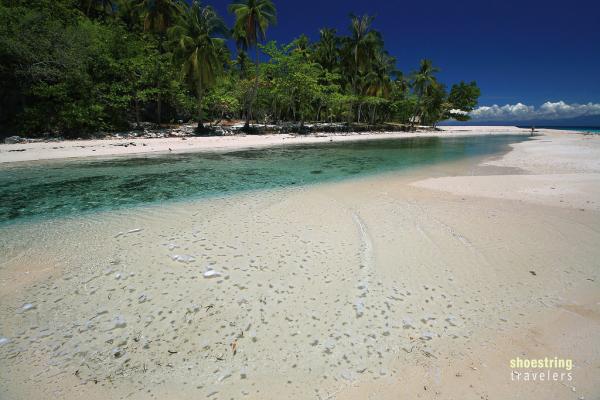 The depression of soft sand at Mahaba's eastern beach at low tide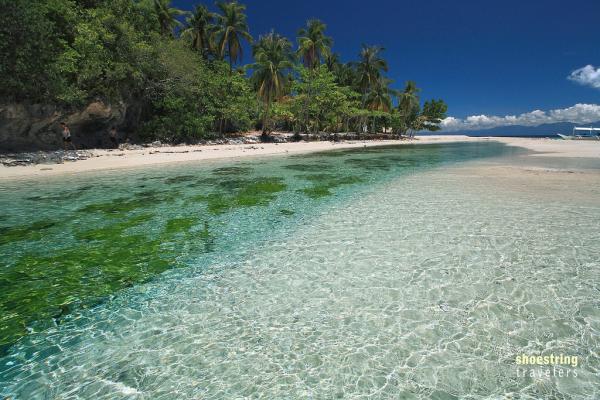 The same section of beach at high tide

The eastern beachfront at Mahaba is probably the best in all of the Cuatro Islas. There is another smaller stretch of beach in the northern part of the island with a small group of houses located nearby. The eastern beach is practically deserted except for one or two small huts among the shade of coconut trees. We spent the rest of our morning here, enjoying solitude in a small corner of paradise.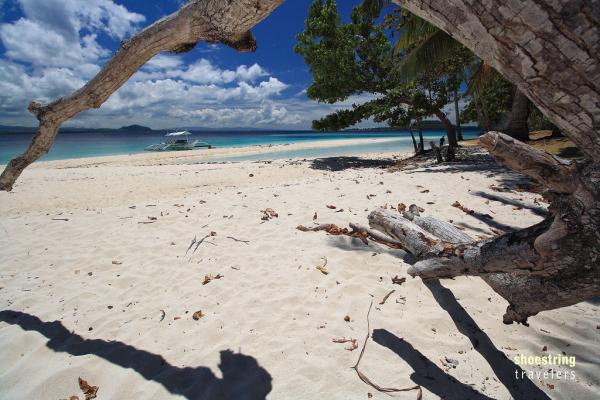 Finding solitude beside a fallen tree

Perhaps our only disappointment with Mahaba was the fact that we did not get to see any corals and reef fishes while snorkeling. It was especially disappointing to our nephew whom we had sold on Cuatro Islas as having some really good snorkeling spots. We even read somewhere that sea turtles have been encountered on occasion at Mahaba Island. We later learned to our chagrin that the coral reef is about a hundred meters or so out to sea. Why of course! Apparently there is a reef wall at a point where the sea bottom drops down abruptly. From previous experience we knew there would be plenty of reef fishes at that location. We should have asked our boatmen to head out from the beach and anchor the boat at that point for snorkeling.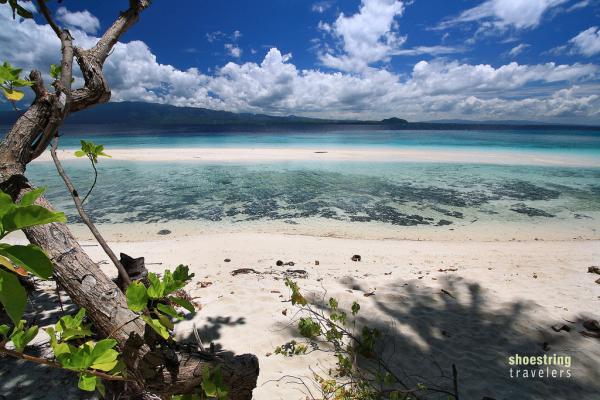 The Leyte mainland as seen from Mahaba. The sand depression and sandbar is visible in the center

Another missed opportunity was the chance to observe an unusual specie of red shrimp in the ponds and streams of Mahaba's interior. We also read somewhere that these shrimps can give your feet a massage similar to what doctor or nibble fishes do at foot spas. It seems we only learn about these things after we have visited a place – despite the tons of research we do to learn more about the places we were planning to visit.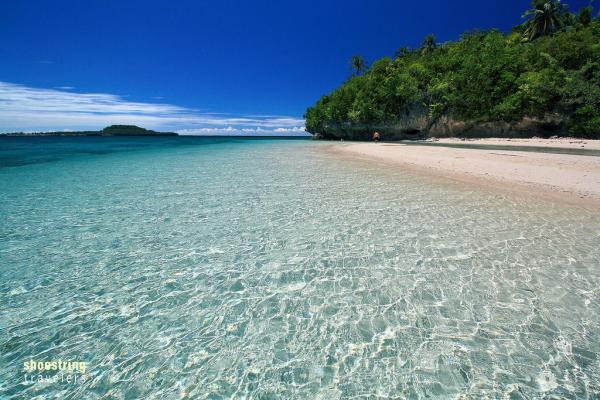 One last look…

Still, our adventure at Mahaba was a memorable one. The island is the most beautiful of the Cuatro Islas with the possible exception of Digyo. We were so enticed with the beauty of this place that it was almost lunch time before we packed up to head for our next island destination: Digyo.
Rating:
0 people rated this.