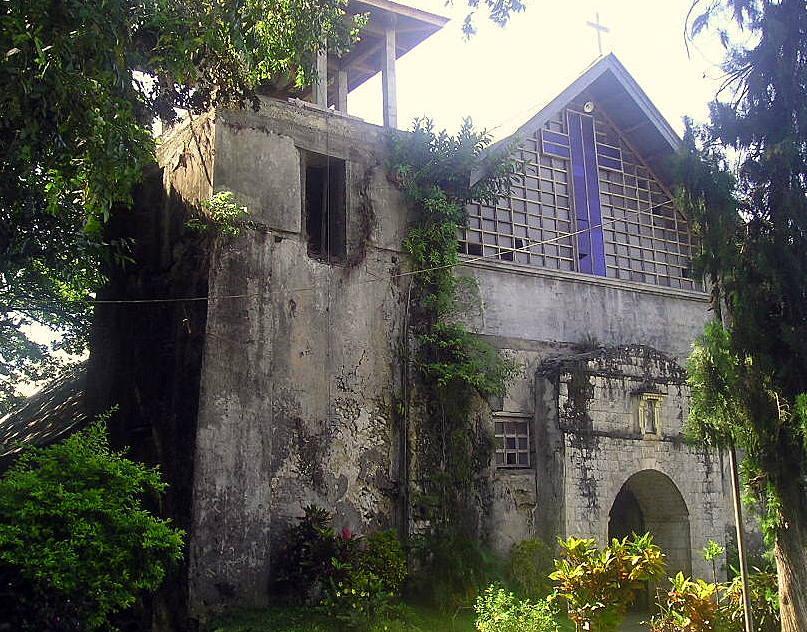 The first time I've heard about a "Green Church" in the province of Camiguin, I have said that this church is only one of its kind here in our country. This famous church is also known as Sto. Rosario Church located in the rustic town of Sagay.
Unlike the other Spanish colonial churches in the Philippines, Sto. Rosario Church is very simple. Its façade is not conspicuous; rather, it has a weathered beauty that is common to most century-old churches. The altar wall has multi-colored adobe stones, not the antique wooden retablos usually found in old churches.
Though Santo Rosario Church lacks the magnificence of a cathedral, stepping inside the church will give you a glimpse of the church's past and the role it played in history. The church was built in 1882 using coral stones and undergoes some renovations to strengthen the new structure. The present structure was made of steel bars and modern building techniques.
Sto. Rosario Church is sometimes referred to as Green Church. It is because of the materials used that show the creativity and environment-friendly of the church designers. Driftwood chandeliers, the sawali (woven bamboo skin) walls, the ornamental plants at the entrance, bamboo columns, and other local materials are the first things that will welcomes you upon entering the church.
Venture to Camiguin Island…
There are daily flights from Manila to Cagayan De Oro City's Lumbia Airport. From the airport, a jeepney ride will take to Agora Bus Terminal, where there is a bus going to Balingoan, Misamis Oriental, a coastal town that serves as a entry point to Camiguin. It takes on hour to cross the port of Benoni, or 45 minutes to cross towards the port of Guinsiliban. From Cagayan De Oro, there is also a daily catamaran that plies the CDO-Camiguin route. The same ferry also travels daily from Camiguin to Tagblaran, Bohol and vise versa.
Rating:
3 people rated this.