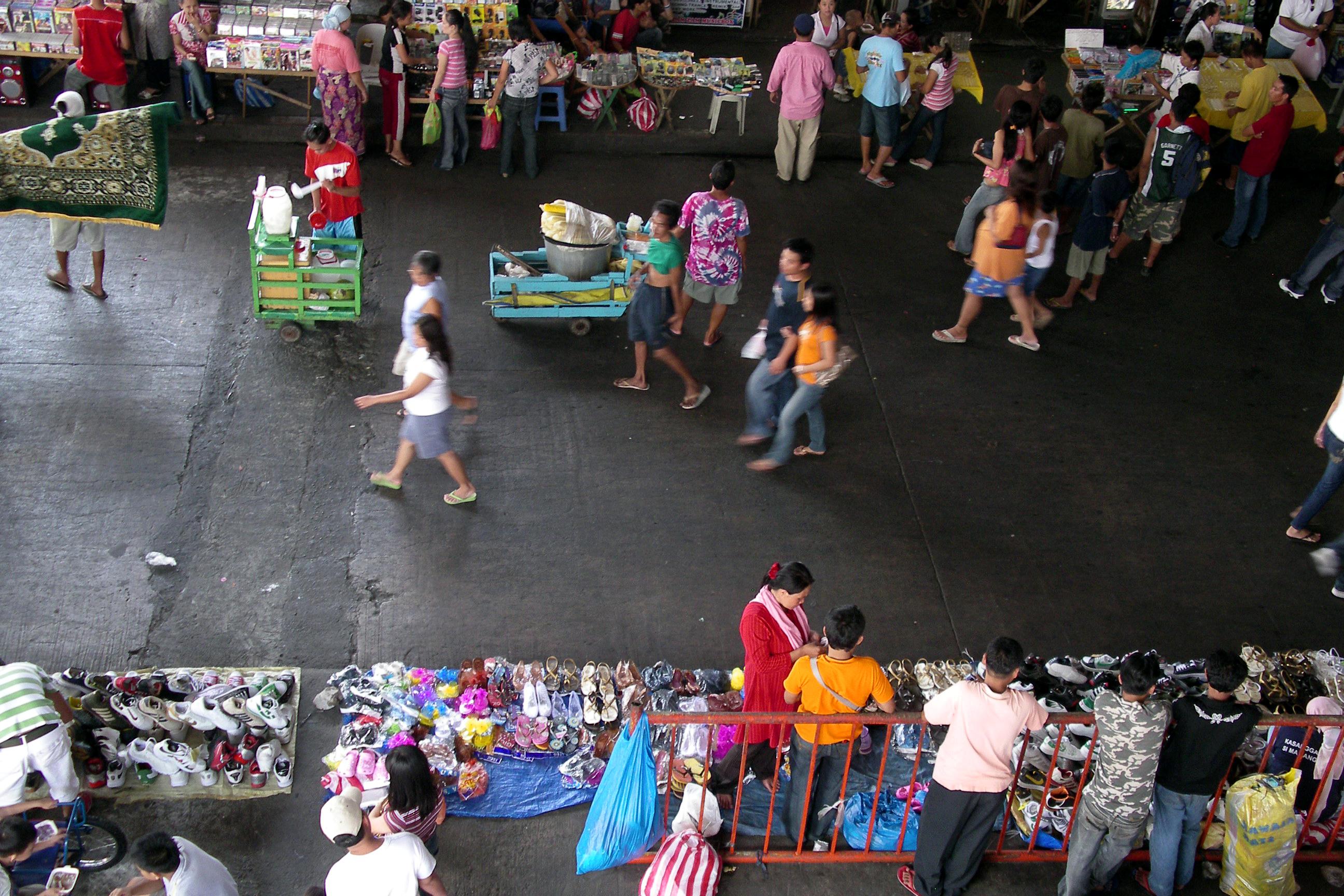 Baclaran Market
Overview

Barangay Baclaran is noted for the Wednesday Novenas at the shrine of our Mother of Perpetual Help National Shrine of the Redemptorist Church. Every Wednesday more or less 10,000 people from all walks of life converge at the church to attend the novena. It is without argument the most attended church in Asia.
At the same time, Baclaran is the gateway for those coming from the north to such localities as Las Piñas City, Cavite province, and the other Parañaque barangays in the first district. In fact, people from the Philippine capital of Manila usually pass through Baclaran to reach both the international and domestic airports.
This peculiarity made Baclaran a center of commerce and trade, famous throughout the country and second only to old Manila when it comes to discounts and to the variety of products sold.
Most residents are Roman Catholics, followed by Protestants, members of the Iglesia Ni Cristo and Born-Again Christians. In later years, Muslims have become prominent in the barangay, dominating a large sector of commerce.
Community activities mostly revolve around religious celebrations, particularly during the Holy Week and the Yuletide season when Baclaran becomes host to the multitudes who seek the best discounts for their Christmas shopping.
Baclaran Church
Historical Background
Being near the sea, Baclaran was named after a fishing gear used by the fishermen, called baklad, which means a rattan fence placed by fishermen around the siblings. The fence surrounding the siblings was such that fish could get out until they become big enough to be sold in the market. Many of these baklads were made in the sea by the fishermen in Baclaran that people started calling the place "Bakladan". The "d" between the vowels was interchanged for an "r" . Hence "Bacladan" came to be called "Baclaran."
Location
Barangay Baclaran occupies an aggregate land area of 69.8 spuare hectares. The Barangay is composed of six areas. It has a total number of seven national roads, forty six municipal roads and barangay roads. Situated at the northernmost part of Parañaque, Baclaran is bounded by the Baclaran River in the east, Pasay City in the north, Manila Bay in the West and Barangay Tambo in the south.
Places of Interest
Churches
Our Mother of Perpetual Help National Shrine

Evangelican Church

Iglesia Evenglica Unida de Cristo

Iglesia Ni Cristo

Moslem mosque

Sta. Rita de Cascia Parish Church
Dry goods markets
Baclaran Plaza

Baclaran Vendors Cooperative Development Inc.

Baluyot Market

Berma Shopping Mall

Buenavista Plaza

Cabrera Market

Clara Market

DAU Baclaran Plaza

F. Cruz Market

FAGVMI Trade Center

Fater Redemptorist

G. I. Yeres II

Guitirez Shopping Center

ITM

Lapid Market

LFC Home Industries and Religious Articles

Mama Cheding Market

Marfil Market

Mommy Mart

PriceSmart

Segundina Market

T. G. Reyes Market

Tuding's Market

Wilmart Shopping Arcade

Yñiguez Market
Wet markets
Buenavista Plaza

Clara's Market

Flores Market

Loya's Market

Mabuhay Market

Seaside Market
Hotels and apartments
Buenavista Plaza

Carlston Hotel

Chateau de Baie

Excelsior Hotel

RG Buenavista apartelle
Mission areas and their associations
Sitio Maligaya

Sitio San Juan
Transportation
The Public Utility Jeep (PUJ) or passenger jeepney is the most common means of transportation. These vehicles ply the major thoroughfares 24 hours a day, 7 days a week. Pedicabs (bicycles with passenger cabs attached to them) are also used to reach interiors.
Rating:
0 people rated this.