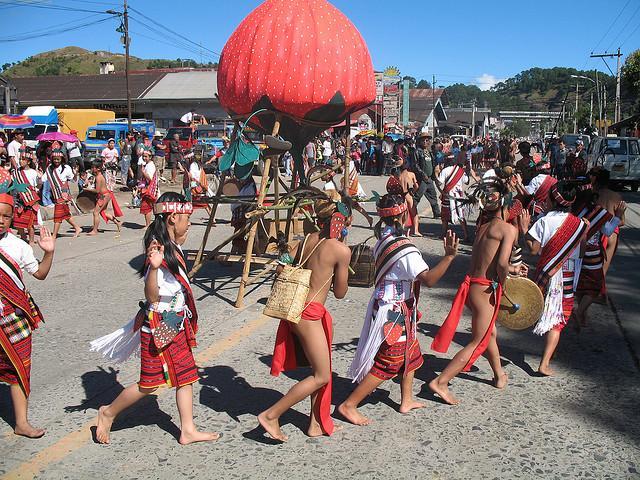 Many parts in the province of Benguet contribute to the strawberry production, places such as Tuba, Tublay and Atok. But the best known and widest producer is the city of La Trinidad where the strawberry fields can be located. Three kilometers from Baguio lay the strawberry fields in Betag, La Trinidad. As an observation, if we say La Trinidad to locals or even foreigners who had gone to this place, it means strawberry (and of course lots of strawberries) and wherever you look, aside from vegetables crops, are huge plantation of strawberries. Since the place produces large amounts of strawberries, it is but just to be known that La Trinidad is the Strawberry Capital of the Philippines. Furthermore, promotion of this fruit produced a festival that is celebrated for the local and foreign tourists.

Date of Celebration
The festival is held annually from the third week of March to the first week of April. Showcasing La Trinidad's strawberries and strawberry products, the town celebrates a long feast with parades, trade fairs, sports leagues, contests and many other fun activities. Of course, there is the Grand Cañao – a festival of thanksgiving for the health of community.
Short History
Thus, the first Strawberry Festival was celebrated in the year 1981. The 1983 Strawberry Festival was marked by the groundbreaking construction of the La Trinidad Vegetable Trading Post which later made La Trinidad the vegetable marketing center of the province of Benguet.
During the administration of Honorable Edna C. Tabanda, the first lady mayor of the city, the name of the town fiesta was transformed into La Trinidad: Panaspulan which meant cultural gathering. It aimed to boost the municipality's tourism industry and to attract local and foreign tourists. Part of the festival activities included the promotion of the municipality's main agricultural products through the Strawberry and Cutflower Festivals. It was in the middle of the 1900s that La Trinidad earned the moniker, Rose Capital of the Philippines.
Strawberries Everywhere!

The twenty-day long celebration features the different products of La Trinidad, Benguet, like:
assorted fresh vegetables

fruits

hand-woven garments

handicrafts

pastries

recyclable materials converted to marketable goods
Also, the highlight of the festival are the products made of strawberries like:
jams

jellies

wines and cakes of which the capital town is known for
Strawberry Festival Activities
Search for Little Mister and Miss Strawberry

Strawberry cake demonstration

Job fair

Balikbayan Day

Cultural parade

Strawberry fun run and walk

Karate inter-club tournament

Slow pitch tournament

Caballero day

Strawberry eating contest

Mister and Misis Strawberry pageant

Search for largest and sweetest strawberry
Rating:
1 people rated this.