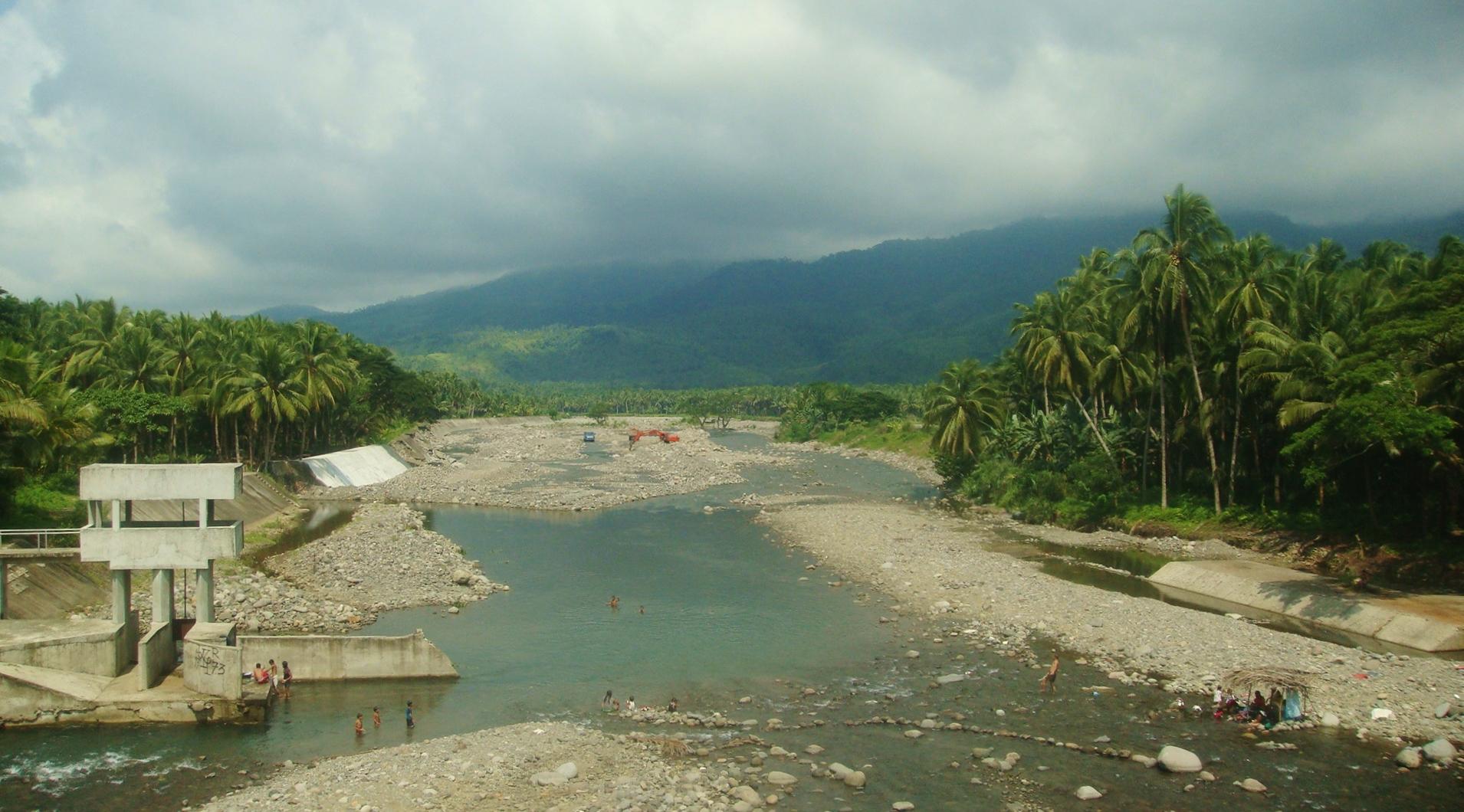 It is the town's biggest river lying on the central part of the area that drains to the Sogod Bay. It is considered as the major drainage of the bay together with Divisoria River found in Barangay Divisoria, Bontoc.
For years, following the floodings of the river, it created an issue over the province. It had been quarried and rechanneled which caused the incidents. After many attempts, the issue remained unsolved.
By description, it can be considered a braided river composed of several channels from nearby areas that divide and reunite forming an alluvial fan with the very wide floodplain. As such, the river usually became hazardous during typhoon after a heavy rain. The river sometime overflows, spilling its waters on the low-lying barangays of San Juan and San Vicente. It destroyed an ongoing flood control project worth millions of pesos. The river has been known to meander along its course, ever changing its way over time. During the time it's flooding, it destructs every side of its course. In 2001, a portion of the road and banks in Barangay San Miguel along the river have been destroyed. It hampered the economic activities of the local residents as well as national because the destroyed portion is part of the Philippine National Road. The local officials blamed the rechannelization and uncontrolled quarrying of gravel and sand at the side of the river as the cause of the flood. At a meeting on March 18, 2002, one of the representatives of a government agency alleged that the reason of the incidents of flood and other environmental problems in the river was due to the Philippine Fault System which caused rocks to rumble down. However, the reason was contended because the fault is a geological feature and environmental problems in the province just occurred that time.
Accommodations
Tahusan Beach Road Hinunangan
GV Hotel Maasin (Southern Leyte) -

T. Opus Street, Maasin City, Southern Leyte, Samar / Leyte, Philippines
GV Tower Hotel - Sogod -

Osmena Street, Sogod, Leyte
Maasin Country Lodge -

Maasin City
Verano Pension House -

Along Kangleon Street, Barangay Matahan, Maasin City, Southern Leyte
Southern Comfort Pensionne -

Demeterio Street, Barangay Abgao, Maasin City, Southern Leyte
Jaimee's Hotel -

Ibarra Beach, Maasin City, Southern Leyte, Samar / Leyte, Philippines 6600
How to get there
From Manila, tourists can reach Southern Leyte by riding a plane via Tacloban. Local airlines from Manila have trips going to Tacloban - the gateway to Southern Leyte. From Tacloban, take an FX van going to Hinunangan - one of the towns in Southern Leyte.
There are buses from Metro Manila, particularly in Pasay or Cubao, that have direct trips to Hinunangan.
Rating:
0 people rated this.