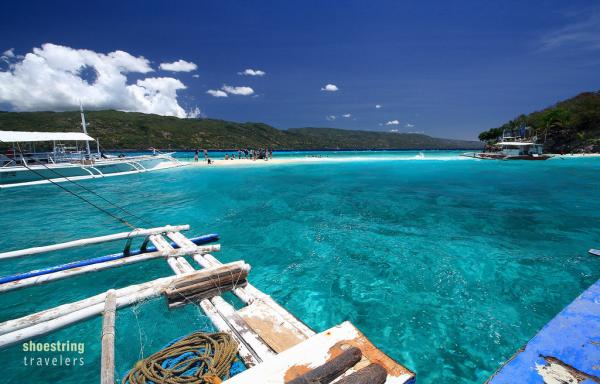 You may also check these sites:
https://shoestringdiary.wordpress.com/2015/06/05/not-just-a-sidetrip-sumilon-islands-sandbar/


Sumilon Island's Sandbar
Like whale watching at Oslob we didn't include Sumilon in our itinerary when we started planning our trip. We've seen photos of the Sumilon sandbar before but thought it required a separate trip. However one of our friends who had recently gone to Oslob suggested we try out Sumilon. It's just 15 minutes away by motorized banca or outrigger boat from Oslob she told us. We needed no further urging. Before doing the whale shark watching we arranged with BCD's Place for a boat to take us to Sumilon.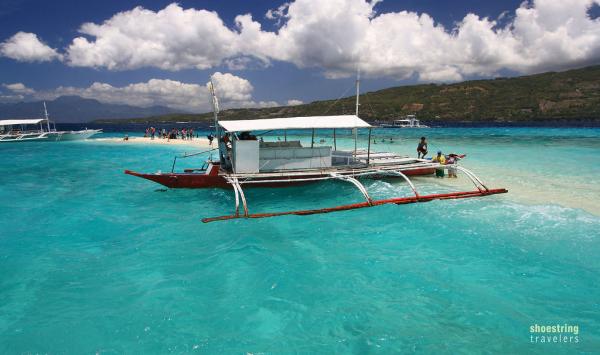 One of several boats parked at the Sumilon sandbar.
Sumilon is actually privately owned with a resort in place: the Bluewater Sumilon Island Resort. It is not really a place for shoestring travelers but the resort owner allows non-resort guests to stay at the sandbar for a minimal fee. And this sandbar happens to be the most remarkable natural feature of the small island.
We got to Sumilon just in time for lunch which we took aboard our boat (the sandbar has no facilities and not even a shade). Afterwards we bummed around the place and even walked to the main island where we climbed up a rock precipice for a panoramic view of the sandbar.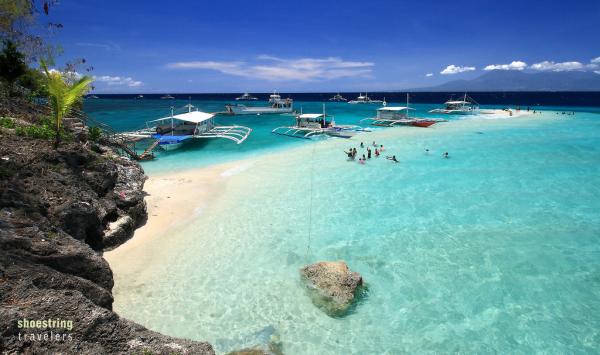 View of Sumilon sandbar from a vantage point on the island.

When we arrived here a good portion of the sandbar was still visible, but somewhat similar to our experience at the Manjuyod Sandbar in Bais, by early afternoon the sandbar was almost fully submerged courtesy of the high tide. The water here is not as deep as in Manjuyod and there was a bit of the white sand still above water, however, so we could roam around without the need for life vests. And like Manjuyod's the waters here are crystal-clear. It was evident, however, that if we wanted a more dramatic view of Sumilon's sandbar, one with the white sand fully exposed, we would have to be here quite early in the morning.
Other Places to Visit in and Around Oslob
We left Sumilon back for Oslob at well past 2PM. We could have toured Oslob town from there but had to leave for the return trip to Dumaguete. Had we stayed overnight at this town though here are some places we could have visited:
1. Tumalog Falls. This is just a 20 minute ride (by trike) and a short albeit steep trek from the town proper of Oslob. Many whale shark watchers also include this in their itinerary since the falls are located just a kilometer away from the whale shark watching area. The falls are probably more than a hundred feet high but the drop is not that strong and the catch basin is up to neck-deep at most – which makes it easy for people to go directly under the falls and wade or swim in the catch basin.
2. Oslob Heritage Park. Another destination just a short ride away from the whale shark watching resorts, the Oslob Heritage Park includes preserved Spanish colonial era buildings such as the Cuartel or military barracks and the Baluarte – a fort and watchtower built in the early 19th century to give early warning of and to repel Moro raiders. Other destinations are the Parish Church of the Immaculate Concepcion and the Oslob Museum. You can arrange with the tricycle drivers or with a resort in Oslob to take you here.
3. Santander. Named after a Spanish city, this town has a charming coastline of white sand beaches and crystal-clear waters. Lilioan port where we disembarked from the ferry from Dumaguete is part of this southernmost Cebu municipality and is surrounded by beach and dive resorts. Pebble Beach may also be found in Santander.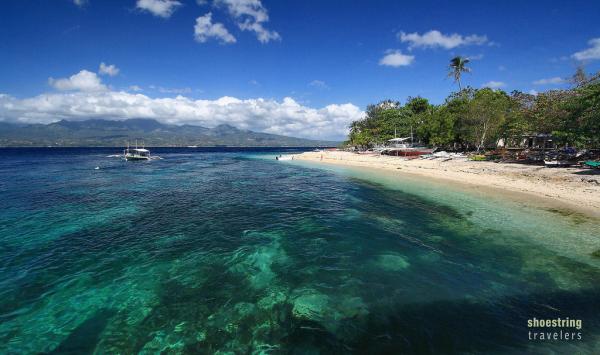 White sand beach and dive resort right beside Liloan port in Santander.
Oh and lest we overlook it, the coastline in Oslob is worth a look as well. We only noticed the white sand beaches and turquoise waters of this town upon our return from Sumilon, when we rested briefly by the beach then motored back to Liloan port and had a relaxing view of the coastline of this town – another indication of its beauty apart from the whale sharks and Sumilon Island.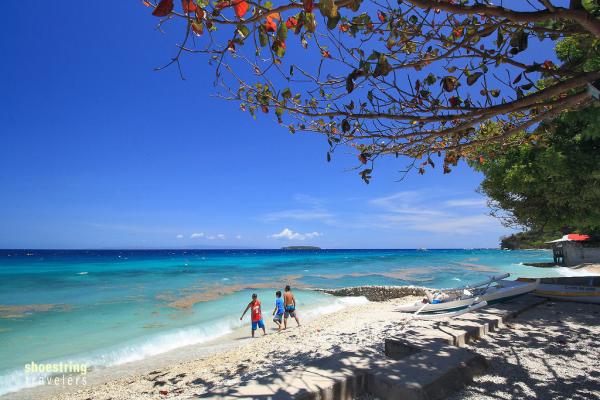 The beachfront at Tan-awan, Oslob; Sumilon Island is in the background.
How to Get There
Oslob is located in southern Cebu but is only a short boat and bus ride away from Dumaguete. The actual whale watching is located at Tan-awan, a barangay of Oslob town. If you're coming from Dumaguete like we were, head for the port at Sibulan, a town located just north of Dumaguete and 6-7 kilometers/20-30 minutes away from Dumaguete City proper (the airport is also located in Sibulan). You can hire a trike to Sibulan port (which most likely costs somewhere between P60-P100 since it's a special trip) or take a multicab which is cheaper.
At Sibulan port, take a fast craft ferry or pumpboat to Liloan port in Santander across the Tañon Strait for P62 and P45 respectively. A fast craft leaves every hour after 5AM and could complete the trip in 20 minutes. A bus is usually waiting at the Liloan port terminal – apparently timed with the arrival of the fast craft from Sibulan – to take passengers to Tan-awan in Oslob. This is another 30 minute ride for P40. We carelessly took our sweet time and ended up missing this bus. We learned that the next bus won't be at the port until another hour so we ended up getting a trike to take us to Tan-awan for P300.
If coming from Cebu City, hop on a Ceres bus at the South Bus Terminal which goes all the way to Oslob (3-3.5 hours travel time). Either way it's better to leave early in the morning and to time your arrival at Oslob between 9AM and 10AM; whale shark watching is only up to lunchtime.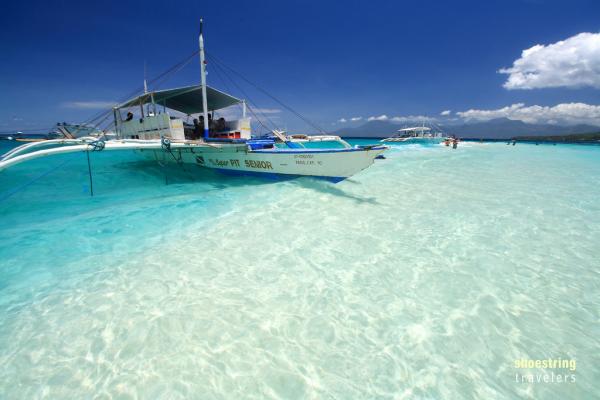 Our boat at Sumilon Island's sandbar.
You can check in at any resort in Tan-awan for whale shark watching. The cost (besides entrance fees) are P300 for locals and P500 for foreigners if watching only from the boat. If snorkeling, the fees are P500 and P1,000 respectively. These rates include the use of snorkels. Underwater cameras are also available for rent at P500 each. You can ask the boatmen to take your picture underwater with the whale sharks. You will also need to bring a memory stick to store the pictures otherwise you have to shell out P50 for a CD.
If you want to visit Sumilon Island's sandbar after the whale shark tour make the arrangements with your resort before setting out on your whale shark watching. Boat fees range anywhere from P1,500 to 2,500 depending on the size of the boat. (We got ours for P1,500.) There's a P50 entrance fee per person for Sumilon. The boat ride to Sumilon is only 15-20 minutes. If you're taking lunch at Sumilon you can order packed lunch at any of the food establishments along the beachfront at Oslob.
Lastly, please remember to treat the locals well. The people of Oslob are nice and helpful. Leo's mom who is 82 years old had trouble getting off the boat amidst strong waves and slippery rocks but the boatmen assisted her, even getting her to ride one of them piggyback-style, for a safe disembarkation.
Rating:
0 people rated this.