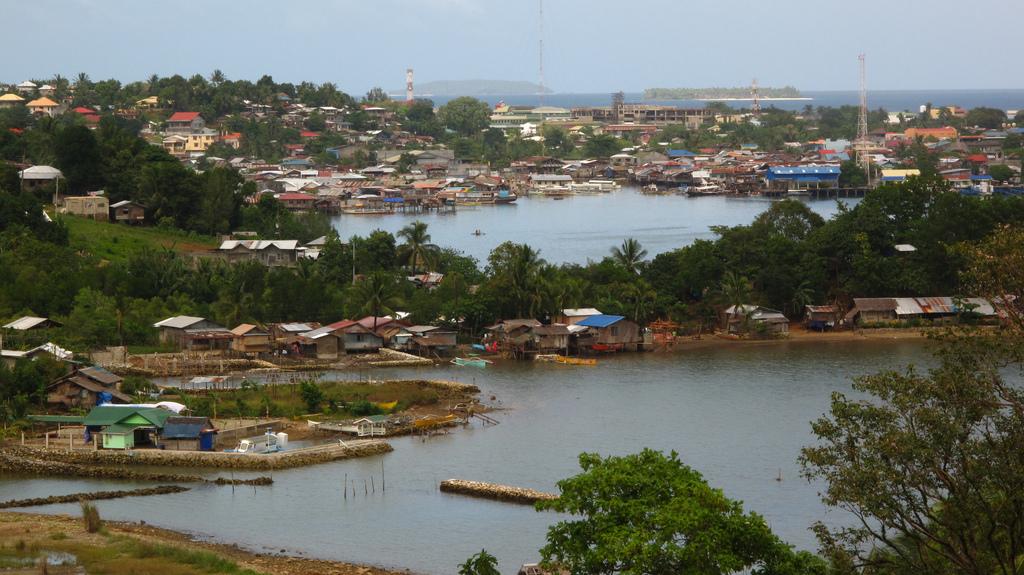 The city of Surigao is located at the northeasternmost tip of Mindanao Island in the Philippines and is the capital of the province of Surigao del Norte. It has a total land area of 245.34 km2, which is roughly 1.4% of the Caraga Region. The demonym for a Surigao resident is Surigaonon or Surigueño.
The city is well-known as the City of Island Adventures. It is endowed with long stretches of white sand beaches, mystical caves, captivating rock formations, vast mangrove forests and underwater scenery.
The city has abundant mineral reserves, including gold, iron, manganese, silica, cobalt, copper, chromite and among the world's largest nickel deposits in Nonoc Island. Diverse species of fish and aquatic life can be found within its territorial sea boundaries.
The city falls under the tropical climate type and prone to brief afternoon downpours and thunderstorms. Its location makes it an ideal jump-off point for adventure-seeking tourists who visit nearby islands of Siargao, Dinagat and Bucas Grande. It is also Mindanao's closest landmass to the Visayas region, separated 11 nautical miles by Surigao Strait and a 40-minute ferry ride to Panaon Island. Surigao is the center of politics, commerce, industry and education for the entire province as well as parts of the neighboring provinces of Surigao del Sur, Agusan del Norte, Bohol and Southern Leyte.
Tourist Attractions
Buenavista Cave
The interior stone formation depicts the illusionary image of a grand king's court complete with inner chambers complemented by picturesque stalactites and stalagmites. The highlight of the journey down this cave is a knee-deep pond situated in one of its innermost caverns resembling a throne. Located at Barangay Buenavista, Hikdop Island and 45 minutes by boat from the city port.
It is the nearest islet from the city, characterized by fine white sand on one side and a rugged rocky shore on the other. It can be reached by motorized pump boat only 30 minutes from the city port.
Silop Cave
A one-of-a-kind cave with different entrances leading to one big chamber with impressive limestone formations and naturally carved stalagmites, stalactites and columns. Only 15 minutes ride from the city proper.
Capalayan Waterfalls
It is a 40-foot-high waterfall which can be reached by a 15-minute hike and trek from the barangay proper. One can experience the audible trembling and the roaring sound of the waters in the area.
Mabua-Ipil Pebble Beach
Thirty minutes by land westwards from the city is this kilometer-long, multi-sized pebble beach. Laden with parallel lines of native cottages set in the natural backdrop of coconut tree-laced hills and deep cool waters, the place is ideal for swimming, windsurfing, jet skiing, or simply lying in wait for the occurrence of its dramatic sunset.
Looc Beach
Located at the right end of Mabua separated by a hill that serves as the viewing area for visitors who long to see the panoramic view of the entire beach. Another haven of pebbles, well-carved rock formations and the amazing 300-step stairs as the direct trail from Mabua beach towards it.
Sagisi Island
Is a tropical island paradise of white sand beach, deep blue sea waters and shades from lofty coconut trees, Sagisi offers the perfect hideaway to enjoy the sun, the sand and the sea. The island's coral reef teeming with lushly preserved marine life also provides enthusiasts with one of the most excellent diving sites ever known in the Philippines. Sagisi is accessible by a one-hour pumpboat boat ride from the city proper.
Zaragosa Tourist Park
A miniature park nestled on a hill facing the sea where manicured Bermuda landscaping, ornamental plants and picturesque rocks provide a soothing romancing experience. One can also stay overnight to enjoy the sea breeze, the soft rustle of the lofty coconut trees and the occasional sound of the crickets breaking the night's silence.
Cantiasay-San Pedro Wooden Footbridge
Surigao's version of the famous San Juanico Bridge. This wooden footbribge is the country's longest footbridge at 391 meters, originally conceived to ease movement and communication between two barangays, the bridge through time has transformed itself into a resting and promenade area, giving one the exhilarating experience and thrill of crossing two islands on foot.
Luneta Park
A resting and meeting place for most families who want to spend a hassle-free day under the shades of pre-war acacia trees while their children play on the perfectly landscape and lounge areas.
Surigaonon Heritage Center (SHC)
A mineral/rock museum and study/research center in one. Houses the archeological, anthropology artifacts and library. Presently, it has a collection of close to 300 exhibits of local, national and international rock and minerals.
Day-asan Floating Village and Mangrove Forest
The so-called "Little Venice of Surigao". A unique and interesting sight to experience. Houses are erected on wooden stilts and bedded rocks with paddle boats plying the various waterways. The village is accessible by land or sea from the city in about 30 minutes.
Punta Bilar Scuba Dive Site
Sits at the center of the Punta Bilar Marine Sanctuary, a two-kilometer stretch of pristine corals and marine life, right at the northernmost tip of Surigao and Mindanao; the fresh flow of the Surigao Strait and the Pacific feeds this macro and pelagic diving mecca with large tabletop corals, sea fans and exotic fish. Learn how to scuba dive or have fun just snorkeling while being pulled by a pumpboat.
Danawan Island Fishing Village
This rich fishing ground is 45 minutes away by pumpboat from the city proper. Varied shapes and sizes of different marine life abound in the area.
Punta Baluarte
A historical landmark which was used as an observatory point of the Spanish friars and later by the Japanese during the Second World War. It is a hill overlooking the town of Brgy. San Jose marked by a maroon castle replica. Complementing the landmark is a brightly colored kiosk along the beach. This site is reached within one hour from the city proper.
Manjagao Mangroves
The cradle of marine life and sanctuary to various species of fish, one of nature's most interesting habitats. A boat ride along the naturally carved water channel amidst the jade colored lush of mangrove trees and the visible rich coral undergrowth is a tropical treat one rarely experiences.
What to See and Do
Island Hopping
Hikdop Island - Explore Buenavista Cave and other neighboring scenery.

Sibale Island - Enjoy the coolness of the sea breeze and the crystal-clear waters of the Sibale Beach and savor the full flavor of freshly cooked seafood prepared at the Zaragoza Tourist Park.

Hanigad Island and Nonoc Island - Pass through the beautiful channel between two enormous islands: Hanigad and Nonoc. The San Pedro-Cantiasay Foot Bridge also gives tourists an experience of crossing two islands on foot.
Snorkeling at Sagisi Island
A tropical island paradise at its best, Sagisi Island showcases fine white sand and deep blue waters, while shades of coconut trees lingering on the shoreline give a romantic touch to the entire beach. The island is also home to beautiful seawater species of fish and invertebrates, making it a perfect place for snorkelling.
Silop Cave Spelunking
Silop Cave is a one-of-a-kind spelunking destination. It has different entrances leading to one big chamber with impressive limestone formations, stalagmites and stalactites--some of them creating magnificent columns.
Boating at Day-asan Village
Enjoy a boat ride along the naturally carved water channels amid the jade-colored, lush mangrove trees and rich coral undergrowth. Other interesting activities include sightseeing of aquarium and fish culture projects of the local residents, and game fishing and snorkelling at nearby islets.
Picnic at Mountain Resorts
Enjoy a day excursion to Surigao's beautiful and relaxing mountain resorts where leisure and nature converge, making guests feel cozy and homey.
Game Fishing at Danawan Island
Danawan Island is one of the rich fishing grounds of the city. Reachable by pumpboat in 45 minutes, the island is rich with different marine lifes of varied shapes and sizes.
Sightseeing Tour
Tour around the city proper and on nearby urban areas. Starting from the historic Surigao City Hall, the venue of the first hoisting of the Philippine flag in Mindanao, visitors are toured to the Surigaonon Heritage Center where archaeological artifacts and samples of local minerals are housed, then toward the City Boulevard going to the Surigao del Norte Provincial Capitol Park and Aviary, after which visitors tour the Lipata Ferry Terminal for shopping souvenir items and local delicacies before having lunch at the Maharlika Training Center and Beach Resort.
Pilgrimage Tour
Have a prilgimage at the Santo Niño de Bad-asay at Barangay Serna where pilgrims and devotees from different places come to pray and say their own petitions. Another pilgrimage destination is the Santo Niño Shrine at the Ouano-Ceniza Heights. This shrine is overlooking the half-side of the city proper.
Whole day at Mabua
Go swimming and sunbathing at the famous Mabua Pebble Beach. Trek uphill the 300-step stairway toward the top and see the panoramic view of the one-kilometer long pebble beach. At the end of the sunny day awaits the beautiful and dramatic sunset.
Where to Stay
Here is the list of accommodations that can be found in the city:
Hotels
Philippine Gateway Hotel - Km. 3, Brgy. Luna, Surigao City

Hotel Tavern - Borromeo St., Taft, Surigao City

The Grande Suites - Barangay San Juan, Surigao City
Apartelles
Big Brother Hauz - Nueva Extension, Surigao City

Conching Apartelle - Capitol Road, Surigao City
Tourist Inn
E.Y. Tourist Inn - Navarro St., Taft, Surigao City

Bartons Beds and Breakfast - Ceniza Heights, Surigao City
Pension Houses
Aden Apartelle - Borromeo St., Surigao City

Dexter Pension - San Nicolas St., Surigao City

Garcia Pension - San Nicolas St., Surigao City
Lodging Houses
BJ & ML - P. Reyes St., Surigao City

Maharlika Annex - Brgy. Lipata, Surigao City

Cely's Lodge - Magallanes St., Surigao City
Resorts
Almont Hotel and Beach Resort - Brgy. Lipata, Surigao City

Daydream Laguna Resort - Brgy. Day-asan, Surigao City

Mt. Bagarabon Hotel and Mountain Resort - Brgy. Mabua, Surigao City
Getting to the province
By Air
From Manila, there are daily flights to Cebu. There are also daily flights direct from Manila to Surigao via PAL EXPRESS. Cebu Pacific likewise flies from Cebu to Surigao daily except on Mondays and Fridays. One can also take direct flights from Cebu to Sayak Airport in Del Carmen, Siargao Island via Cebu Pacific every Monday and Friday.
There are also daily flights from Manila and Cebu to nearby Butuan City via PAL and Cebu Pacific. Butuan City is 2.5 hours by bus ride to Surigao City.
By Sea
Direct voyage from Manila to Surigao are extended by WG & A and Sulpicio Lines every Tuesday and from Surigao to Manila every Thursday. Voyages from Cebu are available daily except Monday via Cokaliong Shipping Lines and Cebu Ferries.
Upon reaching Surigao City, there are fast craft transfers going to Dapa in Siargao Island.
Commercial and cargo inter-island vessels travel daily to various municipalities of the island via a 2-3 hours trip from Surigao City. Motorized pumpboats and non-motorized bancas also ply the water routes.
By Land
There are regular bus trips via the "RORO" ferry boat from Manila to Mindanao using Surigao City as the gateway passing through Bicol, Samar, Leyte and Tacloban.
Buses, jeepney vehicles and air-conditioned shuttle vans ply the routes to the different municipalities in Siargao Island and the mainland regularly. The most popular and convenient mode of transportation within the municipalities going to far flung areas is the "Habal-habal" or the single motorcycle ride.
Rating:
8 people rated this.