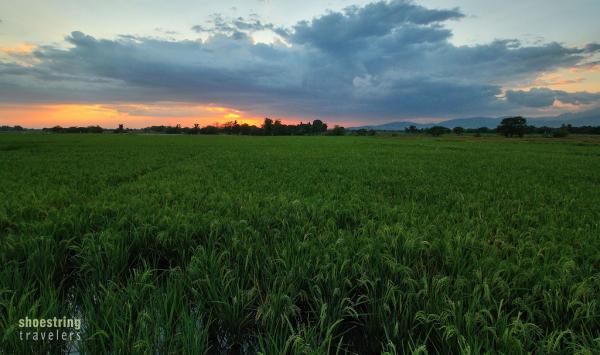 Clouds over a ricefield near Tayug


You may also check these sites:
https://www.shoestringtravelers.com/?q=node/8
https://shoestringdiary.wordpress.com/2015/05/12/the-unknown-side-of-pangasinan/

Visitors traveling to the Philippine province of Pangasinan often head straight for the Hundred Islands in Alaminos or to Patar Beach in Bolinao. Even the previously unheard-of destinations of Tambobong Beach and Colibra Island in Dasol, Cabongaoan Beach in Burgos and Tondol Beach in Anda are quietly gaining popularity thanks to social media and travel bloggers. But just a few days after Easter Sunday, we found ourselves chilling in an unlikely part of Pangasinan – namely the eastern Pangasinan towns of Tayug, San Nicolas and Natividad.

Most of the popular travel destinations in Pangasinan are located in the western and northwestern parts of the province. Most are beach or island destinations. Our trip to eastern Pangasinan wasn't supposed to be a vacation of sorts. We were attending the funeral of our friend Adel's brother and hoping to cheer her up. To go sightseeing didn't seem appropriate under such circumstances.

But the afternoon after the burial of Adel's brother, Joy, another friend, suggested we do a short road trip to the nearby town of San Nicolas while we allowed Adel to get her extra sleep after a few nights of attending to her brother's funeral. Joy had been here before. She said the views around San Nicolas town which lies at the foot of the Caraballo Mountains are beautiful and relaxing. Minutes into our drive we couldn't help but agree with her.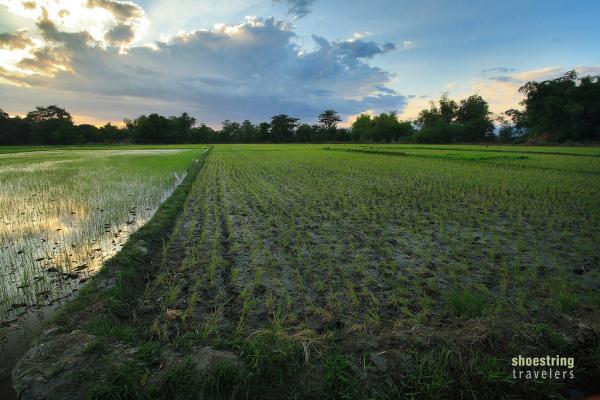 Newly-planted rice at a field along the Tayug-San Nicolas road

The sunset views were stunning and we lingered long enough by the side of the Tayug-San Nicolas road to enjoy the scenery and to breathe clean fresh air – a rarity once we got back to Metro Manila.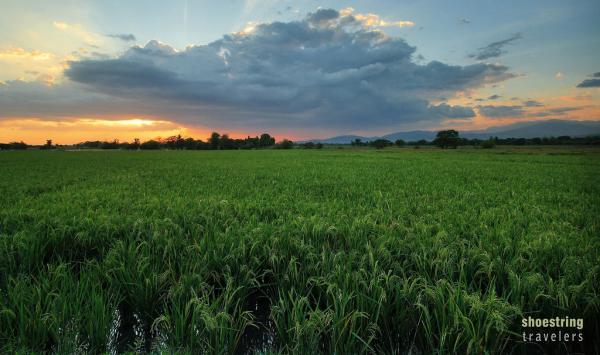 Stunning scenery

We would have ended our tour of these eastern Pangasinan towns right there and it would have been okay; we were supposed to return to Manila the following day. Somehow though we ended up going with Adel the following morning to the town of Natividad and to its most famous tourist spot: Maranum Falls, also popularly known as Batchelor Falls (nope this is not a misspelling). We've known about these falls before from a research we did while planning for a trip here that did not materialize. The drive to the jump-off point for a hike to these falls was uneventful, except for the last 1/2 kilometer or so of road which was slightly rough.

We did not expect the hike to turn out the way it did. We soon found out that Maranum or Batchelor Falls is located along a rock-filled stream inside a forested area on the foothills of the Caraballo Mountains. There is a cleared trail to the falls but that meant no cover from the scorching sun along the way. We were prepared for the hot sun. What we did not expect was that some portions of the trail would be narrow, slippery (in hot weather at that) and somewhat dangerous. One small misstep and we would go tumbling down a steep cliff and down into a boulder-strewn stream below. At one point in the hike we were crawling on all fours to ensure a sound footing.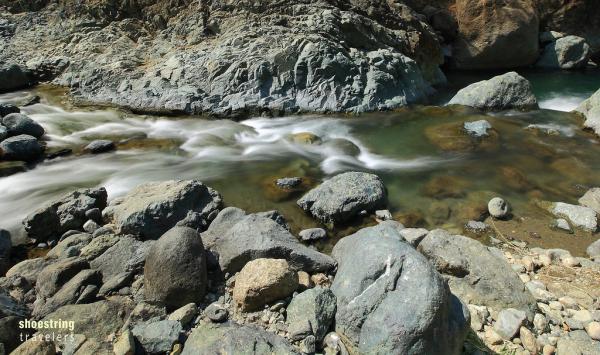 One misstep on the hike and this is the kind of stream below that you would tumble down into

We eventually made it to a stream bed with Batchelor Falls in sight. Leo started setting up the camera and tripod for long-exposure shots of the falls while the rest of us took a well-deserved cool dip into the stream. It was morning but with the sun already up and with nothing else to filter the sun's rays but Leo's neutral density (ND) filters (and even that wasn't enough), the photos of the falls were turning up some really dark and ugly shadows. Leo promptly called off the attempt and begun shooting the stream instead.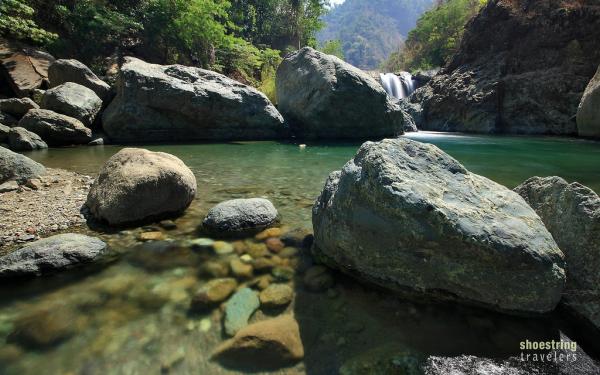 The stream bed; Maranum or Batchelor Falls is peeking behind the rocks in the background

After our refreshing dip and photo session at the stream we decided it was time to retrace our steps. There was nothing we could do but to go back the same difficult route. We thought about walking downstream rather than climbing back up into the narrow trail above but the former looked even more formidable with those huge rocks and boulders blocking our way. Surprisingly though we made it back faster than we expected.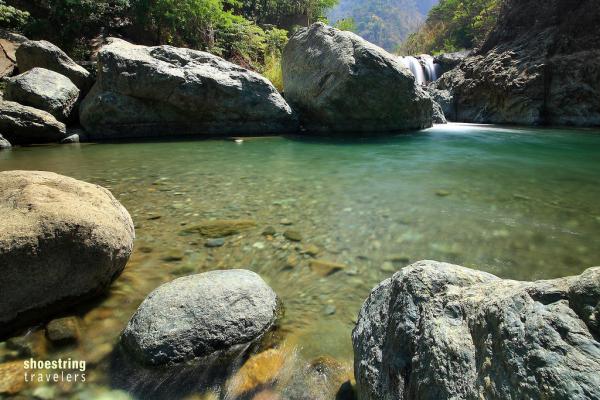 These huge boulders make walking along the stream from Batchelor Falls a real challenge

Back at the place where we parked the car we tidied up by soaking at a meandering stream. A guy selling locally made popsicles (ice-drops in the vernacular) passed by. The popsicles probably wouldn't have tasted great on another day but after a hot and dusty hike they all tasted like paradise. A curious guy who was watching us all this time asked where we came from. He couldn't believe we hiked to Batchelor Falls and made it back in one piece – even if several people (mostly young ones) had gone on before us and made it back. Feeling somewhat offended but still in high spirits we told him we got the pictures to prove it.

As if the popsicles weren't enough we encountered this halo-halo stand on the side of the road back to Natividad town. Halo-halo! Just the perfect refreshment for tired hikers. The stall owners have located their stand at a really strategic spot, under the cool shade of a camachile tree, offering a temptation that was impossible for us to resist.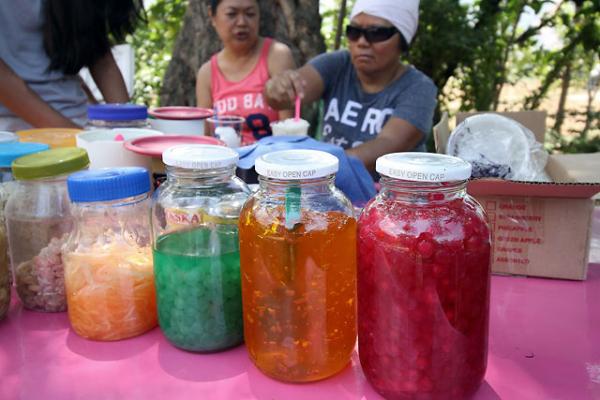 Our eastern Pangasinan mini-adventure ended there. We later learned there were other bigger falls in both San Nicolas and Natividad towns. The catch? Well, we all know that more pristine and beautiful locations are the ones usually hardest to reach. These falls happen to be located well inside those forests and foothills, ensuring a more challenging hike than the one we just completed. But still…


Rating:
0 people rated this.