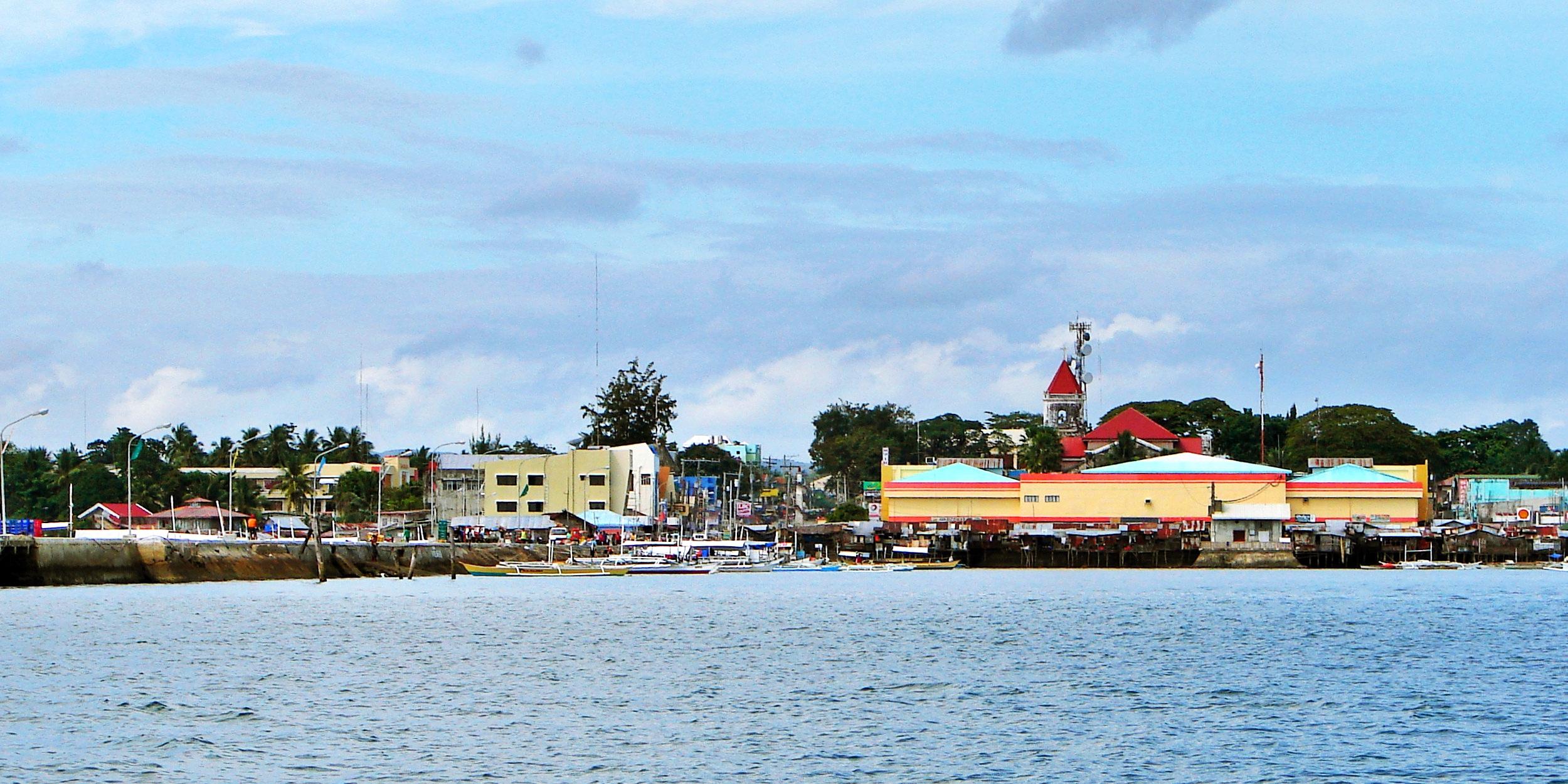 Talibon is a first class municipality in the province of Bohol, Philippines. It lies on the northwestern coast of Bohol, 114.8 kilometers from Tagbilaran City. It has a land area of 177.04 square kilometers. The town is composed of 25 barangays; 17 located on the mainland while 8 are island barangays and it has a population of 61,373 people, according to the 2010 census.
Talibon was originally part of Inabanga. It was established as a separate municipality in 1830. A year after it was established as a municipality, Talibon became a parish with the Blessed Trinity as its patron saint and whose feast day is celebrated every last Saturday of May. The town is the seat of the Diocese of Talibon being the residential town of the Bishop.
During World War II, a guerilla force was organized which took control and authority in Talibon together with the Philippine Commonwealth forces. The force maintained peace and order in the town and restored for a time the normal functions of the municipal peace and order in the town restored for a time the normal functions of the municipal government. Senator Carlos P. Garcia acted as their High Adviser. When Japanese soldiers occupied Bohol their first act was to dispatch a patrol to capture Garcia, but he narrowly escaped to Leyte in a sailboat together with his family. Failing to capture Garcia the Japanese soldiers burned the Garcia house on July 4, 1942 and severely tortured volunteer guard Cesario Avergonzado for giving them the wrong direction.
Eco-tourism
Talibon for years has its share of foreign and domestic tourists who were lured to the town for its unexploited beaches, fresh seafood such as crabs and prawns, friendliness of the people and the general atmosphere of peace and order in the town and the neighboring barrios.
People also come to see the historic site, the Carlos P. Garcia Monument and Park; the location of which is the birthplace of this illustrious son of Talibon who played an important role during the guerilla movement and more so when he became the 4th President of the Republic of the Philippines.
There are islands that have long been unexploited and surrounded by crystal clear waters and rich marine life. One such islet is the Bongan Sandbar, a breathtaking long sandy white beach devoid of vegetation whatsoever. It is a good and the ideal place to swim, snorkel or scuba dive.
A relatively unknown natural treasure is the Danajon Bank, which is the Philippines only double barrier reef and one of the few documented double barrier reefs in the world. A very rare geological formation, it comprises two sets of large coral reefs that formed offshore on a submarine ridge due to a combination of favorable tidal currents and coral growth in the area. Talibon town shares responsibility over Danajon together with 9 other Bohol towns that has jurisdiction over the reef.
Danajon Bank is home to a vast array of commercially valuable reef fishes, shellfish, crustaceans and invertebrates such as sea cucumbers and sea urchins. Its extensive seagrass beds are nursery and feeding grounds for various species of rabbitfish (siganids) and sea horses, while its mangroves are spawning habitats for crustaceans, shrimps and various fishes.
In order to showcase and promote efforts to protect and manage Danajon Bank, the Municipal Government of Talibon opened the CRM Interpretive Center, otherwise known as the Fisheries and Coastal Resource Management Interpretive Center (FCRMIC). Aside from a very educational gallery, the Center boasts of a 3D model of Danajon Bank, the first of its kind in Bohol and even in the whole of the Visayas. It is now becoming a drop-in site for school and foreign tours alike.
Aware of the vast tourism potential of Talibon, the present administration has set-up an "Eco-Tourism Program" geared towards the development and promotion of Talibon's assets. Aside from the above mentioned sites, the local government is eyeing the promotion of the 580 hectares of lush mangrove vegetation as an eco-tourist destination.
The winding Ipil River is another area that has to be promoted for boating, kayaking, and other activities such as fishing, swimming, and the gathering of shells and mollusks that abound in the area. For those who have not experienced doing any of these activities, they will find it a novelty.
Going inland from the river, one will see wild ducks, herons, and egrets. In San Isidro, a mangrove area has become the dwelling place of elusive and mischievous monkeys. Another attraction is the centuries old "piyapi" trees growing abundantly in the area.
Talibon is also proud to present to sun worshippers the one and only developed island resort in Talibon- the Jayvee Long Beach Resort in Mahaba. This is a small island paradise that boasts of pristine crystal clear waters, white sand, mangrove, and an unruffled bed of shells as well as accommodations and native huts for transient visitors.
Gallery

Carlos P. Garcia Monument at the Park

Bongan Sandbar
Danajon Bank's most remarkable feature - the Philippine Double Barrier Reef (PDBR)
Talibon Municipal Hall
Beracha Island Resort
List of Hotel Resorts in Talibon
Beracha Island Resort - Santo Niño, Talibon, Bohol

La Vicenta Lodge - Talibon, Bohol

Sea View Lodge - CPG Avenue, Poblacion, Talibon, Bohol

Talibon Pension House - Poblacion, Talibon, Bohol

Water Gate Tourist Inn - Poblacion, Talibon, Bohol
How to get there
By Air
The main entry point to Bohol is Tagbilaran City (Tagbilaran City Airport) which is only a one hour-and-15 minute flight from Manila and 20 minutes from Cebu.
By Sea
The most convenient way to get to Bohol from the neighboring islands is by fast ferry. Fast ferries offer a high speed passenger service. These have a cruising speed of about 50 kilometers per hour.
Getting Around in Bohol
Once you arrive on Bohol, there are various ways to get around the island. You can find plenty of tricycles and some taxi waiting to bring you to most locations within Tagbilaran and neighboring towns. If you need to go to one of the other towns on the island, you have a choice of jeepneys, busses, V-hires, or even habal-habal.
Rating:
6 people rated this.