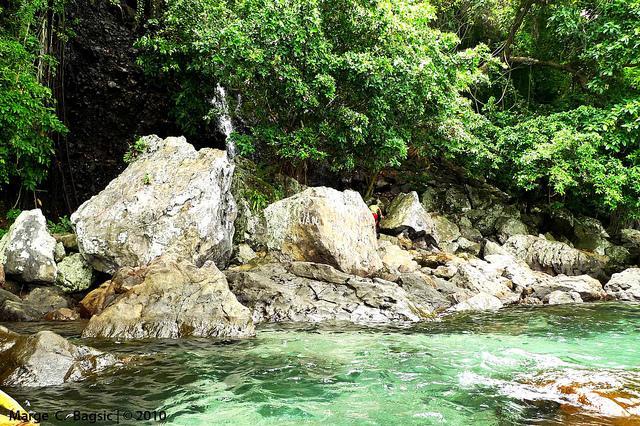 Although Biliran is a small island on the northern tip of Leyte, it is laden with natural wonders that make it a splendid paradise. Tomalistis Falls in Caibiran is one of its extraordinary attractions that will surely leave an impression on every visitor.
This falls made it to Guinness Book of World Records because it has the "sweetest-tasting water in the world." It is the main source of fresh water for the people in the area. The water itself is spring water which contains different minerals which lend to its sweet, refreshing taste. The falls itself is close to the seaside and its waters gently flow out to the waiting sea. The falls is one of the proudest attractions of Biliran and is a reason why this small island is treasure trove of natural wonders.

A closer view of the falls
How to get there

When you're from Manila, board a plane going to the province of Biliran. From Manila, twice a day, seven days a week, Philippine Airlines, Cebu Pacific and Zest Air fly from the route from Manila to Tacloban. From Tacloban City, aircon shuttle vans and ordinary fare buses are available headed foir Naval, capital of Biliran Province. From Naval on the west coast over the mountain inland is the town of Caibiran, the home to Tomalistis Falls.
Where to stay in Naval

There are many inns, pension houses, and hotels located in and around Naval.
• Marvin's Seaside Inn – Located in Barangay Atipolo, about two kilometers north of Naval.
• Biliran Garden Resort – Located in Barangay Lomboy, Naval
• Higatangan Beach Resort – Located in Naval and from the resort it is a very short walk to the famous sandbar.
• Napo Beach Resort – Located in Maripipi Island
• Bunga Prime Resort – located along the coast in the village of Bunga, Municipality of Cabucgayan in Biliran province.
• M and M Inn – Located in Biliran poblacion, Biliran Town.
Rating:
1 people rated this.