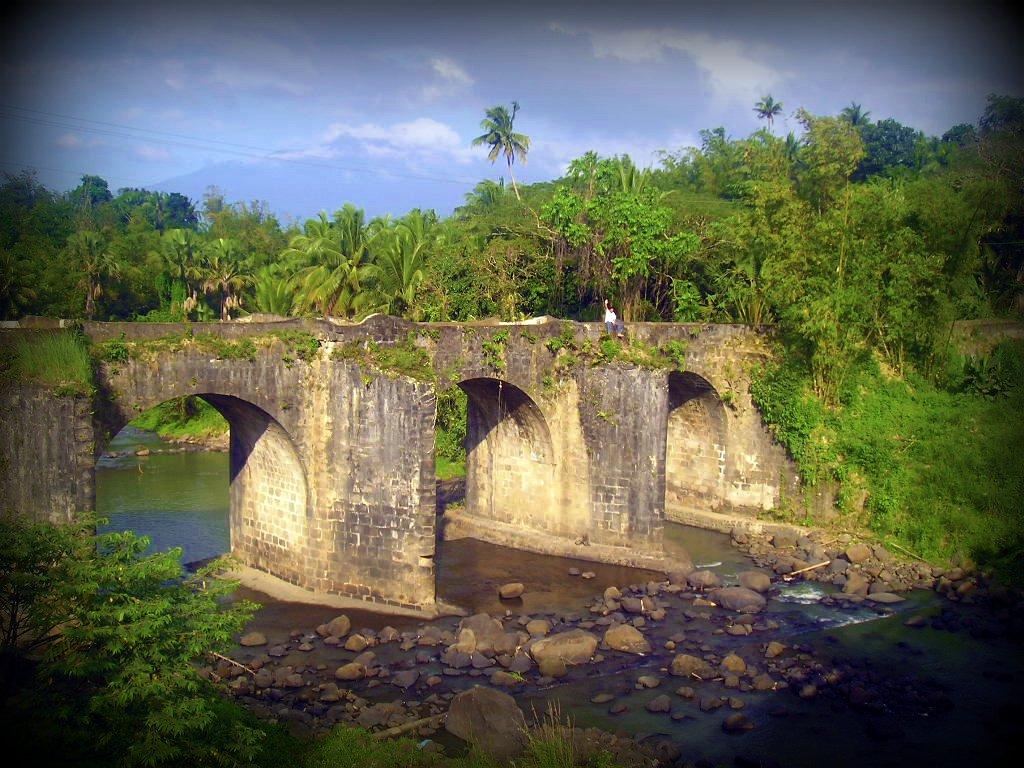 Malagonlong Bridge - Historical Landmark of Tayabas

Tayabenses, as the folks of Tayabas in Quezon have been called, are well known for holding the numerous and colorful celebrations that showcase the town's devotion to its faith, industry and tradition, and the best thing is, everyone is invited to join in the fun!
The city of Tayabas is located in the beautiful province of Quezon. The city is famous for its a distilled alcoholic drink from coconut called "lambanog," and sweet food/delicacies, as well as wonderful resorts. Tayabas is also known as the City of Festivals in the Philippines because of its numerous celebrations and colorful festivals. Tayabas a much-visited town due to its wonderful festivals that continually draw large crowds every year.
Here is the list of festivals and celebration in the town:
A stellar attraction during the month of May. A grand, colorful and folksy Parada ang Baliskog welcomes a guest to Mayohan Festival. "Kog" means arc, a welcome arch. The more imaginative deck it with local flowers and palay. Every year, 66 barangays, government and non-government organizations, and art groups join the parade. A display of baliskog made from indigenous materials like coco leaf, coco husk, bamboo poles, buli, rattan, dried flowers and tistis fill the streets of Tayabas and joyously welcome visitors and the summer season. Mayohan Festival ranks as a major festival in the region. It continually draws large number of crowds since it started in 1989.
Hagisan ng Suman (Mayohan Festival)
Suman is the ritual gift of Hagisan. Hagisan is an opportunity for the Tayabasin to share their prosperity. Bundles of suman are gaily tied in bamboo called bagakay, exhibited and installed in households along the procession route. As soon as the image of San Isidro passes by the bagakay must be emptied of its colorful array of abundance, which aside from suman, includes banana, mango, buko, pineapple and other local farm produce. In most houses, suman and other farm produce are no longer tied in bagakay, they simply throw them with passion and great enthusiasm from their decks, balconies, or windows to the multitudes of peasants and workers. Hagisan means throwing or sharing away.
Pa'yas kay San Isidro (Mayohan Festival)
"Pa'yas kay San Isidro" is a visual delight. All houses along Felimon Perez Street in the four barangays of Muntingbayan District are decked with indigenous materials and fresh farm produce. Viewing is every May 13th to 15th.
The celebration of Aguyod Festival not only aims to develop the skills of Tayabasin in the field of arts like dance, acting and stage ramp, the festival also aims to awaken the townsfolk about the importance of protecting the environment through proper waste manangement and give attention to the development of local tourism businesses through local investors.
As part of Chinese New Year, the city of Tayabas celebrated its Taytsinoy Festival last February 2-5, which served as a bridge between the Chinese and Tayabense people. The festivity also aimed to heal discrimination between the Tayabenses and Chinese.Tayabenses commemorated the event to impart themselves with the tradition and belief of Chinese society. Aligned with this were some Chinese activities being adopted by Tayabenses and contests like Chinese Garter Contest, Kiamoy Eating Contest, Chopstikan ng Pancit Habhab, Binibining Taytsinoy, and a lot more. The highlight of the event was the Dragon and Chinese Presentation in Parke Rizal and Pagdalaw ng Leon at ng Dragon at Tayabas Poblacion wherein all people undeniably enjoyed, especially the children. The four-day celebration embodying numerous events greatly gave a bunch of fun to all Tayabenses and guests. The ultimate learning, awareness of the Chinese culture and tradition, and endless merriment were being brought out by the municipality.
Hermano Pule A.K.A. Apolinario Dela Cruz
A commemoration of the martyrdom of Apolinario dela Cruz (Ka Puli), a native of Lucban who organized and led the Cofradia de San Jose, a confraternity which resisted the Spanish rule from 1832 until the time of his death in 1841. Puli was shot by firing squad on November 4, 1841 outside the vicinity of Casa de Comunidad in Tayabas. His body was cut up into pieces and his head put in a cage, stuck into a pole, and placed in front of his mother's house. The event aims at gaining respect and national recognition to the heroic deed of Apolinario dela Cruz or Hermano Puli.
Feast of San Miguel Arkangel (September 29)
Celebration of the fiesta.
Araw ng Tayabas (August 13)
Designated as the day for commemorating heroism of Tayabasins. The event calls for unity, strengthens social bonding and encourages Tayabasins to renew commitment to service.
Places of Interest
Minor Basilica of St. Michael the Archangel

Santuario de las Almas

Lita Spa and Resort

Ermita Church

Taao Cave (Ilasan)

Missionary Catechist of St. Therese of Infant Jesus (MCST) Mother House

Casa Comunidad de Tayabas

Alitao River

St. Roche Parish Church (Ilasan)

Our Mother of Perpetual Help Church (Potol)

Malagonlong Bridge

Calle Budin

Tayabas Racing Circuit (TRC)

Mallari Distillery (Since 1908. Oldest Lambanog distillery in the Philippines)

Kamayan sa Palaisdan (Restaurant, Resort and Hotel)

Bulwagan ng Tayabas Reception Hall and Catering Services

El Pescado Bar Cafe

Kundiman Restaurant

Nawawalang Paraiso Resort and Hotel

Mainit Hot Spring Resort

Talolong Resort

Villa Cinco Resort

Villa Cecilia Resort and Hotel

Mariposa Spring Resort

Graceland Country Club
How to get there
From Manila you can reach Quezon Province by bus to your destination.
Here is the list of terminals where you can catch buses going to Lucena, Quezon.
EDSA-Kamuning

Cubao

Buendia-Taft

EDSA-Pasay
Travel time to Tayabas will take about a 3-hour drive from Manila. It is bounded on the north by Lucban, Lucena to the south, Pagbilao to the south-east and Sariaya to the west.
Ride a bus from the stations above to Lucena, Quezon. Get off at Lucena Grand Terminal. From there, jeepneys and tricycles are available to take you around the town.
Getting Around

Jeepneys and tricycles are common options when travelling to destinations within the downtown and the city.
Rating:
0 people rated this.