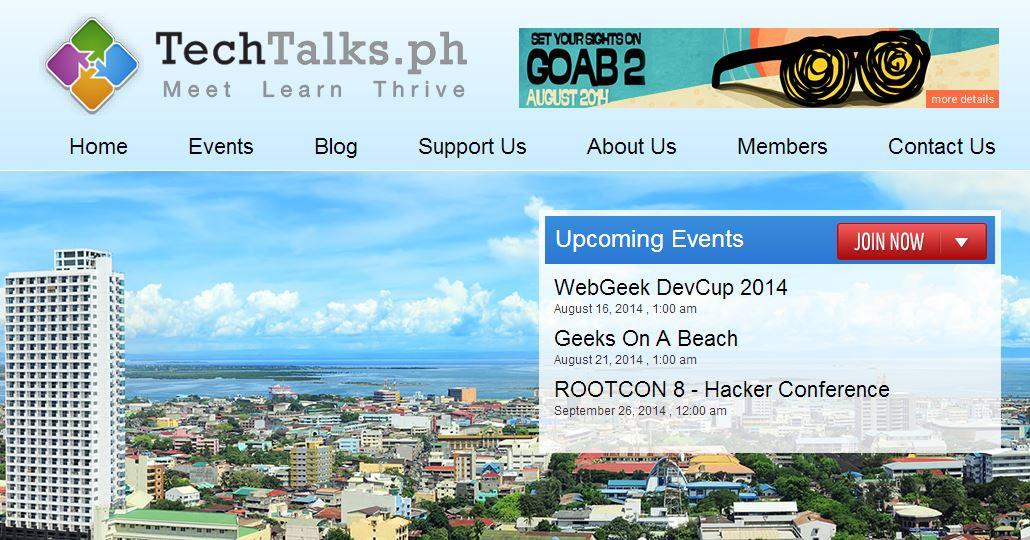 Come August 21 and 22, some of the biggest names of the tech and startup world from Silicon Valley, Singapore, South Korea and other parts of the world will be coming over to Cebu for the Geeks on a Beach (GOAB) tech and startup conference.
First held in Boracay Island September of last year, GOAB is made possible by the efforts of lead organizer TechTalks.ph, a non-profit business organization providing training and networking for Philippine tech entrepreneurs and startups.
TechTalks.ph was founded in November 2010 by Tina Amper, a high tech researcher and marketer who returned to the Philippines after years of experience in Silicon Valley.
Today, the tech group boasts of over a thousand members who are mostly IT professionals, software developers, designers, business people, and even students and academics, with chapters in Cebu, Bohol, Davao, Cagayan de oro, Manila, and total of 9 other cities in the Philippines.
TechTalks.ph has organized several activities from informal meetings over coffee, tech workshops and startup competitions with the aim of sparking more interest in innovation-driven enterprises that are more commonly known as startups.
One of these is the "Startup Weekend" workshop, a 54-hour event where participants brainstorm tech products with the help of local tech and entrepreneurial leaders.
"All these activities are in line with TechTalks.ph's goal of developing the local scene to become more conducive for startups and at the same time encouraging more people to become skilled professionals in the IT industry," said TechTalks.ph founder Tina Amper.
In its second year, Geeks on a Beach promises to bring more select expert-speakers, new activities, and additional networking opportunities. Majority of the startup community in the whole country are once again expected to grace this one of a kind international tech conference.
"We will continue to live up to GOAB's motto trademark motto of 'work hard, play harder' with the laidback discussions and fun parties. But we are also making sure that the content won't be overshadowed by the party atmosphere," said Amper.
"We will highlight the successes and challenges facing the Philippine startup ecosystem and what we need to do more to further promote more Filipino startup successes," added Amper.
Dave Overton, founder of Symph, a Cebu-based design and development studio and Co-founder of TechTalks.ph, said that GOAB will help budding startups reach their way to success through skills trainings, mentoring, and networking for resources and access to capital.
"There are an overwhelming number of talented Filipinos but we still need to improve on their knowhow of building their great ideas into successful companies," said Overton.
TechTalks.ph is optimistic about setting the foundation for the growth of startup communities all over the Philippines. TechTalks.ph events are not about raising awareness but also help cultivate business skills that are needed by tech entrepreneurs to launch successful startups.
Over 300 startup founders, tech entrepreneurs, investors, and industry experts from 17 countries attended last year's GOAB. The same number of participants is expected to join this year's event.
GOAB is organized by TechTalks.ph, co-organized by the DOST-ICTO, co-presented by the IdeaSpace, SMART DevNet, and SMART Bro, powered by Sym.ph, branding by HappyGaraje, and PR and event management by PRWorks.
The event is made possible by Official Accommodation Partner Airbnb, Official Sea Travel Partner 2GO Travel, official e-ticketing by Eventbrite, Platinum Sponsors are Amazon Web Services and Microsoft, Gold Sponsor Coins.ph, Silver Sponsors are Island Souvenirs, Infocomm Investments, and Sky Cable, Bronze Sponsors are Kickstart Ventures, Alquemie Partners, Silicon Valley Science & Technology Advisory Council, Ng Khai Dev't Corp, Arcanys, Freelancer, Caresharing, and ChangeCoin.
It is supported by Plug and Play Tech Center, Mynimo, Crowd Sourcing Week, Kuyi Mobile, Dranix, Prifoods, GT Cosmetics, Balamban Liempo, Cliptec, Pascual Laboratories, and Istorya.net.
The GOAB Institutional Partners are the Philippine Software industry Association, BGn, NICP, Cebu Business Incubator for IT, Cebu Education Dev't Foundation for IT, Game Developers Association of the Philippines, DCOM, and DevCon.
The media partners are Asian Journal Publications, Balikbayan Magazine, E27, SunStar, Cebu Daily News, TechInAsia, WebGeek, NewsDesk Asia, InnoPub Media, iNew Media, Alcordo Advertising, Third Team Media, Our Awesome Planet, Zero Three Two, Vigattin Radio, TenMinutes.ph, Pinoy Great Deals, Crowdsourcing Week, Everything Cebu, Innovation is Everywhere, Stuff Magazine, and Geeks in Cambodia.
Rating:
0 people rated this.