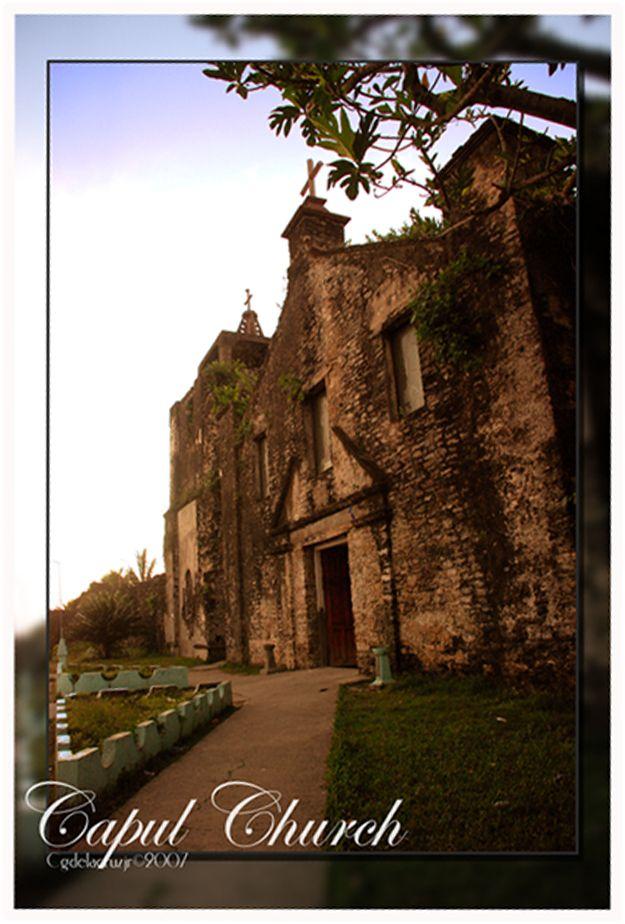 The church of Capul, built during the Spanish Colonial Period, is dedicated to St. Ignatius of Loyola and is surrounded by a square fort with bulwarks of dissimilar designs. The church structure was actually the third that was built on the site. The first two structures, made of hard wood and nipa roofs, were razed when Moro pirates plundered the island in 1615 and 1768. In 1781, Fr. Mariano Valero, a Spanish architect-priest, led the restoration of the church and built the stone wall fortress similar to that in Intramuros, Manila, that would fortify it against Moro attacks.
The church is located in Batag Island, just a 30-minute boat ride from the town of Laoang. This serves as a marker for ships sailing in and out of the Pacific Ocean day and night.
Where to stay
ALDRECH LODGING HOUSE - Gamay N. Samar

ARAM PARARIGUSAN SAN BIRHIN SAN GUADALOPE - Brgy. Urdanete, Lavezares

BLUE WATER LODGE - Brgy Sto. Niño, Biri

CAPUL ISLAND BEACH RESORT - Brgy. San Luis, Capul

BLUE WATER LODGE - Brgy Sto. Niño, Biri

GV PENSION HOUSE - Marcos St. Catarman

HAVEN OF FUN BEACH RESORT - San Antonio, N. Samar

HILL CREST INN - Sitio Barinig, Brgy. San Miguel, Lavezeres

SASA PENSION HOUSE - Jacinto St., Brgy. Yakal

WELL JOHN HOTEL - San Roque, N. Samar

VILLA AMOR - Biri, N. Samar
Where to dine
THE NEST RESTAURANT - Garcia Street, Catarman N. Samar

FARM BAKE SHOP AND RESTAURANT - Market Site, Catarman N. Samar

SH DINE INN - Magsaysay St. Brgy. Narra, Catarman N. Sama

COFFEE HUB - Cor. Del Pilar & Roxas St., Catarman N. Samar

RANCHO GLORIA - Brgy. Macagtas,Catarman N. Samar

BODEGA BILLARD BAR & DISCO - Allen Pier, Allen N. Samar

JOEYBEE RESTAURANT - Allen Pier, Allen N. Samar

GENIES'S RESTAURANT - Cor. Roxas & Del Pilar Stret, Catarman N. Samar
How to get there
By air
From Manila, tourist can reach the province of Northern Samar by riding a plane to Catarman - the capital city of the province. Local airlines - Zest Air, PAL Express, and Cebu Pacific - have daily trips going to Catarman. The travel time will take more or less 1 hour from Manila.
By Land
From Manila, tourists can also reach Northern Samar by land transportation. There are buses that have daily trips to the province. Bus terminals can be found particularly in Cubao.
The bus will travel going to Matnog in Sorsogon. From there, the bus will have to ride on a ferry boat to reach the Allen Port. Allen is one of the towns in the province where its port is very important for inter-island transportation. From Allen, the bus will continue traveling going to Catarman.Travel time will take about 15 to 16 hours from Manila to Catarman.
Rating:
0 people rated this.