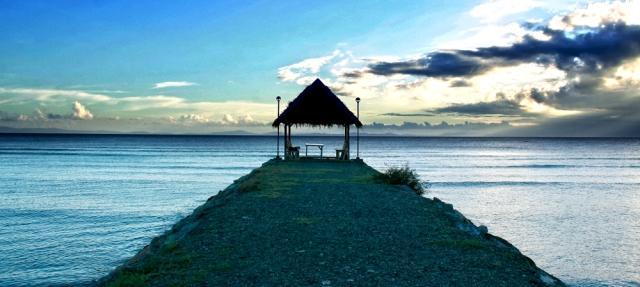 Marilima Beach in Virac, Catanduanes is a sight to behold because of its gleaming white sands and the clear blue sea stretching as far as the eye can see. It is a wonderful getaway where you can just sit back or play around to your hearts content all in the midst of nature.
The beach is bordered by coconut trees and the back of the resort leans against a hill, giving it an air similar to that of the Chocolate Hills of Bohol. Its shoreline is covered with fine white sand and its pristine azure waters never fail to lure visitors to take a dip. The unspoiled beach is bordered by gleaming white sands, whose clean and natural luster is recommended for picnickers and swimmers or even for spear fishing.
It faces mainland Bicol where one could take a full view of the breathtaking elegant silhouette of Mayon Volcano and its neighbor, Bulusan Volcano, in the distance. At sunset, soft clouds which sometimes drape the volcanoes evoke the fragility of a Japanese etching. At low tide, the sand is laid bare for miles as the water recedes; you have to walk quite far out to swim. At high tide, however, the waves completely cover the shore. Visitors sometimes come to rent the huts on the beach for a couple of hours.
Location
The beach is located in Barangay Marilima in the town of Virac in the province of Catanduanes.
How to get there
By Air
Zest Air and Cebu Pacific fly from Manila going to Virac, Catanduanes.
By Land and Water
Numerous bus lines operate air-conditioned coaches from Manila to Tabaco, Albay. From the seaport of Tabaco, hop on either at MV Calixta 2, 4 and 5 or MV Eugene Elson to reach the island of Catanduanes going to the seaport of San Andres or Virac. Another way is to take RSL bus from Manila to Catanduanes that has terminals at Alabang near Metropolis or Ermita.
Going around the Island
Tricycle is the primary mode of transport within the capital town of Virac. PUJs and buses ply from Virac to the different municipalities daily on scheduled time. For the more daring and adventurous, the entire province could be reached by motorcycle.
It is possible to explore the surrounding countryside on foot, with tricycle of by a car belonging to the resort. You can also hire a "banca" to discover the other bays rimmed with turquoise waters
Where to stay
• Catanduanes Midtown Inn - San Jose, Virac Catanduanes
• Marem Pension House - Sta. Cruz, Virac, Catanduanes
• Kemji Resort and Restaurant - San Isidro Village, Virac, Catanduanes
• Rakdell Inn - San Pedro, Virac, Catanduanes
• Rhaj Apartelle and Executive Inn - Rizal Avenue, Gogon, Virac, Catanduanes
Rating:
0 people rated this.