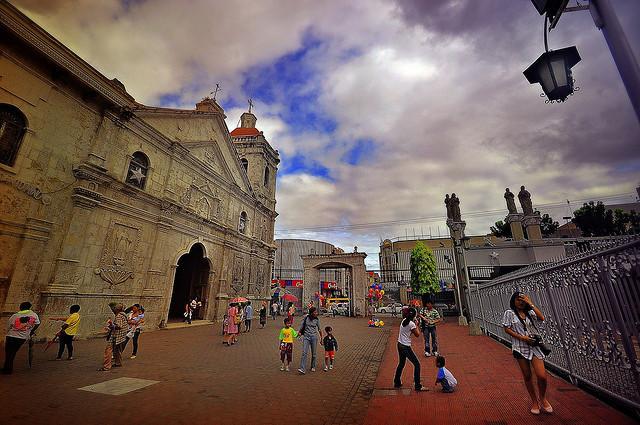 As one of the most venerated churches in the south, the Shrine of Basilica of Santo Niño draws in thousands of faithful devotees every year to marvel at the grandeur of the church and to pray to what has been believed to be the miraculous statue of the Sto. Niño.
The Basilica of Santo Niño is one of the significant Spanish colonial buildings in Cebu City. The church contains a statue of the Santo Niño (Holy Child), which is regarded as the oldest religious relic in the Philippines. This statue was presented by Ferdinand Magellan to Queen Juana during the baptism of King Humabon and his wife Queen Juana on April 14, 1521. On May 1965, the church was conferred the title of Basilica Minor del Santo Nino by Cardinal Antonuitte, Papal Legate during the Fourth Centennial celebration of the Christianization of Cebu.

Miraculous of Santo Niño

On April 27, 1565, the natives of Cebu were formally Christianized by Miguel Lopez de Legaspi and Father Andres de Urdaneta. However, as they found the natives hostile, the village was set on fire. Later on, in a burnt-out house, a soldier named Juan Camus found the statue untouched. This was proclaimed a miracle.

The statue, adorned with gold and precious stones, is in a glass case to the left of the altar. The church sees a constant stream of devotees praying at pews in the sanctuary and in front of the statues of saints.

The Basilica Del Santo Niño Museum

A museum inside the Basilica showcases the history of Christianity in Cebu. Antique objects are on display, including century-old furniture, priestly vestments and the Santo Nino's old cloaks donated by individuals over the centuries. Religious articles such as statues and relics are also displayed and other items of daily life from the adjacent convent. Several toys may also be seen; these are said to be presents to the Child Jesus, as well as a large Santo Niño rosary composed of 15 beads. It is open Tuesday-Sunday 8:00am-5:00pm.

How to get there

The Basilica Del Santo Niño is located on Osmena Blvd., Cebu City. From Manila there are daily flights to Cebu city. From the airport, you can ride a multicab, jeepney, or taxi cab. Simply ask around for which route to take. They are available 24 hours and cover most of the nooks and crannies of the city. Just be sure you know what part of the city the jeepney will take you to.

Hotels near to Basilica Del Santo Niño

• Barefoot White Beach Resort - White Beach, Moalboal, Cebu, Philippines 6032
• Asian Belgian Resort - 123 Saavedra Road, Moalboal, Cebu, Philippines 6032
• Stefanet's Resort - Panagsama, Moalboal, Cebu, Philippines
• Sea Turtle House - Lo-oc, Basdaku, White Beach, Moalboal, Cebu, Philippines 6032
• New Eve's Kiosk Dive Resort - Panagsama Beach, Moalboal, Cebu, Philippines
Rating:
0 people rated this.