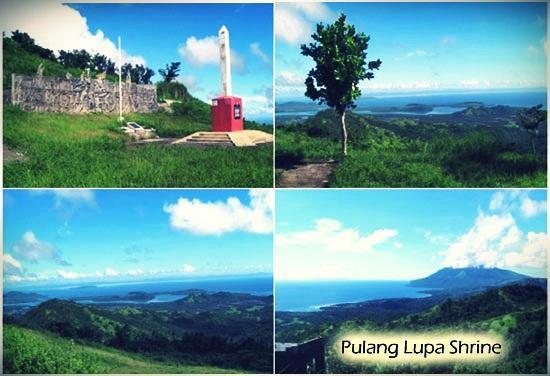 The Battle of Pulang Lupa Marker was built in memory of the Marinduque revolutionary forces that fought the Americans. A marker stands at the site of the bloodiest battle ever fought in the island, the first known major battle won by the Filipinos over the Americans.

The landmark Pulang Lupa mural was created and conceptualized by Apolinario Bulaong of Bulacan with the help of researchers from the National Historical Institute. The mural is composed of sixty concrete blocks joined together, conveying images of the bloody battle that appears to carry a political point of view, as art depicting historical events often does.

Apolinario Bulaong also did the Gregorio Del Pilar bigger-than-life equestrian sculpture that guards the Battle of Tirad Pass historical site, and another mural on the heroism of Del Pilar that now stands at the plaza of Bulacan, Bulacan where the national hero came from.

Frames of Pulang Lupa Marker

The mural is divided into five sets of twelve frames.
1. The first set of frames shows a man appearing to be engaged in stockpiling supplies with the use of a carabao-drawn cart as the beast of burden rests under a coconut tree.
2. The second set of frames shows American soldiers walking right into an ambush with one barefoot Filipino soldier appearing to throw a rock into an enemy riding on horseback, while his comrades aim their rifle towards the intruders.
3. The next frame shows the battle developing into a man-to-man combat with Filipino soldiers gaining the upper hand.
4. The next set shows an American down on his knees with his right arm surrendering his rifle, as local soldiers are seen in the background raising their arms in glee. Half-naked men are shown with hands tied up and huddled below a church tower in what looks like artistic license applied profusely.
5. The last set shows a pile of captured firearms with a Filipino soldier pointing to the items with his bolo. As the captives are led away, an eagle spreads his wings to fly and the narrative of imagined images ends there.

The 180-degree View from the Battle Site

The Battle of Pulang Lupa Marker stands at the ridge of barangays Bolo and Poctoy. Aside from the fact that the site is a historical landmark, it is also an attraction for tourists. At the top, you can have the panoramic view of the Bondoc peninsula, Polo, Mongpong Islands, and Salomague Island. There is also a foliage of mangrove forests at the northeast side of Marinduque mainland, and right along the coast, you can have the breathtakingly view of Torrijos Town, with the northern side of Mt. Malindig in the background.

Trip to Battle of Pulang Lupa Marker!

By Land o Sea (Manila to Marinduque via Lucena City)
• 1st Route (Manila to Lucena City, Quezon)
Take Terminal 1 at Buendia, Pasay City corner Taft Avenue or Kamias Road, Quezon City corner EDSA, to Lucena Grand Terminal. Available Land Transportation: Jac Liner, Jam–Tritran Transit, Lucena Lines and Dela Rosa Lines.
• 2nd Route (Lucena City, Quezon to Marinduque)
Take Talao-Talao Port in Lucena City to Balanacan Port in Mogpog, Cawit Port in Boac, or Buyabod Port in Sta. Cruz. Available Sea Transportation: Montenegro Shipping Lines Inc., M/V Sta. Cruz–Sta. Cruz Shipping Lines, M/V Blue Water (Fast Craft)–Blue Magic Ferries, and Starhorse Shipping Company.
• 3rd Route ( Balanacan Port/Cawit Port/Buyabod Port to Torrijos)

By Bus (Direct Route)
• Jac Liner Incorporated, the biggest bus operator in Southern Tagalog, offers direct bus routes from their terminals in Kamias, Quezon City and Buendia, Pasay to Marinduque.

By Air
• Flights from Manila Domestic Airport to Marinduque Airport, located in Barangay Masiga, roughly in between Gasan and Boac, are currently served regularly by Zest Airways. Travel time is around 40 minutes. Then, take air-conditioned vans or jeepneys bound for Torrijos.
Rating:
0 people rated this.