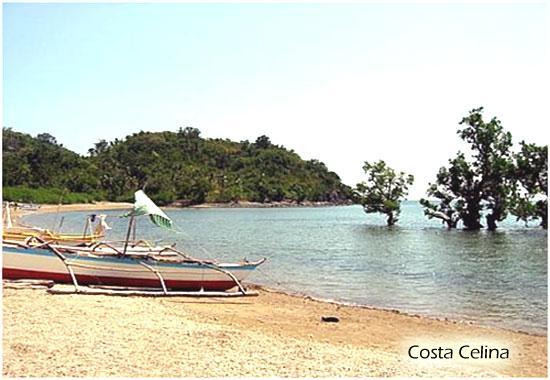 Torrijos is a rustic town in Marinduque overflowing with spectacular white sand beaches guaranteed to amaze even the most travelled adventurer, and probably the best of these is Costa Celina. The closeness to nature one feels while being here has made it a prime destination for those who are looking for that one place where they can just relax and just revel in peace this haven has to offer.

Located in Sitio Talisay, Brgy. Bonliw, flanked by cliffs on both sides, Costa Celina is among the favorite dive spots in Marinduque. It is approximately 40 meters from the shore, with an undersea wall rich in diverse marine ecosystems teeming with flora and fauna.

Travel to Marinduque
• By land-sea travel: From Manila, take the bus going to Dalahican, Lucena port. Different bus companies travel from Manila to Dalahican so you have various options. Jam Transit and JAC Liner are two bus companies bound for Marinduque. JAC Liner plies a direct Manila-Marinduque route.
• Direct bus or car travel: If you don't feel like getting on and off a bus and ferry, you have the option of riding a bus or a door-to-door van that will take you all the way from Manila to Marinduque. The bus or van will ride the Roll-On, Roll-Off (RO-RO) and will take you to provincial capital or right directly to your doorstep if you choose destination to door.
• By Air: Flights from Manila domestic airport to Marinduque Airport, located in Barangay Masiga, roughly in between Gasan and Boac, are currently served regularly by Zest Airways.

From Boac, jeepneys go south to Gasan and Buenavista via the Capitol compound. Frequent jeepneys also head northeast to Mogpog, Balacanan, Santa Cruz and Torrijos. All transport leaves from around the central terminal area near the intersection of Nepomuceno and Magsaysay Street.
Accommodations
• Bellarocca Island Resort and Spa - Barangay - Tungig - Lipata, Municipality of Buenavista, Elefante Island, Marinduque, Philippines
Rating:
0 people rated this.