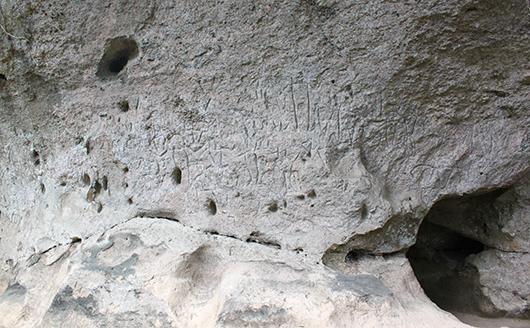 Overview
The Petroglyphs is the most important discovered archaeological site in Binangonan, Rizal. It show the system of living of the prehistoric tribal people who once lived in the Philippines. This archeological site was discovered by National Artist Carlos V. Francisco in 1965. This cultural heritage site dates back to circa 3000 BC and is the most ancient Filipino work of art. The site is famous for its rock engravings (around 127 drawings of human and animal figures). Previous archaeological findings yielded fragments of earthenwares, obsidian flakes, and shells. The Petroglyphs site has been included in the World Inventory of Rock Art under the auspices of UNESCO, ICCROM, and ICOMOS.
It was declared as a National Cultural Treasure by virtue of Presidential Decree 260. In 1996, it received its greatest recognition when it was nominated as one of the "100 Most Endangered Sites of the World" under the World Monument Watch List. The preservation and development of the petroglyphs is a joint effort of the National Museum of the Philippines, World Monument Watch Fund, American Express International, Department of Tourism, and Antipolo Properties.
Accommodations
Location: Sitio Loreland, Barangay San Roque, Antipolo City, Antipolo / Rizal, Manila, Philippines
Seven Suites Hotel Observatory
Location: Hollywood Hills Sumulong Highway, Antipolo / Rizal, Manila, Philippines
Thunderbird Resorts - Rizal
Location: Eastridge Avenue, Binangonan, Antipolo / Rizal, Manila, Philippines
Location: Ibanez St., Angono,Rizal, Antipolo / Rizal, Manila, Philippines
How to get there
The province of Rizal is 110 kilometers south of Manila. It is accessible by land transportation from Metro Manila and the neighboring provinces of Southern Tagalog and Central Luzon.

Buses, varied public utility vehicles, and the metro rail system with stations at Crossing/EDSA in Mandaluyong City, Robinson's Galleria in Ortigas Avenue, Quezon City and Farmer's Market in Cubao, Quezon City ply the routes to Antipolo, Taytay, Cainta, Binangonan, Angono, Tanay and other towns in Rizal.

In touring around the town or from one city to another city, jeepneys and tricycles are available as a mode of transportation.
Rating:
0 people rated this.