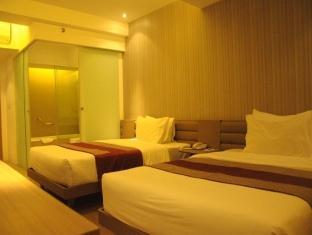 The E-Hotel Makati is a boutique style hotel that houses a specialty restaurant, a coffee shop, and stately rooms that will surely make your stay a pleasant one. It has 24-hour room service operated by hospitable staff. It is also very accessible. Located along A. Arnaiz Avenue (formerly Pasay Road), it is just 15-30 minutes away from the Ninoy Aquino International Airport and a few minutes' walk to the busy Makati Central Business District, shopping destinations, and recreational areas. It features 15 superior rooms, 17 deluxe rooms, and 2 luxurious deluxe suites. It is surely one of the best hotels in Metro Manila.
E-Resto Cafe: Coffee shop serving breakfast, lunch and dinner specializing in Californian and Mediterranean cuisine.
E-Lounge: Lobby lounge serving delectable appetizers, cocktails, snacks, a wide selection of alcoholic beverages.

Rating:
5 people rated this.