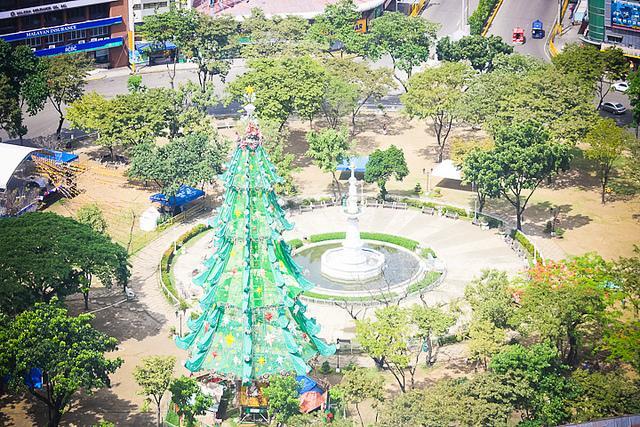 If there is one thing that will capture the attention of many visitors upon entering the province of Cebu, it is the famous Fuente Osmeña Circle – a rotunda park with fountain that is located in the very heart of Cebu City. The magnificent fountain is a great escape in the middle of the bustling traffic.
Fuente Osmeña Circle is host to some of the notable events of Cebu City including Sinulog Festival and Christmas, and a number of concerts. Local government events and some affairs are also held here.
Being the center of business in Cebu, the Circle is surrounded by big establishments like hotels, malls, restaurants, banks, and fast-food chains. There are also hospitals and bars nearby.
Fuente Osmeña Circle at night
In the morning, you will find joggers and a number of people who find the Circle a better place to relax and spend leisure time. One good thing about the Circle is that it becomes livelier at night. It is a place that an avid photographer is looking for because of its magnificent view at night.
--- :)
How to Get There
By air, from Manila, there are daily flights going to Cebu City. By sea, Cebu City's domestic port is the country's busiest. Cebu City is home to almost 80 percent of the country's passenger vessels. The country's largest shipping lines, namely WG&A, Sulpicio Lines, Trans-Asia, George & Peter Lines and Lorenzo Shipping Lines, are headquartered in Cebu. Large passenger ferries with a capacity of 2,000 to 4,000 passengers ply the more distant routes such as Manila, Davao, Butuan City, Zamboanga, and Cagayan de Oro.
There are a number of different jeepneys that pass by the Circle since it's a main route in the city. You can also take a taxi especially if you stay farther from Cebu City to avoid riding two jeepneys.

Nearest accommodations in Fuente Osmeña Circle:
Asian Belgian Resort - 123 Saavedra Road, Moalboal, Cebu, Philippines 6032

Stefanet's Resort - Panagsama, Moalboal, Cebu, Philippines

Sea Turtle House - Lo-oc, Basdaku, White Beach, Moalboal, Cebu, Philippines 6032

Monterial Guesthouse - Larena Corner, Roxas Street, Poblacion, Guihulngan City, Dumaguete / Negros Oriental, Philippines 6214

New Eve's Kiosk Dive Resort - Panagsama Beach, Moalboal, Cebu, Philippines
Rating:
10 people rated this.