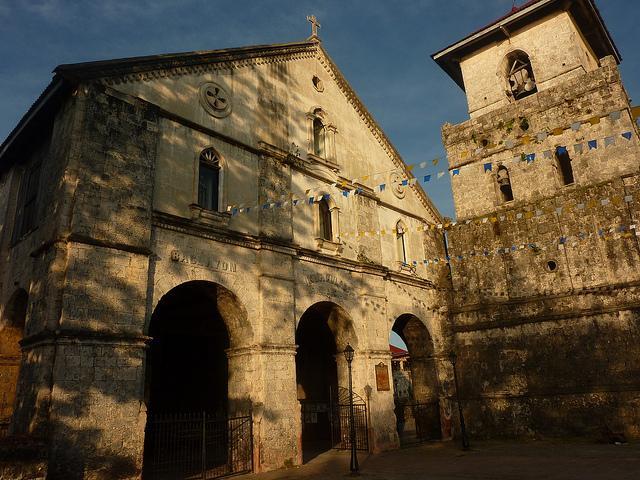 Definitely not the oldest stone church in the country, but the best-preserved Jesuit-built church in the region – Historical Baclayon Church.

A Wondrous History

The first Spanish missionaries or doctrineros in the region, Fr. Juan de Torres and Fr. Gabriel Sanchez, first settled in Baclayon in 1595. On November 17, 1596, a Christian community was organized by the Jesuits and thereafter the Baclayon Church was erected; canonically raised to the status of a parish in 1717 and completed in 1727. The casa parroquial of the church was built by the Augustinian Recollects in 1872.

Next to the church is the old convent, which also houses a small museum with centuries-old religious relics, artifacts, and other antiquities dating back to the 16th century. Included in the collection are an ivory statue of the crucified Christ looking towards heaven; a statue of the Blessed Virgin, said to be presented by Queen Catherine of Aragon; relics of St. Ignatius of Loyola; old gold-embroidered ecclesiastical vestments; books with carabao skin covers; and librettos of church music written in Latin on sheep skins. The ecclesiastical museum was established in 1969 and now a branch of the Diocesan Museum of Tagbilaran museum system.

The church's narthex has the cuadro paintings of the historically acclaimed Filipino painter Liberato Gatchalian who was executed in 1859. This ancient massive edifice still retains its century-old architectural design. Both the external and internal portions of the church contain various interesting relics and artifacts a couple of centuries old.

A Great Landmark

The Church of Our Lady of the Immaculate Conception in Baclayon is considered to be one of the oldest churches in the Philippines. It is one of the best-preserved Jesuit-built churches in the region. The Augustinian Recollects added a modern facade and a number of stone buildings that now surround the church.

Baclayon Church's Pipe Organ

The old pipe organ can be found in the church of Bacaylon. Its age is about 185 years old. The pipe organ was built in 1824 and restored in 2008. It is one of the features of the church that can be considered as a heritage of the age. It has been said that the Baclayon pipe organ is the third oldest organ in the country.

How to Get There
Bohol is located in the Central Philippines, and can be conveniently reached by air or boat. From Manila, just take a flight to Tagbilaran, which takes about 1 hour and 15 minutes. It is also possible to take a boat to Bohol, but will take 25 hours, and is only advisable if you have plenty of time at hand and enjoy a trip on sea, or have to travel on a rock-bottom budget or with a lot of luggage. Currently, there are numerous daily flights from Manila to Tagbilaran.
Many buses, jeepneys, and multicabs ply the interior route to and from Tagbilaran City. It is a lot cheaper if you avail of this local transport. However, vans and taxis are also available but usually charges 50% more if traveling outside Tagbilaran City. Baclayon is some 6 km east of Tagbilaran. Catch a bus or jeepney in Tagbilaran, going into the direction of Baclayon. You may also find a tricycle willing to bring you there.
Accommodations in Tagbilaran
• The Peacock Garden - Upper Laya, Baclayon, Bohol, Philippines 6301
• Amorita Resort - Easter A. Lim Drive, Brgy. Tawala, Barangay Tawala - Panglao Island, Bohol, Philippines 6340
• Panglao Blue Water Beach Resort - Panglao Island, Danao Beach - Panglao Island, Bohol, Philippines
• Amun Ini Beach Resort & Spa - Bas Dako, Candabong, Anda, Bohol, Philippines 6311
• Eskaya Beach Resort and Spa - Barangay Tawala, Panglao, Bolod Beach - Panglao Island, Bohol, Philippines
• Amarela Resort - Barangay Libaong, Barangay Libaong - Panglao Island, Bohol, Philippines
• Marquis Sunrise Sunset Residentials Cottages - Cambanac, Baclayon, Bohol, Philippines

Rating:
1 people rated this.