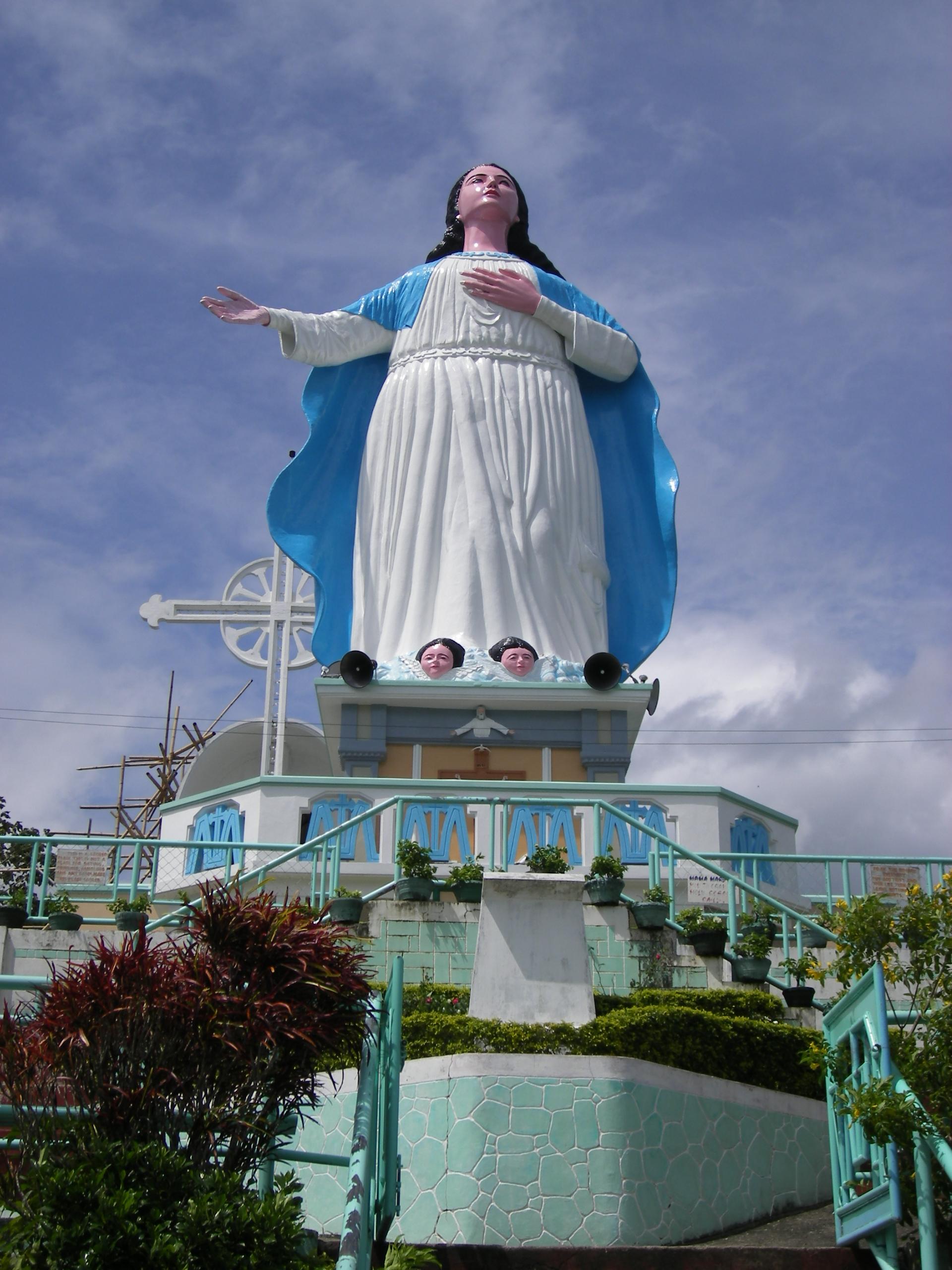 The Lady of Assumption at the Jalleca Hills is the tallest private-owned shrine in the Philippines. The statue itself and the nearby chapel can be reached by using a stairway with more than 300 steps and is located in Barangay Mantahan at 104 meters above sea level. It is one of the most visited religious landmarks in Southern Leyte. This impressive landmark can be seen already from afar not only during daytime but even at night as it is illuminated.
Maasin, famous for its religious places and pilgrim targets, also has the San Francisco Javier Pilgrims Center, a miraculous chapel 400 meters above sea level which can be found in Barangay Hanginan, 7km from the city proper. It can be reached by an hour-long trek to the top through a foliage of trees and wild shrubs. It is said that every petition is granted and every prayer spoken is answered here.
Another highlight for pilgrims is Monte Cueva Shrine, also known as the Shrine of Our Lady of the Assumption and the Most Precious Blood of Jesus. It is a donation by philanthropists Odong and Loring Chung to the Diocese of Maasin. It offers a refuge to pilgrims and devotees. A 30-foot Marian icon perches from a highland over the Via Crucis and Resurrection. A cathedral within the cave is the coup-de-grace to the natural wonder, situated 2km from Maasin City.
Accommodations
Dona Marta Hotel -

Tahusan Beach Road Hinunangan
GV Hotel Maasin (Southern Leyte) -

T. Opus Street, Maasin City, Southern Leyte, Samar / Leyte, Philippines
GV Tower Hotel - Sogod -

Osmena Street, Sogod, Leyte
Maasin Country Lodge -

Maasin City
Verano Pension House -

Along Kangleon Street, Barangay Matahan, Maasin City, Southern Leyte
Southern Comfort Pensionne -

Demeterio Street, Barangay Abgao, Maasin City, Southern Leyte
Jaimee's Hotel -

Ibarra Beach, Maasin City, Southern Leyte, Samar / Leyte, Philippines 6600
How to get there
From Manila, tourists can reach Southern Leyte by riding a plane via Tacloban. Local airlines from Manila have trips going to Tacloban - the gateway to Southern Leyte. From Tacloban, take an FX van going to Hinunangan - one of the towns in Southern Leyte.
There are buses from Manila, particularly in Pasay or Cubao, that have direct trips to Hinunangan.
Rating:
0 people rated this.