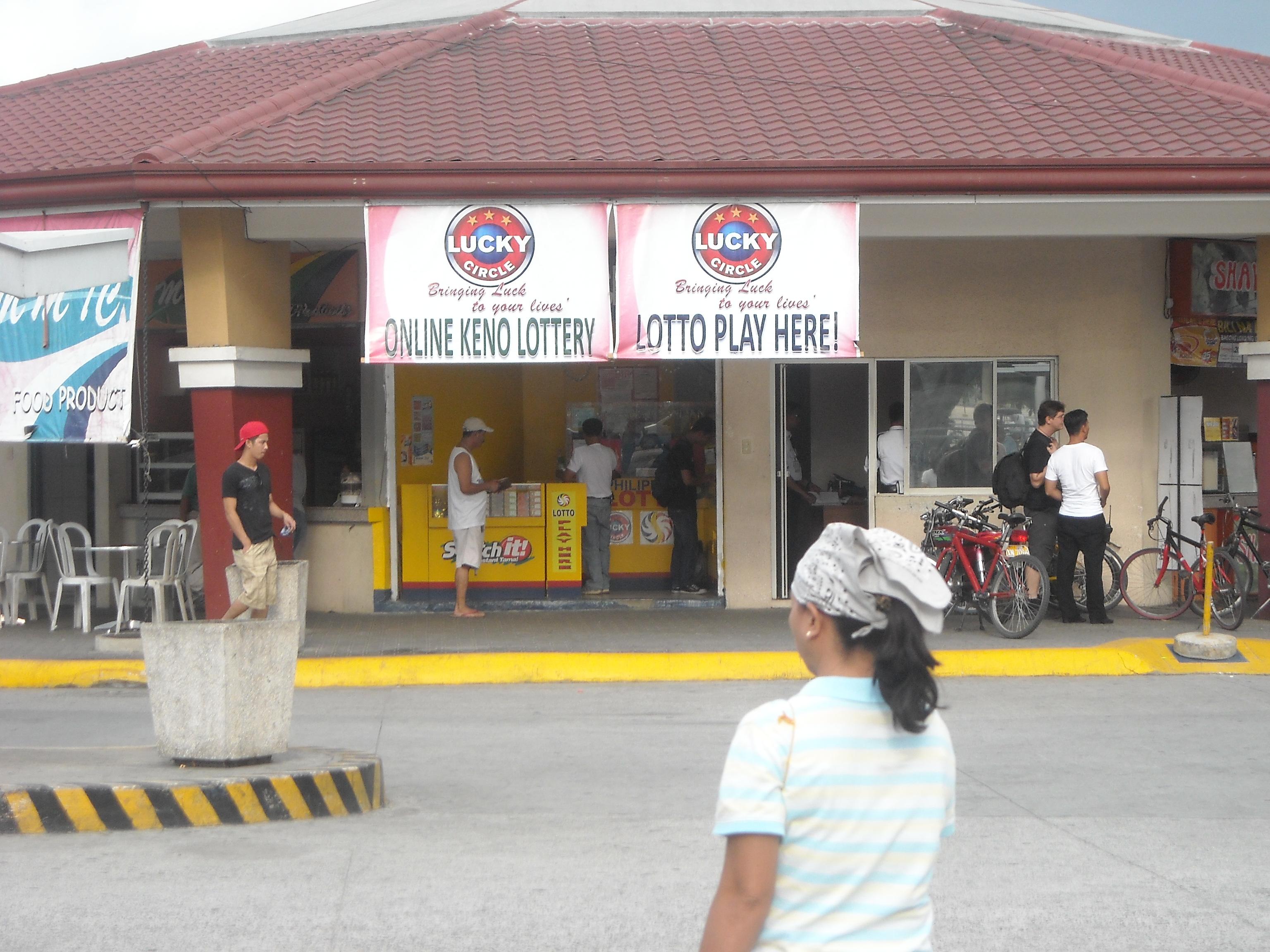 A lottery outlet in Angeles City

Many people dream of having a lot of money, either for themselves or for the benefit of others. Can one get rich in an instant?
Many Filipinos believe that a single lotto ticket can change their lives and their fortunes and be millionaires. It is this dream of an easier, more comfortable life that has made the Lotto a part of the Filipino life and culture. It is the dream of every Filipino to win the million-peso jackpot week in and week out.
Lotto has become a gaming phenomenon in the Philippines, having thousands of lotto outlets in the Philippines. Lured by the hope of getting a winning ticket, the Lotto quickly became a part of life for millions of Filipinos as lotto branches opened in the metro and in provincial areas. Lotto outlets can be spotted everywhere, and are quite noticeable as ridiculously long lines form when big jackpot dates draw near.

Many people fall in line throughout the day at outlets just to be part of the lottery, then people buy a newspaper or drop by at the newspaper store after draw dates just to know the winning number combinations. Sometimes, the amount spent buying lotto tickets is greater than the money won. However, people still continue joining the lotto because of the faith that holds their dreams, to win the jackpot and became rich.
We've all heard people go on about giving money to the poor, throwing a party at the office of promising help if ever they win the Lotto even though in reality they do not even join the Lotto. Even a person who doesn't try their luck with the lottery still dreams to win.

Every bettor has their own way of picking their lucky numbers. Some enter the same combination every time they join the lottery. Some make their picks on a whim. Others jot down the winning numbers every day and choose their own combination from these digits.
Sometimes, lone bettors get their combination numbers from their dreams the night before . Many people have said that they have dreamt of s a combination/number and will retry it on a lotto card and try luck.
People believe that if they will get a chance to win the jackpot, they don't have to work for the rest of their life just to earn money and live in luxury, that is why people keep on betting. Can you imagine for a small amount of money from joining you can win millions of money.
The grand prize is getting bigger and bigger, and many people are betting and hoping to be the next winner.
Lotto is really a popular and favorite pastime for Filipinos. Millions of people are hooked on the game as they see it as an opportunity to finally live a comfortable life. It gives hope to people to become wealthy.
What is PCSO?
Philippine Charity Sweepstakes Office (PCSO) is one of the government owned and controlled corporations that is authorized to raise funds and provide additional revenues through number games or lotteries for the promotion of public health and general welfare, created in the virtue of Republic Act 4130, the Philippine Charity Sweepstakes Law replacing the National Charity Sweepstakes.
PCSO Charity
PCSO's primary mandate is to provide funds in order to sustain free medical and health services to the poorest of the poor, and to augment the current resources of various institutions and organizations providing health services to the general public. This is carried out through a variety of programs:
Mandatory Contributions

Individual Medical Assistance Program

Endowment Fund Program

Beneficiaries

Upgrading of Medical Facilities

Medicine Donation

Medical Equipment Donation

Outreach Programs

Special Programs
Other Services
A. PCSO Charity Clinic - gives free medical and dental services to its officials and employees, referrals and walk-ins, including the depressed barangays in Metro Manila to as far as Sorsogon in the South and Isabela in the North.
B. Out-Patient Clinic Department of the PCSO - renders services from Monday to Friday to thousands of indigent patients at the PCSO Head Office at the Quezon Institute Compound in Quezon City. It gives free consultations, minor surgeries, ambulance conduction of patients and emergency care as well as referrals. It also undertakes community outreach projects in Maternal and Child Health and Primary Health Care.
How to Claim your prize
As can be gleaned from their Website, you will fill out the a claiming form where yu have to write your name and affix your signature at the back of your winning tickets before claiming your prize.
Prizes amounting to Php 20.00 up to Php 5,000.00 can be claimed at any authorized Lotto outlet or at the PCSO Provincial District Offices in your area.
Prizes worth more than Php 5,000.00 up to Php 200,000.00 can be claimed at any of the PCSO Provincial District Office or at the PCSO Main Office, PICC Secretariat Bldg, CCP Complex, 1307 Roxas Blvd., Pasay City.
The jackpot prize should be validated and claimed at the PCSO Main Office, PICC Secretariat Building, PICC, CCP Complex, Pasay City.
Bring two valid IDs and prizes can be claimed from Monday to Friday, 8am to 4:30pm.
For the system prize payout, please refer to the Prize Pay-Out Chart.
Click here to know the see the lotto draw procedure:
https://vigattintourism.com/tourism/articles/9b35a81a4cf5cf167298f93182290dc9 or check their website for more information about the game or assistance services.
Rating:
8 people rated this.