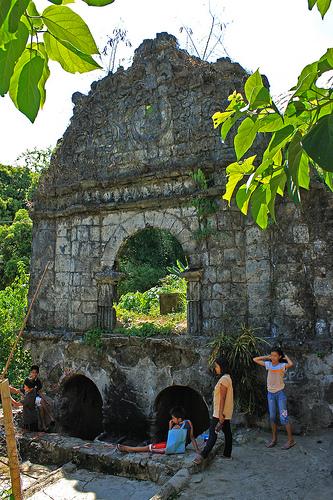 Overview
Sta. Lucia Wells is located in the town of Taal, Batangas. About 500 meters off the steps past a dried creek and gloomy undergrowth are the twin wells of Sta. Lucia. The present site used to be a brook where the Virgin of Caysasay performed miracles and where a church was built by the townsfolk. The violence of the 18th century earthquake sank the church but its half immersed facade remains intact. After the quake, spring water gushed out of the twin doors.
Originally, the public devotion to the Virgin Mary centered on the Caysasay Spring. To the townsfolk, Virgin Mary endowed the spring water with healing powers. Many stories say the Virgin had appeared as a reflection in the spring. Fr. Casimiro Díaz, a representative of the Mexican vicar, said that "the Holy Image has performed numerous miracles, not only for those who have gone to the rock to ask for help from the Queen of Angels, but also for those who drank from the water and bathed in the nearby stream." These miracles are confirmed in the accounts that Fr. Pedro de Arce, Bishop of Cebu, and Governor of the Archbishopric of Manila ordered to be drawn up and prepared by Fr. Juan Bautista de Montoya, Prior of Taal, together with Fr. Gerónimo de Medrano and Fr. Juan de Rojas. A beautifully carved stone dome or arch was also constructed over the spring near the church, so named Ang Balon ng Sta. Lucia or the Wells of Santa Lucia. To this day, the site of the wells is known as "Banal na Pook", a sacred site, and vestiges of the spring running close to the wells is known as "Banal na Tubig" or Sacred Water.
How to get there
You can reach Taal, Batangas by means of STAR Tollway or Southern Tagalog Arterial Road. Drive along STAR Tollway and exit to Tambo (Lipa City). Turn right from the exit and follow the signs to Cuenca. Continue on driving to the national highway until you pass through the towns of Alitagtag and Sta. Teresita.
When you reach the Sta. Teresita junction, turn right and drive straight until you reach the Taal-Lemery Bypass Junction. Turn left at the junction and follow the road and you'll find the Taal Town easily.
Accommodations
Taal Imperial Hotel and Resort
Location: Brgy. Tulo, Diversion Road, Taal, Batangas, Batangas, Philippines
Location: Diokno Highway, Lauurel, Laurel, Batangas, Philippines
Location: Kilometer 84 President J.P. Laurel Hi-way, Pilahan, Lipa City, Batangas, Philippines
Location: (21.76 km from Batangas City Hall of Justice)
The Alpa Hotel and Restaurant
Location: Brgy. Kumintang Ibaba, , Batangas, Batangas, Philippine
Rating:
0 people rated this.