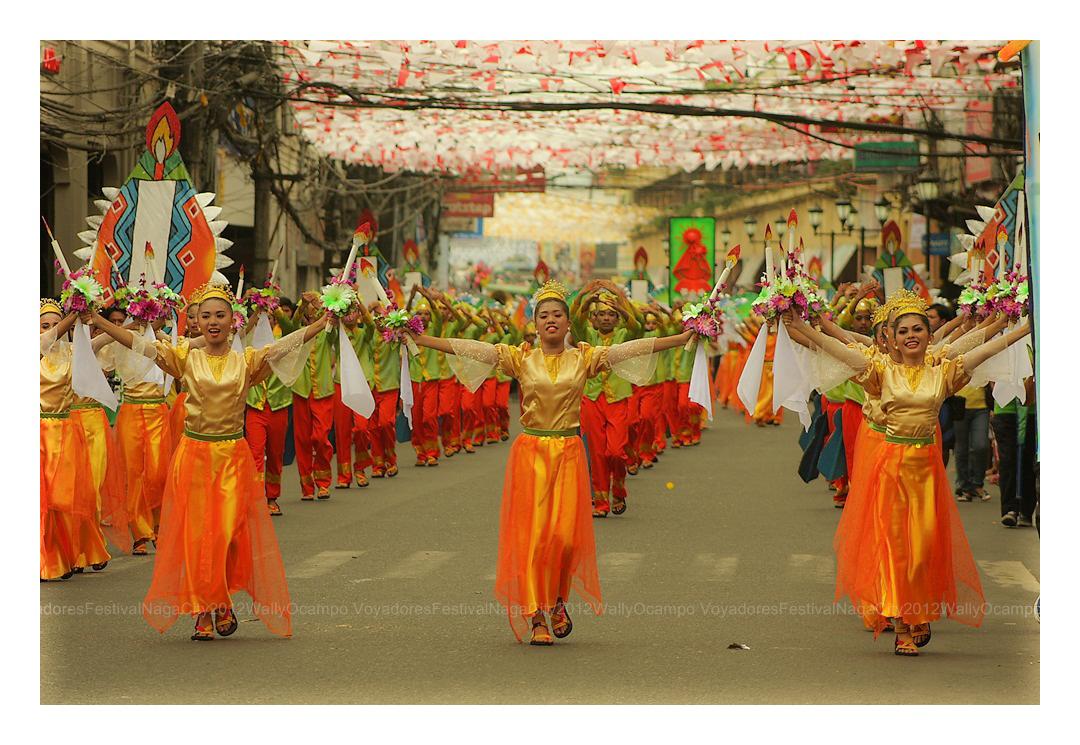 Voyadores Festival 2012
Voyadores Festival is one of the most awaited festivals of Bicol, held every 3rd week of September where the feast of Our Lady of Peñafrancia is commemorated.

Our Lady of Peñafrancia is the Patroness of Bicol Region. The festivity begins on the second Friday of September where the image of the Virgin of Peñafrancia is carried by hundreds of male devotees from her shrine to Naga Cathedral. The main highlight is the ceremonial fluvial procession along the Naga River where her centuries-old image becomes an object of a stirring religious event.
Voyadores Festival is a street dance reenactment on the transfer of the image of Our Lady of Peñafrancia from the Basilica to the Metropolitan Cathedral. Voyadores means "Mandaragat", named after the male devotees (voyadores) who accompany and carry the Virgin's image in a procession called Translacion for a novena at the Metropolitan Cathedral.
Bicolanos from Naga City celebrated the 302nd year of Peñafrancia Festival. On this year's celebration, a colorful and meaningful parade held in Bicol Region. Beautiful costumes and grand performances were showcased on the fabulous float and civic parade.
Civic parade of Peñafrancia and Voyadores Festival are the major highlight of the event in Naga City, Camarines Sur.
A sizable and well-decorated floats were featured on the vast street of the city. GMA 7 was one of the many organizations and schools who joined the parade where some of the TV personalities like Mikael Daez and Andrea Torres, main casts in one of the TV shows of GMA, were spotted at the event. A hundred of audiences gladly waited and watched the parade inspite of heat just to witness the different kinds of floats as well as the guest artists. The parade was successfully done.
At about 3:00pm, a happy and lively dance parade also known as Voyadores Festival started at Plaza Quezon. Seven local groups participated in the dance parade where each dance illustrates the procession of Our lady of Peñafrancia on the river of Peñafrancia and Divinorostro.
Activities
The festival is a week-long celebration where a lot of activities are held. Here is the list of the activities done at the festival last September 2012.
Miss Bicolandia

Traslacion Procession

Penafrancia Marathon

Seminar and Workshop

Civic Parade

Voyadores Festival

Military Parade

Fluvial Procession

Pageants

Sports Activities

Church Masses

Other Performances
During the celebration, a variety of activities and events were conducted including the traslacion, civic and military parades, sports activities, exhibits, regatta, cultural shows, pageant, and other competitions. Military Parade was also the highlight of the event that participated by different schools in Bicol.

Gallery

Rating:
6 people rated this.