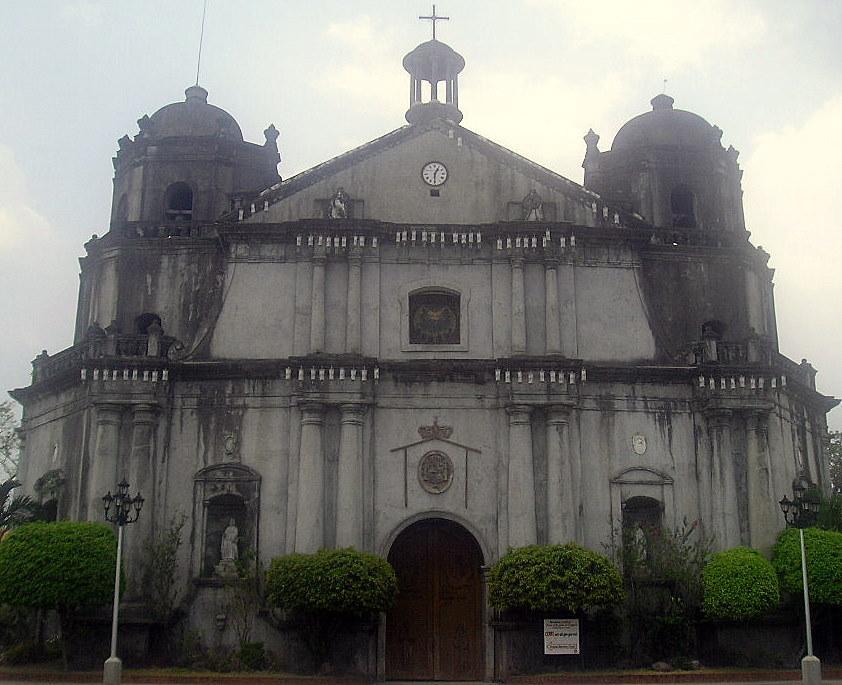 The Naga Metropolitan Cathedral (also known as the Metropolitan Cathedral of Saint John the Evangelist and informally as Naga Cathedral) is a prominent Latin Rite Roman Catholic Cathedral. The cathedral was erected in Padia-an when the Diocese of Nueva Caceres was created by a Papal Bull on August 14, 1595. The current rector is Rev. Msgr. Noe Badiola, PC, appointed in 2011.
History
The cathedral was destroyed by fire in 1768. The construction of present cathedral in Spanish-Romanesque style was administered by Bishop Bernardo dela Concepcion, OFM, in 1808. It was finished in 1843 and blessed by Mons. Tomas Ladron de Guevara. In October 1856, it was damaged by typhoon, then restored by Rev. Fray Francisco Gainza, OP, in 1862-1879.
Damaged by earthquake in 1887, the basilica was repaired by Obras Publicas under the direction of Bishop Arsenio del Campo, OSA, and Engineer Ricardo Ayuso in 1890.
During the episcopate of His Grace, Most Reverend Leonardo Zamora Legaspi, OP, DD, the restoration of this cathedral was begun in April 1987 under the supervison of Rt. Rev. Msgr. Jaime M. San Andres, HP, parish priest of the Saint John the Evangelist Parish, Naga City.
On February 6, 1988, the Feast of Saint Peter Baptist, titular patron of the Archdiocese of Caceres, this Metropolitan Cathedral was inaugurated and dedicated by Archbishop Legaspi with Bicolano bishops and priests.
Location
The Cathedral can be found on Elias Angeles St., Naga City, Camarines Sur.
How to Get There
By Air
The province of Camarines Sur can be reached by plane within a flying time of 45 minutes. Flights are serviced by the Air Philippines (Pal Express), Zest Air, and Cebu Pacific from Manila to Naga City Airport (the capital of the province). Riding a plane is the quickest way to go to the province.

By Land
Aircon and non-aircon buses like PhilTranco, Isarog Bus Co., and Peñafrancia Bus Lines ply daily through the Quirino Highway from Manila to Naga.

Going around
You can roam around Naga City just by foot. If you don't prefer walking, tricycles and jeepneys are the main transportation. Taxis are also available. Trisikad, padyak, or manpowered tricycles are also available in areas that mostly aren't included in jeepneys and tricycles routes.
Buses, vans and jeepneys are mostly used in traveling outside the city and going to other towns of Camarines Sur. Taxis are available as well, but with double charge or price depending on your negotiation with the driver.
Where to stay
• White Dahlia Apartelle - Mayon Avenue corner Caimito Street, Dayangyang, Naga City - Camarines Sur, Bicol
• Naga Regent Hotel - Elias Angeles St., Naga City - Camarines Sur, Bicol
• Naga Land Hotel - Elias Angeles Street, Naga City - Camarines Sur, Bicol
• The Avenue Plaza Hotel - Magsaysay Avenue, Naga City - Camarines Sur, Bicol
• The Naga Manor - Balatas Road (Before Penafrancia Basilica Minore, Naga City - Camarines Sur, Bicol
• Moraville Hotel and Restaurant - Calle Caceres, Dinaga Street, Naga City - Camarines Sur, Bicol
• Crown Hotel - Padre Burgos Street Brgy. San Francisco, Naga City - Camarines Sur, Bicol
• Magic Square Inn - corner Bulusan and Taal Street, Naga City - Camarines Sur, Bicol
• Flamingo Hostel - Maharlika Highway, Concepcion Pequena, Naga City - Camarines Sur, Bicol


Rating:
0 people rated this.