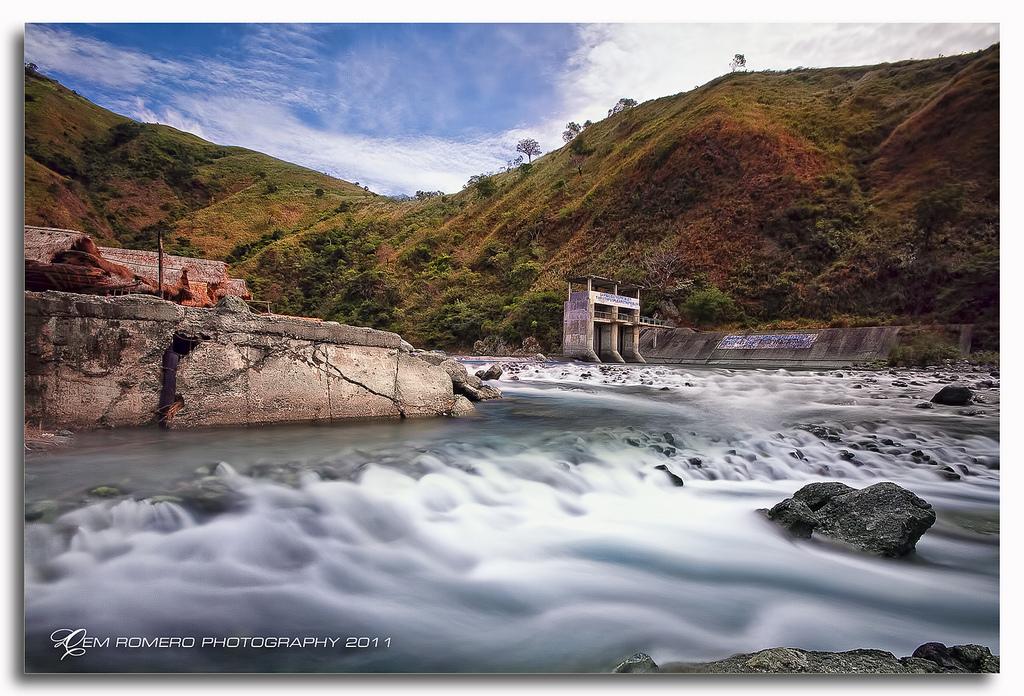 Dupinga Streams, Gabaldon, Nueva Ecija
Besides being the rice granary of the Philippines, Nueva Ecija is also a land of unique natural wonders that have continued to amaze visitors through the years. As the people have strived to be at harmony with nature, the province has continued to be a haven for those who wish to go on an adventure or just a place where the casual tourist can sit back and relax and take in the refreshing scenery.
Barrio Puncan
Carranglan, Nueva Ecija
Dubbed as the "Little Baguio" of Nueva Ecija, the cool mountain breeze is an experience to remember. Indeed a favorite place for local tourists.
Binbin Falls
Brgy. Binbin, Carranglan, Nueva Ecija
The site has three waterfalls that are surrounded by lush virgin vegetation. Going there is already an adventure because the site is located amidst cultivated farms and forested areas.
Burburayok Spring
Rizal, Nueva Ecija
Located at the foot of Mt. Amorong in Nueva Ecija, this hot spring is said to be medicinal and beneficial to one's health.
Capintalan
Carranglan, Nueva Ecija
This vast wilderness is maintained by Kalanguya tribe, an indigenous community from Ifugao province. On this area stands Bawang Peak, a provincial boundary of Pangasinan, Nueva Ecija and Nueva Vizcaya.
Gabaldon Falls
Sabani Estate, Gabaldon, Nueva Ecija
The river is surrounded by green foliage and huge rock formation. Its rippling ice-cold water from the 10-ft high water falls is the main attraction of the area.
General Luna Falls
Rizal, Nueva Ecija
A towering waterfall more than 100- ft high which descends widely across a rocky mountain wall, this exciting phenomenon is found in the easternmost portion of Rizal which is nested uphill on the foot of the Sierra Madre Mountain range.
Hot Spring of Rizal
Rizal, Nueva Ecija
Located in Brgy. Gen. Luna in Rizal town, this hot spring is said to be medicinal in nature. Apart from the spring, a towering waterfall is another tourist delight. The waterfall, more than a hundred ft. high, descends widely across a vast wall on the Sierra Madre mountain.
Minalungao National Park and Cave
Gen. Tinio, Nueva Ecija
The site features the breathtaking view of narrow deep river that looks up to 16-meter high limestone walls. At the end of the white rock formation is an enchanting cave that is perfect for trekking activities. The cave - Located at the foot of Minalungao Hill, Minalungao Cave's rock formation is composed mainly of calcites (limestones and marbles) which are dotted with tiny and shallow holes, evidence of dissolving reaction from the continuous dripping of rain water (during wet season) from the apex of the vertical soil-filled cragged species of grass. The vegetative cover in the area is limited to species like shrubs, vines, cogon and other unidentified species of grass. Fauna species observed outside the caves include monkey, wild pig, squirrel and birds like oriole, swift, martinez and ground thrust. The nocturnal troglophiles - fruit- and insect-eating - are characteristic of almost every cave visited. The portals to the cave (one large and another small) situated about 10 meters up to the river's water level, is blocked by a big, brown rock, simulating Jesus' Tomb at first glance. An ascending vertical crevice welcomes visitors some 50 meters into the portals. A lone bamboo pole serves as the only way up the ante-room which is adorned with flowstones, stalactites and stalagmites. A narrow sinkhole directly above the dome faintly provides natural light to the place. Its naturally ridged formation is cut through the center by the Penaranda River where various fish species abound. The water-lined corrosion on the cragged vertical rocks suggest a 10-meter swelling of the otherwise peaceful river, during rainy days.
Mt. Olivette
Bongabon, Nueva Ecija
Climbing a hundred steps of curved stone, one reaches the church built by the Adarnista Spiritual Community on a hilltop. An outdoor overnight stay a firefly-lit night, enchanting its visitors and in the morning, one wakes to cascading waterfalls whose view adds to its lush sceneries . Olivete is most famous for its medicinal springs where pilgrims bathing and drinking are an everyday sight and every visitor either to discover its awesome wonders inside or to purify their inner selves crawling through its endless veins.
Pajanutic Falls
Carranglan, Nueva Ecija
Located in Mejedigan, Carranglan, the place is about 1.5 hectares. It has waterfalls about 15 meters in height surrounded with green foliage. It is an ideal place for picnics and excursion. It can be reached by land transportation and is 15 kilometers away from the Poblacion.
Palasapas Falls
San Jose City, Nueva Ecija
Located in the outskirts of the city, in the barrio Manicla, seven kilometers away from the Poblacion. The site has natural scenic beauty where once stood a forbidding forest, its quant existence enhanced only by the sound of cascading waterfalls inadvertently concealed behind its snarling tree branches and thick undergrowth.
Accommodations
Here is the list of hotels and resorts that can be found in the province of Nueva Ecija located in Cabanatuan City.
LA PARILLA HOTEL - Zulueta St., Melencio Corner Cabanatuan City

VILLAGE INN - Mabini Homesite, Cabanatuan City

FRED'S APARTELLE - 0728 Victoria Mansions, Bitas, Cabanatuan City

GREENLAND SUITES - Mampulog, Cabanatuan City

PRIME RESORT AND HOTEL - Mampulog Bitas, Cabanatuan City

HUNTER VALLEY PLANTATION & RESORT - Brgy. Cabu, Cabanatuan City

ACROPOLIS NORTH WATER CAMP & COUNTRY CLUB - Cabanatuan City
Restaurants (Cabanatuan City)
PLAZA LETICIA

ARCELI'S RESTAURANT

DE LUXE RESTAURANT

VICENTICO'S GRILL

ALLESANDRA'S RESTAURANT

CHARCOAL GRILL

Cafe CRISTINA RESTAURANT

RETRO BAR & RESTAURANT

MAX'S RESTAURANT

CIRCLES BAR AND RESTO

JOEY'S SNACK HOUSE

CAKELAND
FAST FOOD CHAINS
Jollibee, Mc Donald's, Kentucky Fried Chicken, Greenwich, Red Ribbon, Chowking, and Kenny Roger's Roaster are available at NE Pacific Mall and Mega Center the Mall.
Accessibility
Visitors can reached the province of Nueva Ecija by riding a bus from Manila via Cabanatuan City. There are bus lines (Five Star, Philippine Rabit, Baliwag, Saulog transit and Victory Liner) that ply routes to Nueva Ecija. Jeepneys and tricycles are available in the province as a common way of transportation around the province.
Rating:
1 people rated this.