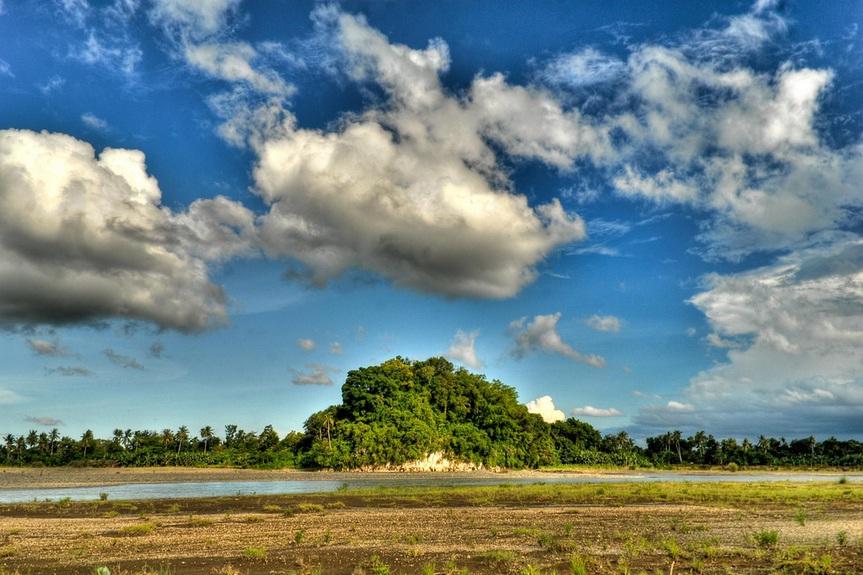 Tigayon hills in Kalibo, Aklan imparts a sense of serenity and inspires awe to all of those who have taken the time to visit this amazing place, which the locals have much pride in.

The hills are located in the town of Kalibo in Aklan Province. It is situated near the river of Aklan. one would see a solitary mountain of solid rock amidst stretches of flat lands. One of the sides is a shallow cave with an arched entrance. Inside is an altar-like rock and two bench-like rock formations on its side.
At the top of the hill, a small chapel can be found that is surrounded with lush vegetation. The panoramic view of the river from the top is very breathtaking. If you wish to visit, the good news is the area is free for everyone.
The area around the hills is very calm and relaxing. It's an ideal place for people who want to have peace of mind.
Accommodations
Here is the list of hotels located near in the town:

Ati-Atihan Festival Hostel -

19 Martyrs Street, Kalibo, Kalibo, Philippines 5600
Kalibo Hotel -

476 N Roldan Street, Kalibo, Kalibo, Philippines
Basa Hotel -

Judge N. Martelino Street Andagao Kalibo Aklan 5600, Philippines
Marzon Hotel Kalibo -

Sta. Monica, Andagao, Kalibo, Kalibo, Philippines
RB Lodge Kalibo -

Pastrana St and N. Roldan Street, Kalibo, Kalibo, Philippines
How to get there
By Air
Via Kalibo International Airport (Aklan)
From Manila Airport, travel to Kalibo will take more or less 45 minutes. There are four airlines that operate trips to Kalibo: Philippine Airlines, Cebu Pacific, Zest Air and Air Phil Express. Kalibo is also the jumping off point for many international travelers heading to Boracay. The Kalibo International Airport is about ten minutes from the main plaza.
By Land
Kalibo is 160 kilometers from Iloilo City, 90 kilometers from Roxas City, and 175 kilometers from San Jose, Antique. Land travel from Iloilo City to Kalibo takes approximately two and a half to three hours, one and a half hours from Roxas City, and three to five hours from San Jose, Antique. All are accessible by bus and minivans. Trips to Caticlan range from 50 minutes to 90 minutes depending on the mode of transportation. Public transportation around the province and the city is by tricycle, taxi, multicab and jeepneys.
Rating:
0 people rated this.