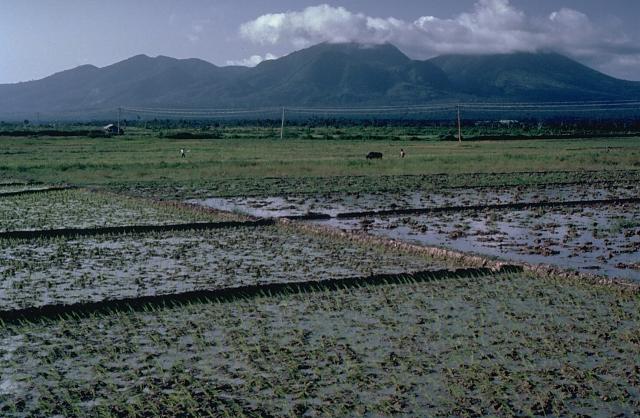 The Pocdol Mountains are a volcanic group of stratovolcanos in the Philippines. The mountain range is also known as the Bacon-Manito Volcanic Group. As of 2012, there are no reports about eruptions of the volcanic mountains. It presents a strong, dignified profile as viewed from its many vantage points in the Bicol region.
Location
The Pocdol Mountains form part of the boundary between the provinces of Albay and Sorsogon, in Region V, on the island of Luzon, in the Philippines.
The group is located south-east of Mayon volcano, between the Albay Gulf and Saragon Bay, at latitude 13.05°N (13°3'0"N), longitude 123.958°E (123°57'30"E).
Physical features
The Pocdol Mountains have a triangular footprint of about 225 square kilometers (87 sq mi). The highest point is reported as 1102 meters (3,615 ft) above sea level. A fumarole field that contains sulfataras and chloride hot springs, is reported to be located near the summit of the volcanic group.
The group is described by the Smithsonian Institution's Global Volcanism Program as fumarolic.
Geology
Several Pleistocene K-Ar dates have been obtained from the volcanic complex. Most igneous rocks in the Pocdol Mountains consist of pyroxene andesites with minor amounts of dacite and basalts. The area is traversed by the San Vicente-Linao Fault, a splay of the Philippine Fault. Volcanic cones in the western part of the complex are dissected, but those in the eastern part are morphologically youthful. The volcanic area is the host of various geothermal systems collectively called the Bacon-Manito geothermal field.
Listings
The Global Volcanism Program lists the Pocdol Mountains as Fumarolic. Philippine Institute of Volcanology and Seismology (PHIVOLCS) lists Pocdol Mountains as Inactive.
Transportation (Albay)
Air Transport
By air, Legazpi City is 45 minutes away from Manila via the nation's flag carrier, Philippine Airlines.
Land Transport
By land, aircon tourist bus companies ply the Manila-Legazpi route daily with an average travel time of nine hours. The average travel time by train is sixteen hours via the Philippine National Railway, the country's sole rail transportation service.
Sea Transport
Several shipping lines have regular trips to and from Catanduanes through the Tabaco Port. Travel time from Visayas and Mindanao pass through the port of Matnog in Sorsogon.
Getting around the city
Buses and jeepneys are generally the modes of transportation in getting around Albay's destinations. Pedicabs and tricycles are also available for short distance travels. Taxis and rent-a-car services are also available.
Rating:
0 people rated this.