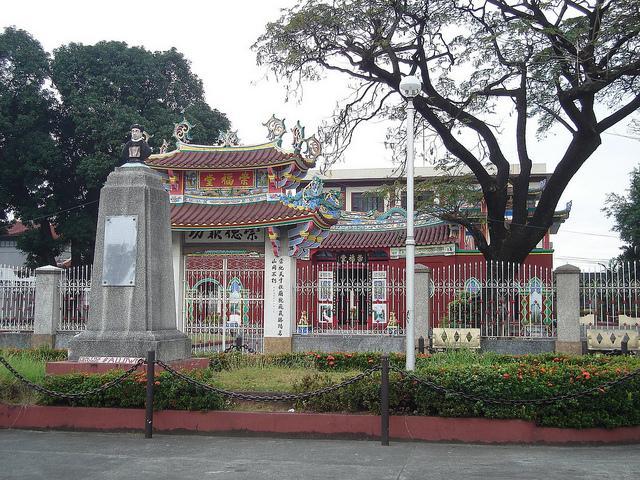 The Manila Chinese Cemetery is the second oldest cemetery in Manila, after La Loma Cemetery, and was designated as the resting place for the Chinese citizens who were denied burial in Catholic cemeteries during the Spanish colonial period. The cemetery was witness to many executions during World War II. Among them were Girl Scouts organizer Josefa Llanes Escoda, literary geniuses Rafael Roces and Manuel Arguilla, star athlete-turned-guerrilla spy Virgilio Lobregat, and Chinese Consul General Yang Guangsheng. Our notable Apolinario Mabini was also buried in the cemetery before his remains were transferred to Batangas.

Landmarks

Chong Hock Tong Temple – Built in the 1850s, this is the oldest Chinese temple in Manila. Though not as elaborate, the architecture is still reminiscent of those in Fujian province as well as those in Singapore and Malaysia with their colorful friezes and uniquely upturned eaves.

Liat See Tong (Martyrs Hall) – Built in the early 1950s in honor of the Chinese community leaders who were executed by the Japanese during World War II. Japan invaded the country in 1941 and one of the first things they did was to round up prominent Chinese community leaders and executed them. Having been enemies even before World War II commenced, the Japanese were wary of the trouble the Chinese community would cause on the plans when they invaded the Philippines.

• Dy Hoc Khe
• Dy Hoc Siu, a leader of the committee campaigning for boycott of Japanese trade in the Philippines under the nationwide league opposition Japanese militarism called "Khong Tiak Hue" or "Resist the Enemy League"
• Yu Yi Tung, editor of Chinese Commercial News

Carlos Palanca (Tan Quien Sien) Memorial – A memorial to Don Carlos Palanca (Tan Quien Sien), illustrious Chinese Filipino leader and businessman during the 19th century. It was through his efforts that the cemetery was built. During the Spanish colonial period, non-Catholics weren't allowed to be buried in the city cemeteries. Hence the need for the non-Christian Chinese to have their own cemetery.

Ruby Tower Memorial – Built in 1974, the Ruby Tower Memorial is dedicated to the Chinese-Filipinos who perished during the deadly August 2, 1968 earthquake that hit Manila. Two hundred and sixty people died during the collapse of the 6-story Ruby Tower, located near the corner of Teodora Alonzo and Doroteo Jose streets in Santa Cruz, Manila. The entire building, save for a portion of the first and second floors at its northern end, was destroyed. Allegations of poor design and construction, as well as use of low-quality building materials, arose.

The memorial is located just in the rear of the famous Lee See Tong Martyr's Hall inside the Manila Chinese Cemetery.

Notable burials
• Dee Cheng Chuan, founder of first Chinese bank in the Philippines (Chinabank)
• Ma Mon Luk (1896-1961), mami king
• Vicente Lim-a former general during World War II
Rating:
4 people rated this.