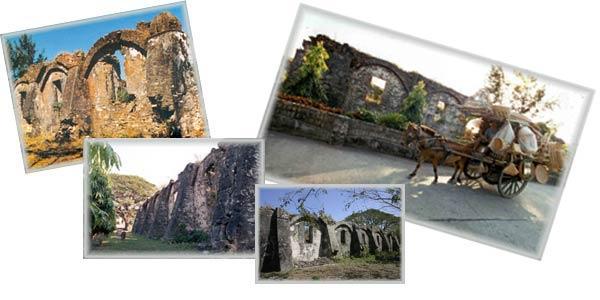 To centralize and start its evangelization in Pindangan, Frayles Francisco Romero and Santiago Holarte built a church made of stone thatch in 1764. Because of its nearness to the sea, however, there were numerous raids by Japanese, Chinese, and Moro pirates that usually loot the coastal areas of La Union. To solve this problem, the Spanish clergy decided to transfer the church to Brgy. Tanqui then to Brgy. Cabaroan then afterwards to its present site in front of the City Auditorium.
Today, the ruins' buttresses and walls are still standing. An old well which supplied the area with cool water through the centuries can still be found at the side of the church. Made of corals and bricks, the enchanting well is still in good condition. The Carmelite Sisters, whose monastery stands behind the ruins, are the caretakers of the glorious landmark.
Pindangan Ruins is located at Brgy. San Vicente, San Fernando City, La Union, about 500 meters from the national highway, near Camp Oscar Florendo, the Regional Headquarters of the Philippine National Police (PNP). The original name of San Fernando, Pindangan in the Ilocano dialect, means a place where meat is sun dried with salt for preservation. Because of the place's abundant dried meat, the place was called Pindangan.
How to get to La Union?
From Manila there are various bus lines that offer trips to La Union. Air conditioned bus firms (Dominion Bus Lines, Philippine Rabbit, Partas, Fariñas, Maria de Leon, and Viron) depart from terminals in Manila which are bound for Ilocos. The destination can either be La Union, Narvacan, Vigan, Laoag, or Abra.
San Fernando City, La Union's capital, lies 273 km. from Manila. Travel time is about 5 hours by land and 30 minutes by air. Also, it is about an hour's drive from Baguio City.
Getting around La Union! One can take jeepneys and mini-buses with fixed routes at a minimal fare. Tricycles (motorcycles with sidecars) are commonly used to access must-see places in between towns. Rented transportation that plies this town is also available which will bring you to the city proper.
Nearest Accommodations: There are many inns, pension houses, and hotels located in and around San Fernando.
• Oasis Country Resort - Sevilla, San Fernando City, La Union, La Union, Philippines
• Thunderbird Resorts - Poro Point Poro Point Freeport Zone, San Fernando, La Union, La Union, Philippines
• China Sea Beach Resort - China Sea Beach Resort
• Hotel Ariana - Paringao, Bauang, La Union, La Union, Philippines
• Bali Hai Beach Resort - Parungao, Bauang, La Union, La Union, Philippines
Rating:
0 people rated this.