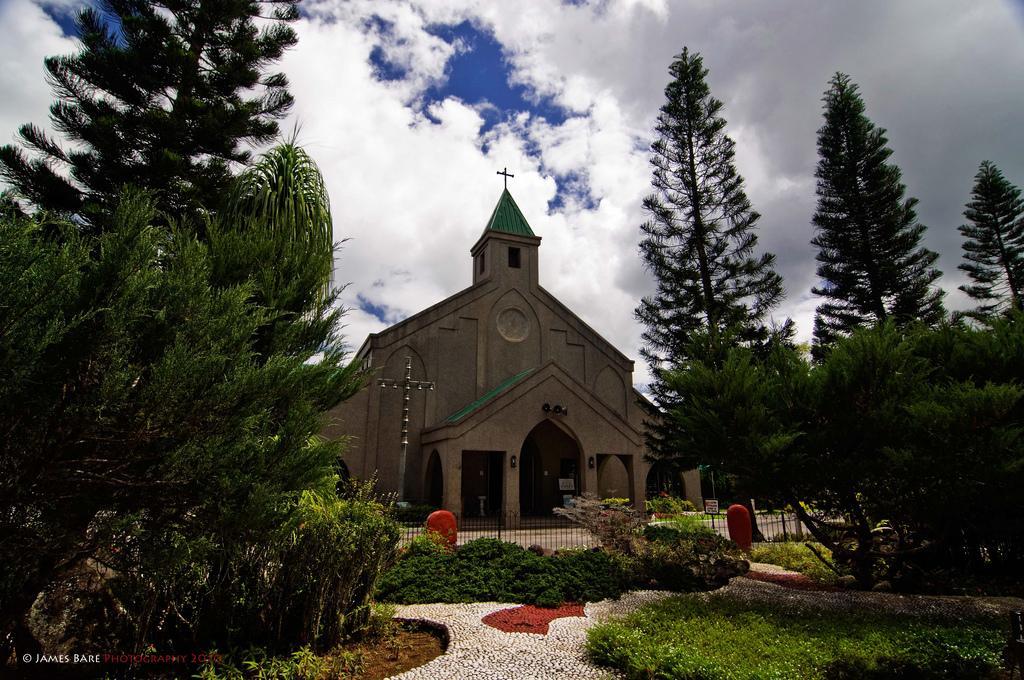 Pink Sisters Church in Tagaytay

Many visitors go to Tagaytay because of its beautiful scenery. It includes Taal Volcano with a breathtaking view of Taal Lake. Others frequent the city to spend leisure time with family and friends. The city is also a market haven where you can buy low-priced fruits and vegetables. But if there is one reason to visit Tagaytay, it's because of the beautiful and lovely churches that stand throughout the city. Pink Sisters Chapel and Covenant is one of many places in Tagaytay that you should not miss visiting.
The Adoration Chapel of the Pink Sisters is located in the Convent of Divine Mercy which is one of the Catholic Monasteries in Tagaytay. Pink Sisters Chapel and Convent was founded by the German priest Blessed Arnold Janssen. He set up the Pink Sisters to support by prayers and sacrifice the first two missionary foundations that he established. Now, the Pink Sisters is a well known society of contemplative nuns with convents located in different parts of the world, including the one in Tagaytay City.
The place is simply called Pink Sisters or more officially known as Holy Spirit Adoration Sisters because of the thoughtful nuns living in the monastery. These nuns center their lives in worshipping God through the Adoration of the Blessed Sacrament in the Chapel. Each of the Pink Sisters takes turn to adore the Blessed Sacrament and keep a prayerful vigil 24 hours a day, 7 days a week.
If you get the chance to visit this heavenly place, you will notice several priests, seminarians, nuns and adorers of the Blessed Sacrament from all over the Philippines praying and worshipping inside the monastery. It is always a place of blessing that soothes the hearts of its visitors.
If you happen to visit Tagaytay City please don't forget to visit Pink Sisters. It may be one of the best experiences that you may have for a lifetime!
If you are planning to visit Pink Chapel and other ternaries in Tagaytay and spend overnight, here are some of the nearest accommodations in the city that you can spend overnight or days.
Sierra Traveller's Inn – Ulat - Holy Spirit Road, Maitim 2 East, Aguinaldo Highway, Tagaytay, Philippines

Hotel Dominique - Km.55 Aguinaldo Hi-way, Aguinaldo Highway, Tagaytay, Philippines

Golden Eagle Rooms for Rent Accommodation - Emilio, Aguinaldo Highway, Tagaytay, Philippines

Emiramona Garden Hotel - Arnoldus Road, Barangay Maitim II East, Aguinaldo Highway, Tagaytay, Philippines

Lee Boutique Hotel - Tagaytay Calamba Road, Barangay San Jose, Tagaytay - Calamba Road, Tagaytay, Philippines
Visiting the Pink Sisters Chapel and Convent
The Adoration Chapel of the Pink Sister can be easily reached by riding a jeepney from Olivarez Center in Tagaytay City. It is just 500 m meters away from Olivarez Center. Just ride a jeepney or tricycle from Olivarez Center to reach the place. There is a big signboard along the road that marks the street to the convent. Visitors need to walk few meters from the main road to reach the convent gate.
Tagaytay Trip
Tagaytay is about one hour and 15 minutes drive from Manila via the South Luzon Expressway exiting at Santa Rosa, then via Santa Rosa-Tagaytay Road. It can also be reached via the Coastal Road Expressway, then taking the Aguinaldo Highway heading south towards Tagaytay.
By public transportation, there are buses that ply to Tagaytay from Manila on a daily basis. Several bus companies have their terminals in Cubao, EDSA, Pasay City, and at Baclaran, below LRT, Manila.
Rating:
6 people rated this.