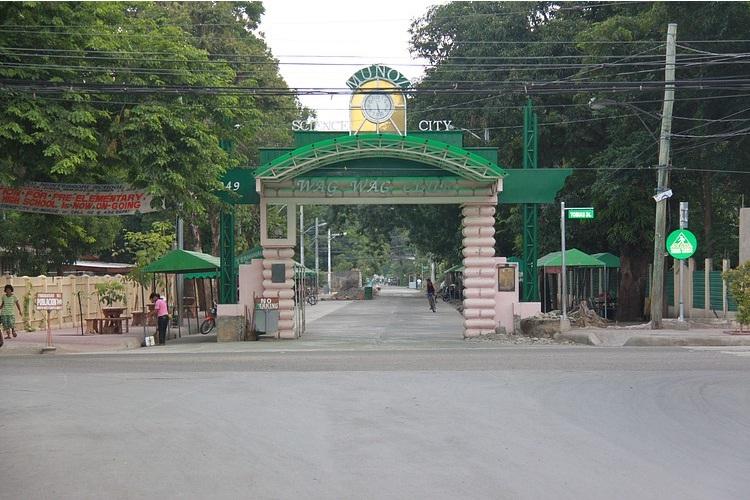 Science City of Muñoz is a city in Central Luzon, Philippines, situated 147 kilometers (91 mi) north of the capital Manila. Due to its rich topography and tropical climate, it is now home to agricultural research and technology centers, committed to the production of information and technological breakthroughs to promote rural development, productivity and food security.
From its lowly origins as "Sitio Papaya", it was rechristened as Muñoz in 1886 in honor of Spanish Governor Don Francisco Muñoz. It was in 1913, under Executive Order No. 72, wherein Muñoz was declared as a new and independent municipality.
With a bustling market center wherein rice trading was a major economic activity, it has metamorphosed into its present stature, unprecedented in the annals of the country as a Science City by virtue of Republic Act 8977 on December 9, 2000. The overriding objective of transforming Muñoz into a center of science and technology, trade, commerce and agro-industry is now achievable as the city now financially sound to implement and translate into reality its conceptualized framework of total development.
Being a science city, Muñoz was acknowledged as one of the members of the League of Cities of the Philippines and became a pilot city of achieving the United Nation's Millennium Development Goals.
Vision
"The Science City of Muñoz as an exemplar of good local governance, progressive and globally competitive, promoting the application of agricultural science, technologies, culture and the arts in an atmosphere of harmony and peace."
Mission
The Science City of Muñoz capitalizes on the presence of the various Research and development Centers and other related institutions to advance its mission, that is: to unite this institutions and establish a common direction in transforming the countryside into a huge learning laboratory for technology promotion, rural development, productivity and profitability, and educational and agro-tourism, and center for culture and the arts.
Tourism
Muñoz is home to the prestigious Central Luzon State University (CLSU) the chosen/declared agro-tourism center for Luzon. The university is now fast becoming a prime tourist destination/an object of "lakbay-aral" groups.
Central Luzon State University - Science City of Munoz, Nueva Ecija
Located in the outskirts of the town Munoz, Nueva Ecija, the 658 hectares main campus of CLSU is famous for its old and shady trees, its model farms, its vegetables and ornamental plant garden. It has also facilities for swimming, basketball and pelota. Oftentimes, Nueva Ecija is referred to as the "Agricultural Center of Luzon" because of the presence of CLSU. The place was declared by the Department of Tourism as the agri-tourism site of Luzon.
CLSU Concrete Tank Culture for Tilapia - Science City of Munoz, Nueva Ecija
This one-of-a-kind breeding farm showcases intensive culture of tilapia in concrete circular tanks, with provisions for continuous water exchange and aeration. Each tank is stocked with 6,000 tilapia fingerlings. Estimated output is 1,000 kg. of table-size fish after four months of culture.
CLSU Agricultural Museum - Science City of Munoz, Nueva Ecija
A socio-cultural arm for information in Central Luzon, this is the first and the only agricultural showcase of its kind in the country. The materials on display are preserved and maintained to promote the cultural heritage of the Filipinos in Central Luzon. The museum has (6) sections: rice and vegetables planting implements, household/homegrown indigenous utensils, personal apparels, hunting and fishing implements.
CLSU Living Fish Museum - Science City of Munoz, Nueva Ecija
The museum showcases indigenous and tropical freshwater fishes collected from different provinces in Luzon. It has a collection of indigenous fishes, ornamental freshwater fishes, reptiles, mollusks and aquatic plants. Among these collections are: climbing perch, eel, mudskipper, mullet mudfish, Thai and native catfish, common carp, half beak, Japanese loach, snake skinned gourami, arowana, angel fish, golden shark, Jewel cichlid, tiger barb, zebra danio, etc.
The collected fishes reptiles, mollusks and aquatic plants are being studied and propagated by the CLSU Freshwater Aquaculture Center.
Fruit and Vegetable Seeds Center (FVSC) - Science City of Munoz, Nueva Ecija
FVSC was established by the provincial government of Nueva Ecija with the support of the Department of Agriculture and Central Lzuon State University to develop quality fruits and vegetable seeds. The center has a 10-ha farm area for production with pressurized irrigation system, greenhouses, laboratory, conference room, and modern farm machineries.
Philippine Carabao Center - Science City of Munoz, Nueva Ecija
The Philippine Carabao Center was created in 1993 as an offshoot of the Carabao Development Program, through Republic Act 7307 enacted in 1992. It is an attached agency of the Department of Agriculture, mandated to "conserve, propagate and promote the carabao as a source of draft animal power, meat, milk and hide, to benefit the rural farmers". Services at the center include: artificial insemination, bull loan, production of quality breeding animals and germplasm, technical assistance and training and carabao-based enterprise development. The center breeds and cross-breeds, through artificial insemination, animals called Murrah Buffaloes, a species of the dairy type from India, Bulgaria and some countries like North and Latin America. At the center, the male carabao (water buffalo) weighs 750 kg and counting while the female yields 17-20 liters of milk a day. These water buffalos at the gene pool look hugely different from the native carabaos that weigh and average of 350 kg while native dam gives a milk yield of a average of 1.5 liters per day. As of 2009, about 3.3 million native and crossbred carabaos were used mainly for draft purposes in sugarcane plantations and rice and corn farms, and for hauling. Through the PCC's 13 stations across the country, technology transfer on the care and production of carabaos, and teaching and encouraging rural families to engage in carabao enterprises are also pursued. The genetic transformation being done by the PCC, after conducting thorough research and development is through the production of semen
from imported bulls and its distribution for artificial insemination to native carabaos. The center also uses reproductive biotechnology called embryo transfer technology, or the test-tube technique. It takes three generations or 15 year to produce quality animals from cross breeding or to attain 87.5 percent genetic purity for the improved breed of native carabaos.
Philippine Rice Research Institute - Science City of Munoz, Nueva Ecija
The Philippine Rice Research Institute or PhilRice at Maligaya, Munoz, Nueva Ecija is a government - owned and controlled corporation that aims to to develop high-yielding and cost - reducing technologies so farmers can produce enough rice for all Filipinos. It is the central agricultural environment station - the only one of its kind throughout the country. It was created to develop and implement a natural rice research and development program, sustain the grains made in rice production and solve location-specific problems of the rice industry. A variety of rice wine is produced at the center.
Accessibility
Visitors can reach the province of Nueva Ecija by riding a bus from Manila via Cabanatuan City. There are bus lines (The five star, Philippine Rabit, Baliwag, Saulog transit and Victory Liner) that ply the routes to Nueva Ecija. Jeepneys and tricycles are available in the province as a common method of transportation around the province.
As with most towns in Central Luzon, inter-city transport is through the Pan-Philippine Highway (also known as Maharlika Highway/Asian Highway 26), the country's principal transport backbone. The principal mode of transport is through jeepneys with fixed routes, or through tricycles, whom you need to tell where to go.
Rating:
1 people rated this.