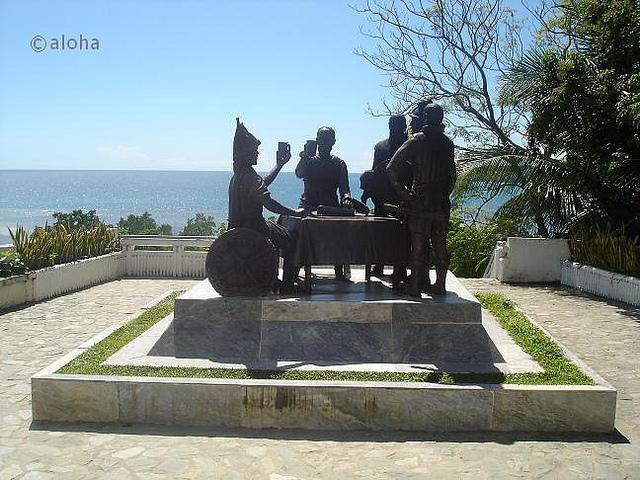 The historical province of Bohol recorded one of the very important events in the Philippine history, done between Miguel Lopez de Legazpi of Spain and Rajah Sikatuna of Bohol – Bohol Blood Compact Site.

Blood compact was an old ritual in the Philippines where tribes would cut their wrist and pour their blood into a cup filled with liquid and drink each other's blood as part of the tribal tradition to seal a friendship, pact, or treaty, or to validate an agreement. The cup, usually filled with wine, is mixed with blood and drank by both parties entering a mutual consent.

Sikatuna-Legaspi Blood Compact

This Sikatuna-Legaspi blood compact is considered as the First Treaty of Friendship between two different races, religions, cultures, and civilizations. It was a treaty of friendship based on respect and equality. This event is commonly known as "Sandugo". It took place in the island of Bohol in the 16th century. The ritual was made between the Spanish explorer Miguel López de Legazpi and Datu Sikatuna, the chieftain of Bohol.

Bool, Tagbilaran City is the former site of the blood compact. The National Historical Institute ruled that instead of the blood compact site as Bool, Tagbilaran City, it took place in Hinawanan, Loay, Bohol, 17 kilometers east of the city. Recent findings proved that Loay is the actual site of the blood compact between Legazpi and Sikatuna. The finding was contained in Resolution No. 04, Series of 2005, approved by the NHI on July 1, 2005, adopting the recommendation of a panel resolving the site of the Blood Compact.

The Bohol Blood Compact Marker was made by the National Artist, Napoleon Abueva. It is a life-sized image of men gathered around a table with Legazpi and Sikatuna, erected in 2006 by the National Historical Institute.

How to Get There

The place is just a short tricycle or cab ride from the city of Tagbilaran since Barangay Bool is still a part of the city. Buses or vans are available from the Dao Terminal. Rides to and from the place do not pose a problem since the site is located along the Carlos P. Garcia circumferential road where many transportations are available. Hotel guests and those on tour can request to drop by the Blood Compact Site. Also, some hotels have included it in their itineraries.
Near accommodations in Tagbilaran:

• The Peacock Garden - Upper Laya, Baclayon, Bohol, Philippines 6301
• Amorita Resort - Easter A. Lim Drive, Brgy. Tawala, Barangay Tawala - Panglao Island, Bohol, Philippines 6340
• Panglao Blue Water Beach Resort - Panglao Island, Danao Beach - Panglao Island, Bohol, Philippines
• Amun Ini Beach Resort & Spa - Bas Dako, Candabong, Anda, Bohol, Philippines 6311
• Eskaya Beach Resort and Spa - Barangay Tawala, Panglao, Bolod Beach - Panglao Island, Bohol, Philippines
Rating:
1 people rated this.