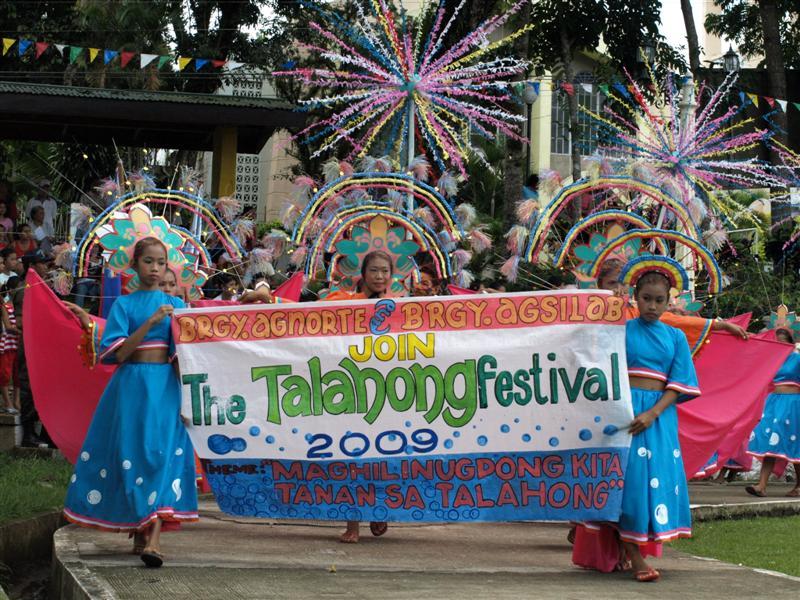 The province of Capiz becomes filled with revelry, dance and song as different towns take turns in showcasing the festive side of the people, and everyone is welcome to come join in the fun.

Capiz is a province of the Philippines located in the Western Visayas region. Its capital is Roxas City and is located at the northeastern portion of Panay Island, bordering Aklan and Antique to the west, and Iloilo to the south. Capiz faces the Sibuyan Sea to the north. Capiz is known for its mother-of-pearl shells that have the same name and are used for decoration, making lampshades, trays, and window doors. Capiz is known as the Seafood Capital of the Philippines.
The province of Capiz celebrates colorful fiestas every year. The locals hold these festivals yearly as a sign of thanksgiving for bountiful harvests. Townspeople also want to honor their town's and the province's patron saints.

Here is a list of festivals celebrated in the province:
Pangahaw Festival, January20
A thanksgiving for a bountiful harvest by the indigenous peoples of Jamindan. It is during this time when all the members of the family come together and share.
Hil-o - Hil-o Festival, Last Saturday of February
Connotes reciprocity that demonstrates the mutual interdependence among our people, expresses itself in many forms and in many ways.
Ilig Festival, Second Saturday after Easter
"Ilig" which means "a downstream or seaward travel" or "a trip in the direction in which a river flows," is a celebration which brings to mind the Dumalagnons' age-old practice of transporting their chief product, bamboo, baled together into rafts, sometimes laden with marketable foodstuffs, to places down Panay River, particularly to Capiz, now Roxas City. It is a tribute to this very useful woody grass, be it in butong, kawayan, dalusan or bulo, a main source of living for the townsmen whose resilience and patience in meeting the difficulties and challenges in life is comparable to that of the pliant and enduring bamboo tree. The festival also assumes some religious significance: it reminds the Dumalagnons that his day on earth is temporary, that he should be on a constant journey – "ilig" –towards heaven – his God's abode and also his real home – and that for such a venture he needs to load himself with strong faith and works of love and charity termed as taw-anay gugma. The highlights of the festival include Sadsad-Hapayhapay (street dancing), Tangkores (bayanihan), Kabutungan (bamboo trade fair), Biray-Lantay (fluvial parade at Panay River), Mapa-Suhot Kita! and other activities that will showcase the significance of bamboos. This celebration culminates on the 2nd Saturday after Easter, the Feast of Mary, Our Lady of Consolation, the secondary patroness of Dumalag
Inspired by the Maskara Festival of Bacolod City that started in 1988; it is a street dancing contest among groups dancing to the tune of the Latin beat garbed in colorful Caribbean costume; this is the centerpiece of the town's religious fiesta.
Lingga-anay Festival, May 1-4
A vivid and accurate interpretation of the Panayanons deep love for our birthplace and strong sense of responsibility towards our fellow Panayanons. It was inspired by the "Dakung Lingganay" or the big bell in which the town is well-known for.
Guyum-Guyuman Festival, May 9-15
Taken from the town's old name: "Caguyuman," meaning anthill. People from nearby municipalities of Pan-ay, Panitan, Maayon and Pres. Roxas would thrive in the marketplace like swarms of ants for trading. This rich tradition is now a celebration of life and thanksgiving for all "Caguyumanons."
Conceptualized during pre-spanish time where the Aetas brought their harvest into town for barter of the abundant catch of the fishermen. The upland people met with the fishermen on the seashore. The Hiligaynon term for the meeting of the upland people and the fishermen is "Tagbu."
Agdahanay Festival, June 4-13
Held in the honor of the town's patron saint: San Antonio de Padua, the festival gives due recognition to the Cuarterohanon's hospitality. "Agdahanay" means inviting and accommodating others. One whole week of fun, revelry, cultural activities and frenzied street dancing.
Tilibyugay sa Talahong, July 22-26
A 5-day event showcasing different activities like street dancing competition. The concept is based on the rituals on how to express gratitude for a bountiful harvest or a good catch, which features fishing and related activities. Seafood Cooking contest; Miss Tilibyugan sa Talahong Pageant; aqua trade fares; festival parade; barangay night; youth night; sports activities; parlor games cultural presentation and novelty shows are also culminated.
Hi-o-hanay Festival, June 22–24
A manifestation of culture inherent to Sigma as a cultural expression of symbiosis. It is the way showing this rich cultural tradition to the younger generation in order to let the Hil-o hanay spirit continue with passion. It gives honor to the noblest and highest virtue of "community-ness" of its people, their innate and common traits that keep the balance of their relationship with one another, their environment and their God, the crowning glory that fires their initiative to constant becoming - their search for culture of excellence.
Padagyaw Festival, August 1-5
Being held every year mirrors the spirit of unity and cooperation of its people shown in the street dancing and pista ng bayan. These are concrete examples of group effort. Ideas and concepts were turned into actions of well-rehearsed and well-executed play, dancers and graceful rendition of songs and dances. A delight to the eyes of the heart.
Pagpasidungog Festival, Aug. 1-10
Meaning to honor. The Panitan Municipal Government gives honor and recognition to every Paniteño who has given something for the social, cultural, educational and economic development of this town. Pagpasidungog honors those whose success in life gives inspiration to the young generation.
Buyloganay Festival, Sept. 6-10
"Buyloganay" is a word typical of Ivisan culture characterized by the gesture of unity and cooperation. It is celebrated every September 10 in honor of its patron saint, St. Nicholas of Tolentino.
Patabang Festival, Sept. 21–30
Based on the people's generosity of heart and the idea of "you'll help me and I'll help you," which is reflected in their way of life. "Pagpatabang" is one valuable trait of Tapaznons when it comes to some occasional time of hard work such as working in the farm during planting and harvesting season, transferring of the house from one place to another, preparing food during thanksgiving and many more. This bayanihan spirit is very common among the Tapaznon's simple way of life.
Pasalamat Festival, Sept. 20–22
In honor of the town's patron saint, Sto. Tomas de Villanueva, "Pasalamat" is the annual theme of the towns fiesta celebration. The occasion is an auspicious opportunity to highlight the town's rich culture and heritage, strengthen Daohanons Solidarity as a community ans as well as thanksgiving to God Almighty for the good health abs prosperity received through His blessings.
Inilusan Festival, November 20-25
First celebrated in 1975, the Mambusao is an annual cultural-religious festivity. This is a colorful pageant celebrated by way of recollecting the stories of Mambusao and depicting the historical and cultural growth of the town. Celebrated in honor of Saint Catherine of Alexandria, the term inilusan means the mutual and reciprocal giving and sharing of food and resources in generous measures and in the spirit of fraternal goodwill that permeates the daily life of Mambusaonons.
Sinadya sa Halaran, First week of December
Loosely translated as joyful in offering, the festival is a jovial celebration of thanksgiving and sharing of these blessings that took forms in programs and activities that depicts oneness of Capiznon with his Devine Source of blessings, with the blessings themselves and with humankind.
Where to Stay
Here is a list of hotels and inns for your stay in the province:
San Antonio Beach Resort -

Brgy. Baybay Roxas City
MVW Restaurant and Tourist Inn -

Roxas Ave. Roxas City
Roxas President's Inn -

Rizal Cor. Lopez Jaena St.
Baia Norte Beach Club -

Baybay Beach, Roxas City
Roxas Midtown Hotel -

NSF Bldg. Burgos Cor. San Jose Sts.
Urban Manor Hotel -

Pueblo de Panay, Lawaan, Roxas City
Where to Dine
Here is a list of some of the restaurants, bars and cafes located in the city:
Jo's Inato Kamayan Sa Ilog Restaurant -

Washington St. Roxas City
Coco Veranda Bar & Restaurant -

Lawis Baybay, Roxas City
Pizza Junction -

Rizal St, Roxas City
Cake Eatcetera -

Legaspi St. Roxas City
Arashi Bar & Restaurant -

Lawis Baybay Roxas City
Acc Coffee & Crepes -

Osmeña St. Roxas City
Café 1927 -

P.Gomez St. Roxas City
How to get there
Travel time to Roxas City is 45 minutes by plane and around 16 hours by ship from Manila. From Iloilo City, it is approximately 2 hours by bus or private car. It will take approximately 4 hours' travel going to Boracay Island by land. There are two (2) airlines operating in Roxas City (RXS): Philippine Airlines (PAL) and Cebu Pacific have a daily schedule flight from Roxas-Manila and Manila-Roxas. There is one passenger ship operating in Culasi Port, Roxas city, Capiz: Moreta Shipping Lines' M/V Love 1 which embarks for Capiz twice a week. There are also ferry boats that travel from Romblon and Masbate and also Roll-on Roll-off (ro-ro) Busses that treks through Capiz.

Capiz is part of the Strong Republic Nautical Highway, which is a major tourism gateway in Western Visayas. Roll On-Roll Off (Ro-Ro) buses are operating to fetch passengers from Roxas City to Manila (Cubao or Pasay) via Catiklan, Aklan-Mindoro-Batangas-Manila.

Jeepneys and Tricycles are the primary mode of transportation from one municipality to another. There is the "Capiz Cab", the city's new taxi that plies the streets of Capiz.
Rating:
0 people rated this.