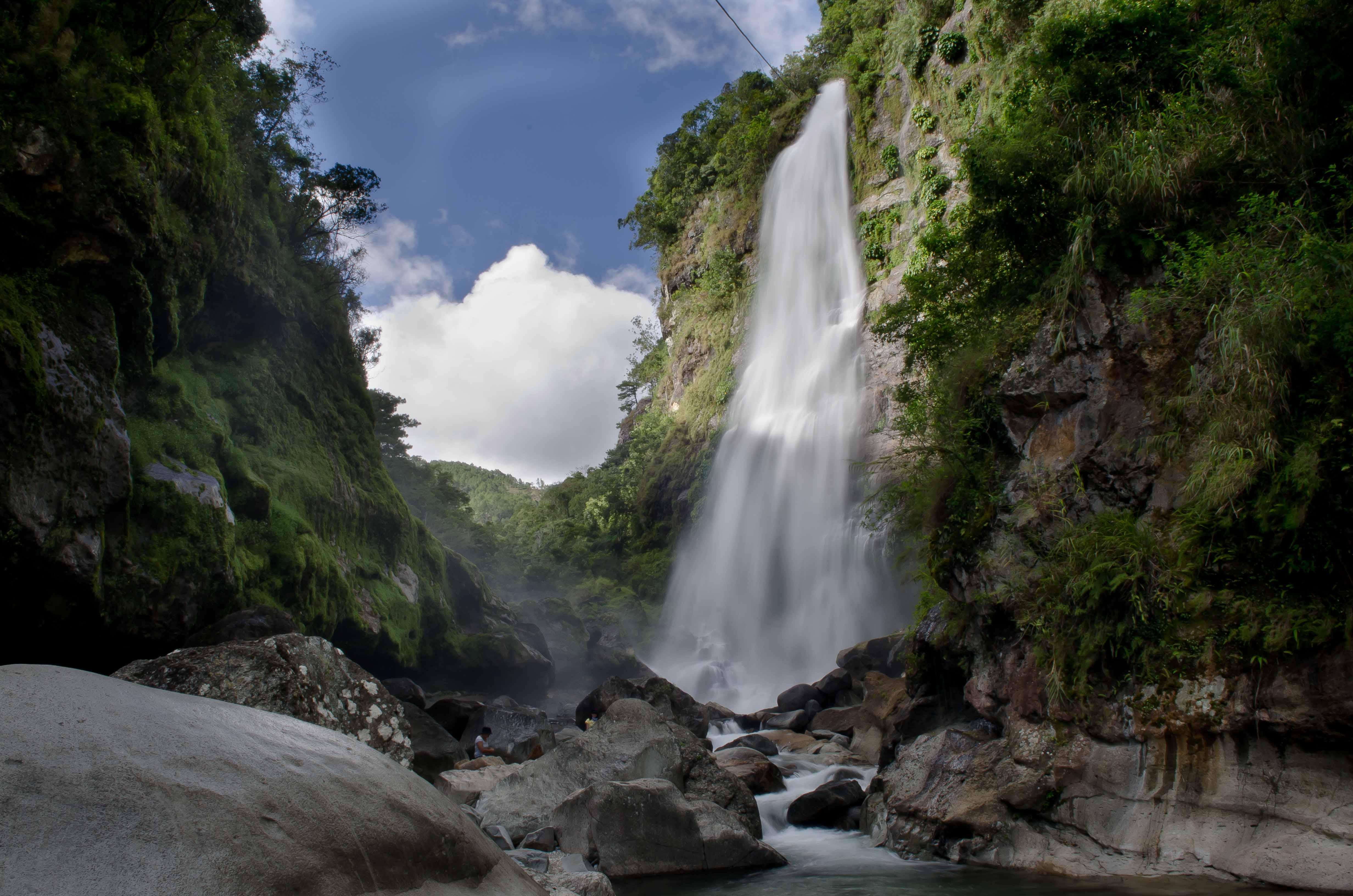 Sagada Falls

Sagada is situated in the Mountain Province of North Luzon. The Mountain of Sagada is pulsing with natural beauty and magnificent culture. This town is one of the most popular destinations in the whole province. Various tourist spots can be found here such as mountains, falls, caves, streams, and other attractions.Sagada is also considered as Shangri-la because of its natural wonders which are all beautiful and attractive to the visitors.
Sagada is well-known for its famous activities like hiking, exploring caves and waterfalls, camping, picnics, rappelling, visiting historical places, and joining with tribal gatherings.
Tourist Destinations:
Bomod-ok Falls – This waterfall is really breathtaking. It has an elevation of more than 200 feet. The water is very cold. The falls can be reached in almost two hours from the town center.
Bokong Waterfalls – This fall is located near the town center. The venue is very refreshing. You will enjoy the trek because you can spot the beauty of the rice terraces. It is smaller than the Bomod-ok.
Hanging Coffins – Sagada is also popular for its hanging coffins. You can spot coffins hanging on the cliffs of mountains. It is the traditional way of burying dead people during the olden days. Today, the tradition is not in use anymore. But based on the natives, there were requirements before someone would get buried that way – he/she should have been married and had children.
Lake Danum – Some people say that the lake is the best spot to watch the sunset here in Sagada. The place is ideal for picnics. The area is very peaceful. It is surrounded with green vegetation.
Mount Ampacao – This mountain offers a beautiful view of Sagada. It only takes about 90 minutes to reach the top of it.
Sumaging Cave – It is known as a hugest cave in Sagada. The exploration will take about six hours. Inside the cave you can spot different kind of rock formations. There's a stream inside the cave, which is very clean, clear and fresh. The town center has an official tour guide for guests who want to explore the cave.
Reminders:
All tourists should register first at the Municipal Tourism office situated in the municipal hall before touring and exploring the mountain. The registration fee is just 10.00 pesos per head. The officer in the hall will list you in the visitor's record so you will be identified.
Accommodations:
If you want to stay for many days, there are guest houses in Sagada that are for rent. There are also bed and hotel rooms. The rooms are not so fabulous like hotels in Manila but they are clean and very affordable. The people here are very nice.
Food:
There are plenty of restaurants and cafeteria in the area like Yogurt House, Lemon Pie House, Sagada's Log Cabin, St. Joseph Inn and Café and many more. Different kinds of Filipino dishes and desserts are also sold in the restaurants. You can choose whatever you want. Restaurant food is reasonably priced in Sagada.
Tours:
There are tour packages depending on your choice. There's already a matrix for the guide fees. The trick here is knowing the magic number for each tour activity. For example, it will be in your best interest to do sightseeing tours of six since that is the upper limit for a single-tour-guide group. If you push it to seven, you'll have to hire an extra tour guide.
For the simple caving, the magic number is four. For your own safety, it's really much better to have multiple guides if you have more than four/five people in your group.
The Sightseeing package would cost 400 for a group of 6, the caving – 400 for a group of 4 and the big falls 600 for group of 10. People who go to the Big Falls almost always hire a van for 550 to cut the hike time by half. You can also choose to go for the cave connection – that would cost 400/head regardless of how many you are in the group.
To experience all these in a group of four, set aside about 1000 per person. Sagada is an affordable venue for a wonderful vacation. It is rich and blessed with natural, cultural, and historical attractions.
Gallery

Sagada Mountains

Sagada Cave

Sagada Pond

Morning at Sagada

How to get there
You can choose in two routes going to Sagada, one is via Banue, Ifugao. From Manila, you can ride a bus plying in this route like Autobus and Dangwa Tranco which you can found in Sampaloc, Manila. The fare cost is around 300 - 500 php and the ride lasts for about 9 hours. Then, from Banaue, you can ride jeepney, mini buses, or vans travelling to Sagada. The ride costs about 250php and takes another 3-4 hours.
The other route is via Baguio, Benguet. From Manila, you can ride a bus from popular bus line like Victory Liner, Dagupan Bus Line and Philippine Rabbit to Baguio. The ride cost around 350- 500php. From Baguio, you can ride a bus in old Dangwa station at Center Mall on Magsaysay Road.
Rating:
1 people rated this.