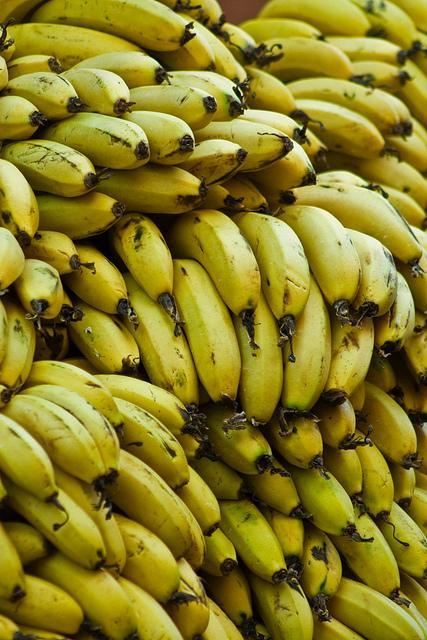 La Castellana, formerly known as "Lapak," is rural town located at the feet of Mt. Kanlaon at the province of Negros Occidental. The town was named after the famous "Paseo de La Castellana" in Madrid, Spain. The municipality of La Castellana is dubbed as the Banana Capital of Negros Occidental because it is abundant in different varieties of banana like Señorita, Latundan, Lacatan and Saba. La Castellana is also famous for its waterfalls natural springs which make the place beautiful and attractive to local and foreign tourists.
Banana Festival is a harvest festival which is held every first week of April. It opens on the first day of April. The festival is made to showcase banana as one of the town's agricultural products. It also highlights the annual feast day of San Vicente Ferrer – the towns' patron saint.
The festival holds a banana boat parade, wherein the boats are made of different parts of the banana tree. It can be the leaves, fruits, flowers or trunk. Some of the boats look like a big banana, designed in different shades of yellow. Some float designers put a lot of banana flowers and leaves in their float, making it look like a big garden.
The banana festival has a booth competition. Every booth has inviting decorations and the vendors need to sell the bananas that they've harvest. Fresh bananas line up along the streets in different arrangements. The prices are very cheap and the taste is sweet and delicious. There is also a variety of banana delicacies sold at the booths. You can order a "turon," a snack made of thinly sliced bananas dusted with brown sugar rolled in a spring roll wrapper and then fried. You can also have a banana cue. It is a deep fried banana coated in caramelized brown sugar. For dessert, there's the banana split, a lacatan coated with chocolate fudge and topped with peanuts and marshmallows. Yummy!! But of course, if you don't want it cooked, you can eat it straight.
The winner of the booth competition is the one who has the best decorations. The stall that best attracts the people who see it will win prizes aside from selling a lot of banana specialties.
They also have parade of muses wearing costumes. The costumes are made from banana materials. You can see ladies wearing beautiful costumes with different designs. You can see some dress made of banana leaves, sported like the minimal clothes of Adam and Eve. Others wear tribal costumes made of dried banana parts. There are also those who wear crowns and headdresses made of banana fruits.
The people of Negros Occidental, especially the municipality of La Castellana, are happy and proud with this fiesta. Their houses are adorned with bananas. The streets are filled with bananas. You can see bananas everywhere you look! It is definitely a pleasant sight – a whole community tinged with yellow and green, two bright colors expressing joy and love for nature. This festival is truly a fabulous one, but amidst the festivities is a collective sigh of gratitude for a bountiful banana harvest.
How to get there
By air
The gateway of Negros Occidental is the Bacolod City (Capital), which is 55-minute ride from Manila with Airlines companies that provide flights daily such as Philippine Airlines, Air Philippines and Cebu Pacific Air. From Bacolod City, there are bus terminals going to different towns of North Cotabato.
By sea
From Manila, there is a 20-hour cruise going to Bacolod and now, there is an 18-hour ride going to Iloilo via land and sea transport through RORO (Roll On Roll Off) vessels. From Iloilo, a 1-hour-boat ride to Bacolod. Then you need to ride a bus traversing the different towns of Negros Occidental and one of them is the town of La Castellana.
Rating:
0 people rated this.