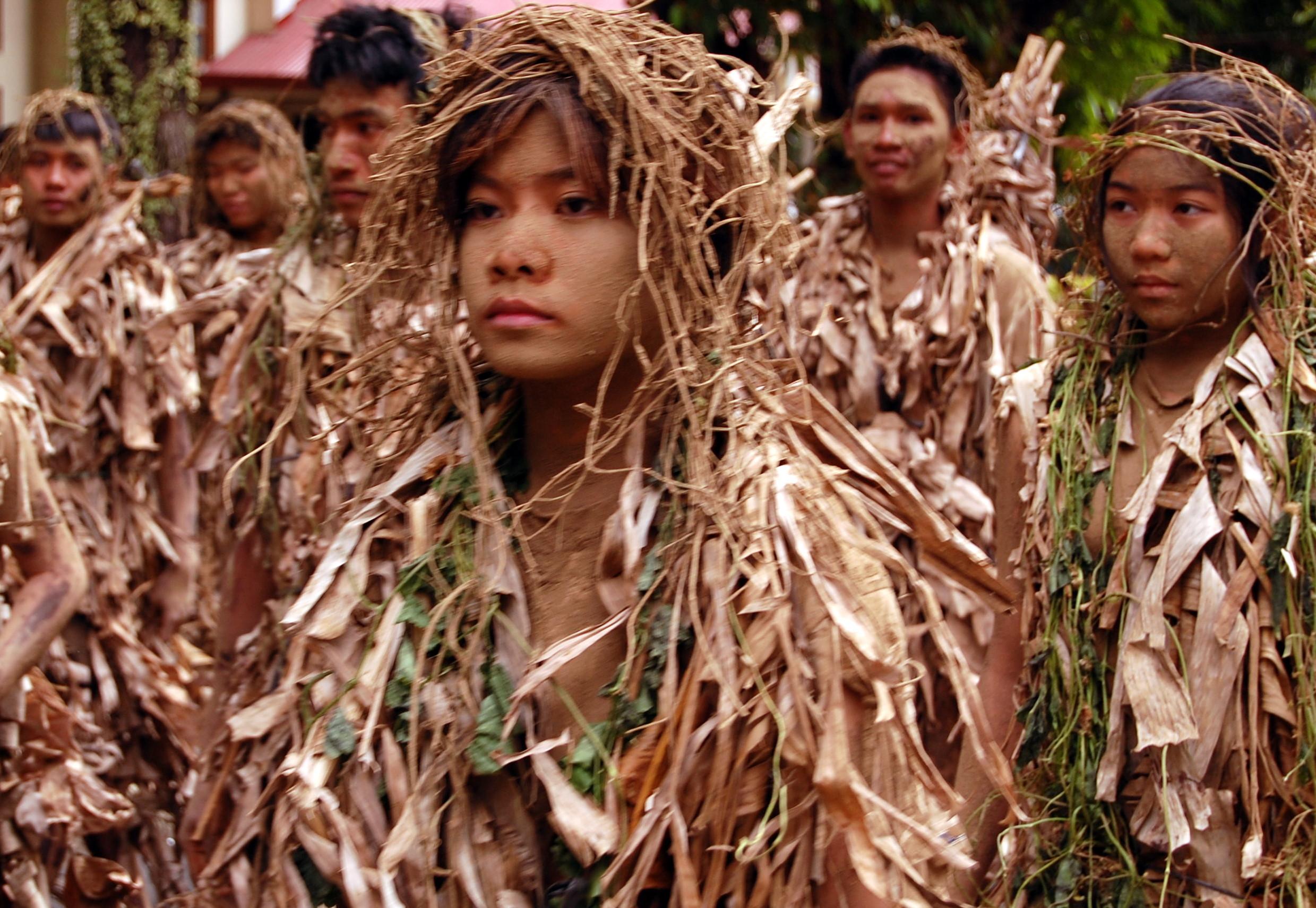 Taong Putik Parade during the Festival 2008
Taong Putik is an annual celebration in the province of Nueva Ecija. It is originated from a unique practice of the devotees of Saint John the Baptist in Bibiclat, Aliaga, Nueva Ecija. Their bodies are completely coated with mud and adorned with vines, banana leaves or dried coconut leaves to hide their identity and as an act of humility and penance.
The ritual starts as the curtain of the early dawn rises on June 24 - as the streets of Bibiclat become the stage for the unfolding of the performance of the devotees of the Fiesta ni San Juan Bautista. The taong putik (mud men) ask for alms and candles from the people and offering them at the church during the special mass celebrated at 7:00 in the morning. Devotees are also known as "San Juan or nag-sa-San Juan" by the townsfolk of Aliaga because they imitate Saint John the Baptist who hid his role as the chosen one to baptize Jesus Christ by wearing animal skin to deceive those who were after his head. A special mass and procession follow, with the taong putik in attendance. Thereafter, they wash up, symbolizing rebirth, They dress up and partake of the fiesta food and drink, music and merrymaking.
Date:

The festival is celebrated every 24th day of June, yearly.

Venue:
Aliaga, Nueva Ecija
Accommodations
Here is the list of hotels and resorts that can be found in the province of Nueva Ecija located in Cabanatuan City:
LA PARILLA HOTEL - Zulueta St., Melencio Corner Cabanatuan City

VILLAGE INN - Mabini Homesite, Cabanatuan City

FRED'S APARTELLE - 0728 Victoria Mansions, Bitas, Cabanatuan City

GREENLAND SUITES - Mampulog, Cabanatuan City

PRIME RESORT AND HOTEL - Mampulog Bitas, Cabanatuan City

HUNTER VALLEY PLANTATION & RESORT - Brgy. Cabu, Cabanatuan City

ACROPOLIS NORTH WATER CAMP & COUNTRY CLUB - Cabanatuan City
Restaurants (Cabanatuan City)
PLAZA LETICIA

ARCELI'S RESTAURANT

DE LUXE RESTAURANT

VICENTICO'S GRILL

ALLESANDRA'S RESTAURANT

CHARCOAL GRILL

Cafe CRISTINA RESTAURANT

RETRO BAR & RESTAURANT

MAX'S RESTAURANT

CIRCLES BAR AND RESTO

JOEY'S SNACK HOUSE

CAKELAND
FAST FOOD CHAINS
Jollibee, Mc Donald's, Kentucky Fried Chicken, Greenwich, Red Ribbon, Chowking, and Kenny Roger's Roaster are available at the NE Pacific Mall and Mega Center the Mall.
Accessibility
Visitors can reach the province of Nueva Ecija by riding a bus from Manila via Cabanatuan City. There are bus lines (The five star, Philippine Rabit, Baliwag, Saulog transit and Victory Liner) that ply the routes to Nueva Ecija. Jeepneys and tricycles are available in the province as a common form of transportation around the province.
Rating:
1 people rated this.