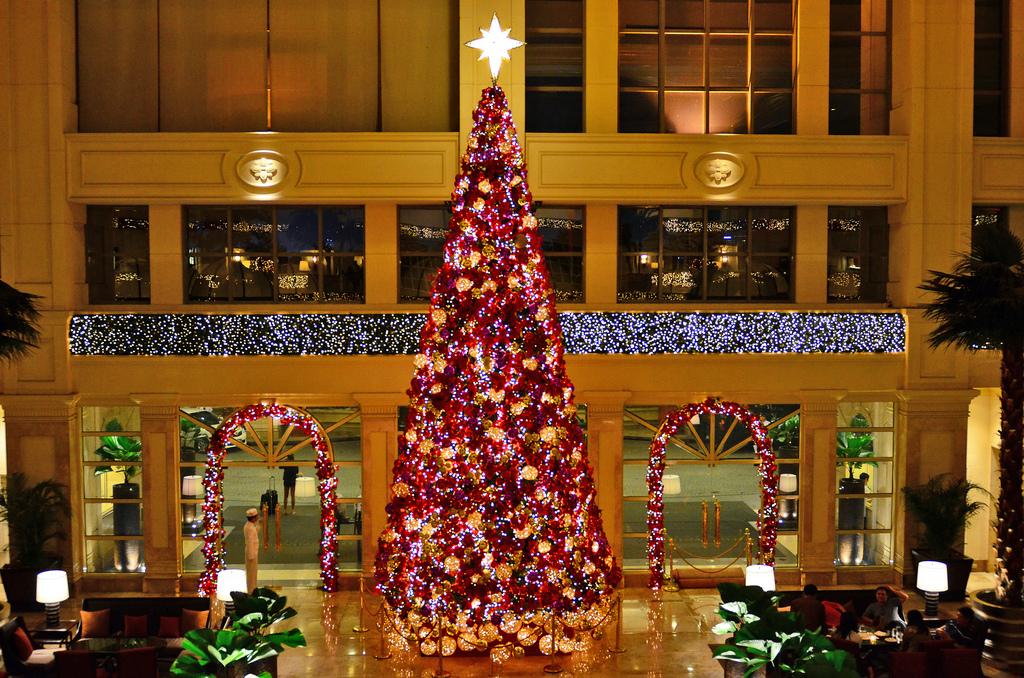 As early as September, we begin to feel the Christmas spirit when we start to see houses decorated with Christmas lights and lanterns, buildings wonderfully adorned and streets illuminated by colorful decor and lights. Giant Christmas trees are one of the attractions that add to the enjoyment of the holiday season for Filipinos of all ages. Let us discover some interesting things about this famous symbol of Christmas.
Christianity
Jeremiah 10:1-5 in the Bible says the following (NIV):
1 Hear what the LORD says to you, O house of Israel. 2 This is what the LORD says: "Do not learn the ways of the nations or be terrified by signs in the sky, though the nations are terrified by them. 3 For the customs of the peoples are worthless; they cut a tree out of the forest, and a craftsman shapes it with his chisel. 4 They adorn it with silver and gold; they fasten it with hammer and nails so it will not totter. 5 Like a scarecrow in a melon patch, their idols cannot speak; they must be carried because they cannot walk. Do not fear them; they can do no harm nor can they do any good."
This is interpreted by some Christians as referring to a Christmas tree, and that therefore the Bible would explicitly forbid the practice. However, the more common interpretation is that the passage refers to idol worship, and it is the practice of making an object out of wood, silver, and gold, and then worshiping that idol which is pagan. Thus, as long as you are not planning to worship the Christmas tree per se, there is no issue.
Tannenbaum – A Coniferous Tree
A Christmas tree or Tannenbaum is one of the most popular traditions associated with the celebration of Christmas. It is normally an evergreen Pinophyta|coniferous tree that is brought into a home or used in the open, and is decorated with Christmas lights and colorful Christmas ornament during the days around Christmas. An angel or star is often placed at the top of the tree.
A Piece of History
With likely origins in European pre-Christian pagan cultures, the Christmas tree has gained an extensive history and become a common sight during the winter season in numerous cultures. Some have pointed out that the Bible condemns the use of a tree for religious purposes. The Book of Jeremiah states: "For the customs of the peoples are false: a tree from the forest is cut down, and worked with an ax by the hands of an artisan people deck it with silver and gold they fasten it with hammer and nails so that it cannot move. However, the Bible's condemnation is restricted to using trees as an idol for the purpose of idol-worship. It is not customary for Christians to worship Christmas trees.
The Christmas tree is often explained as a Christianization of the ancient pagan idea that the evergreen tree represents a celebration of the renewal of life. In actuality, when the Roman Empire was converted en masse to Christianity, many cultures did not give up their pagan ideals and traditions and so they were incorporated into the Christmas tradition. If the old church wanted to remove a tradition or religion, they did. For example the Serapem in the Library at Alexandria was destroyed because it had Pagan Idols.
Ancient Roman mosaics from what is today Tunisia, showing the mythic triumphant return from India of the Greek mythology god of wine and male fertility, Dionysus (dubbed by some modern scholars as a life-death-rebirth deity), and the god carries a tapering coniferous tree. This Christianization process is arguably seen in the Old English poem the Dream of the rood, in which the tree is the Crucifixion of Jesus on which Jesus was crucified. The poem also refers to the Tree of knowledge of good and evil in Genesis.
Medieval legends tended to concentrate more on the miraculous "flowering" of trees at Christmas time. A branch of flowering Glastonbury thorn is still sent annually for the Queen's Christmas table in the United Kingdom.
The modern custom cannot be proved to be directly descended from pagan tradition. It can, however, be traced to 16th century Germany; Ingeborg Weber-Kellermann (Marburg professor of European ethnology) identified as the earliest reference a Bremen guild chronicle of 1570 which reports how a small fir was decorated with apples, nuts, dates, pretzels and paper flowers, and erected in the guild-house, for the benefit of the guild members' children, who collected the dainties on Christmas day. Another early reference is from Basel, where the tailor apprentices carried around town a tree decorated with apples and cheese in 1597.
The First Christmas Trees
The city of Riga, Latvia, claims to be home of the first holiday tree; an octagonal plaque in the town square reads "The First New Year's Tree in Riga in 1510", in eight languages. Around this same time period, and subject to much debate as to whether the event occurred before the Riga holiday tree, Martin Luther is said to have decorated a small tree in house to symbolize the way the stars shined at night. During the 17th century, the custom entered family homes. One Strasbourg priest, Johann Konrad Dannerhauer, complains about the custom as distracting from the Bible|Word of God.
Several cities in the United States lay claim to that country's first Christmas tree. Windsor Locks, Connecticut, claims that a Hessian soldier put up a Christmas tree in 1777 while imprisoned at the Noden-Reed House, thus making it the home of the first Christmas tree in New England. The "First Christmas Tree in America" is also claimed by Easton, Pennsylvania, where German settlers purportedly erected a Christmas tree in 1816. In his diary, Matthew Zahm of Lancaster, Pennsylvania, recorded the use of a Christmas tree in 1821 -- leading Lancaster to also lay claim to the first Christmas Tree in America. Other accounts credit Charles Follen, a German immigrant to Boston, for being the first to introduce to America the custom of decorating a Christmas tree.
World's Famous Christmas Trees
Many cities, towns, and department stores put up public Christmas trees outdoors for everyone to enjoy, such as the Rich's Great Tree in Atlanta, Georgia|Atlanta, the Rockefeller Center Christmas Tree in New York City and the large Christmas tree at Victoria Square in Adelaide. During most of the 1970s and 1980s, the largest Christmas tree in the world was put up every year on the property of The National Enquirer in Lantana, Florida. This tradition grew into one of the most spectacular and celebrated events in the history of southern Florida, but was discontinued on the death of the paper's founder in the late 1980s.
Other Gimmicks in Decorating Christmas Trees
Since the late 1990s, many indoor artificial trees come pre-strung with lights. Some are instead lit partly or completely by fiber optics, with the light in the base, and a rotating color wheel causing various colors to shimmer across the tree.
In 2005 Upside Down Christmas Trees became popular. They were originally sold as decorations for merchants that allowed customers to get closer to ornaments being sold. Customers then wanted to replicate the inverted tree. Retailers also claimed that the trees were popular because they allowed larger presents to be placed beneath the trees. Upside down Christmas trees come in three varieties: stand-alone, ceiling, and wall. The stand-alone trees like the one in the picture above have a flat base. Ceiling trees have a base that can be bolted into a ceiling, and wall trees are generally half of a tree, that are bolted to a wall.
Past gimmicks include small talking or singing trees, and trees which blow "snow" (actually small styrofoam beads) over themselves, collecting them in a decorative cardboard bin at the bottom and blowing them back up to the top through a tube hidden next to the trunk.
A long-standing and simple gimmick is conifer seedlings sold with cheap decorations attached by soft pipe cleaners. Real potted ones are often sold like this, and artificial ones often come with a "root ball" but only sometimes with decorations.
A Singing Christmas Tree
A Singing Christmas Tree, sometimes called a Living Christmas Tree, is an artificial Christmas tree filled with singers used as part of nativity plays. First appearing in 1933 in Mississippi, they later made their debut indoors in 1958 in North Carolina. Constructed of steel, the tree is actually a conical circular sector where between one-third and one-half of an actual Christmas tree is shown. Depending upon tree size, they can accompany between 30 and 450 singers. These trees can be put up by churches or communities depending upon the location. Since then, the singing Christmas tree concept has spread to Canada, the Philippines, South Korea, and Switzerland. The most attended tree takes place in Knoxville, Tennessee, with 60,000 attendees in 2007.
Decoration and ornaments
Tinsel and several types of garland or ribbon are commonly used to decorate a Christmas tree. Delicate mould-blown and painted colored glass Christmas ornaments were a specialty of Czech and Polish glass factories from the late 19th century, and have since become a large industry, complete with famous-name designers. Lighting with candles or electric lights (fairy lights) is commonly done, and a tree topper completes the ensemble. Strands of tinsel may be hung in groups from longer branches to simulate icicles, though this trend has gradually fallen off since the late 1970s. Baubles are another extremely common decoration, and usually consist of a fairly small hollow glass or plastic sphere coated with a thin metallic layer to make them reflective, and then with a further coating of a thin pigmented polymer in order to provide coloration.
Individuals' decorations vary wildly, typically being an eclectic mix of family traditions and personal tastes; even a small unattractive ornament, if passed down from a parent or grandparent, may come to carry considerable emotional value and be given pride of place on the tree. Conversely, trees decorated by professional designers for department stores and other institutions will usually have a "theme"; a set of predominant colors, multiple instances of each type of ornament, and larger decorations that may be more complicated to set up correctly.
Many people also decorate outdoor trees with food that birds and other wildlife will enjoy, such as garlands made from unsalted popcorn or cranberries, orange halves, and seed-covered suet cakes.
Tree mats and skirts
Since candles were used to light trees until electric bulbs came about, a mat (UK) or "skirt" (US) was often placed on the floor below the tree to protect it by catching the dripping candle wax, and also to collect any needles that fall. Even when dripless candles, electric lights and artificial trees have been used, a skirt is still usually used as a decorative feature: among other things, it hides the tree stand, which may be unsightly but which is an important safety feature of home trees. What began as ordinary cloth has now often become much more ornate, some having embroidery or being put together like a quilt.
A nativity scene, model train, or Christmas village may be placed on the mat or skirt. As Christmas presents arrive, they are generally placed underneath the tree on the tree skirt (depending on tradition, all Christmas gifts, or those too large to be hung on the tree, as in "presents on the tree" of the song "I'll Be Home for Christmas").
Generally, the difference between a mat and skirt is simply that a mat is placed under the tree stand, while a skirt is placed over it, having a hole in the middle for the trunk, with a slot cut to the outside edge so that it can be placed around the tree (beneath the branches) easily. A plain mat of fabric or plastic may also be placed under the stand and skirt to protect the floor from scratches or water.
Flocking a Christmas Tree
In the 1940s and 1950s flocking was very popular on the West Coast of the United States. There were home flocking kits that could be used with vacuum cleaners. In the 1980s some trees were sprayed with fluffy white flocking to simulate snow. Typically it would be sprayed all over the tree from the sides, which produced a look different from real snow, which settles in clumps atop branches. Flocking can be done with a professional sprayer at a tree lot (or the manufacturer if it is artificial), or at home from a spray can, and either can be rather messy. This tradition seems to be limited mostly to the West Coast of the United States.
Rating:
2 people rated this.