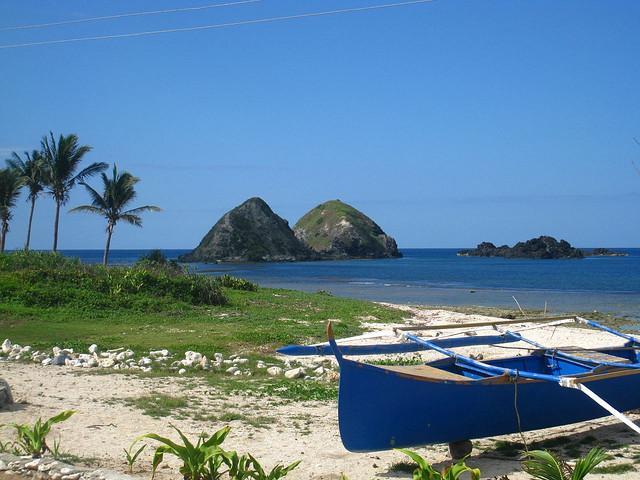 A fascinating wonder of nature that can be found in Barangay Balaoi are two identical mountains called the Dos Hermanos Island. These are two rock formations located off the northern coast of Maira-ira Point in Pagupud, Ilocos Norte. Dos Hermanos or the Twin Islands is one of the natural landmarks of Pagudpud often asked about by visitors throughout the country.
Dos Hermanos: A story of two brothers
Stories passed down from generation to generation tell of two brothers who were very close to each other that they vowed to remain together until death. One day, they went fishing and while at sea, they were caught in a storm and subsequently drowned. The extreme bond they shared touched the heart of a goddess, who turned them into the two mountains seen today, still together through the passage of time.
Travel to Don Hermanos Islands:
From Manila one can go by land or by plane.
• By Bus: Take a bus bound for Laoag. Travel time is 10-12 hours so going by night is advised. Several bus companies such as Partas, GV Florida Transport, Dominion Bus Lines, Philippine Rabbit and Fariñas Transit have regular trips that will take you directly to Laoag City. Check out their websites for the trip schedules.
• By Plane: Take a direct flight from Manila to Laoag via Cebu Pacific or Philippine Airlines. Travel time is about an hour.
From Laoag to Pagudpud:
• Take a bus or van bound for Claveria Cagayan, and it will pass by the town of Pagudpud, which is the last town before reaching Claveria, Cagayan. Travel time is 1.5 hours.
Accommodations in Pagudpud are also available:
• Kingfisher Sand Sea Surf Resort - Sitio Ayoyo, Brgy. Caparispisan, Pagudpud (Ilocos Norte), Ilocos Region, Philippines
• Terra Rika Beach & Dive Resort - Saud, Pagudpud (Ilocos Norte), Ilocos Region, Philippines
• Pannzian Beach Mountain and Resort - Barangay Pancian, Pagudpud (Ilocos Norte), Ilocos Region, Philippines
Rating:
0 people rated this.