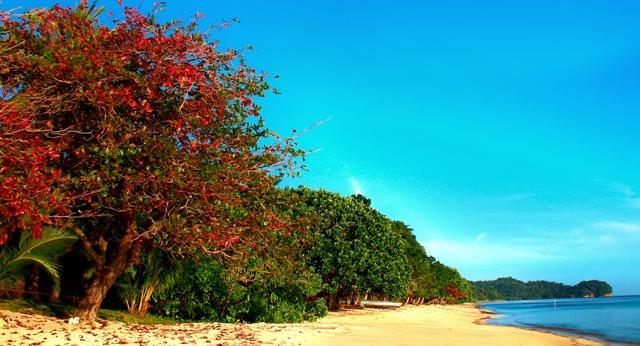 Sunny and endless beaches await in the province of Catanduanes, which is why it is becoming the next top vacation spot locally and beyond. One of these beaches is Mamangal, a great location with sparkling blue water and endless white sand.
The whole stretch of Mamangal continues to amaze visitors with its unspoiled beauty--an asset which the locals within the area guard zealously. The sprawling beach is covered with the cool and shady trees and blessed with fine white sands, both in the shorelines and in the swimming area. Crystalline waters abound with natural and colorful reefs where a big number of species swarm in multi-colored panorama. The underwater scene at Mamangal is a destination for scuba divers.
The beach is dotted with palms and other trees where locals spend their weekends with their families. The sands are white, and the beaches freshly lined with cool and sandy trees. Pavilions and sheds are also constructed to accommodate swimmers. The beach provides an alternative area for recreation, fun, relaxation, and very ideal for weekend picnics and scuba diving.
Location
The Mamangal Beach is located at Barangay Balite in the town of Virac in the province of Catanduanes.
How to get there
By Air
Zest Air and Cebu Pacific fly from Manila going to Virac, Catanduanes.
By Land and Water
Numerous bus lines operate air-conditioned coaches from Manila to Tabaco, Albay. From the seaport of Tabaco, hop on either at MV Calixta 2, 4 and 5 or MV Eugene Elson to reach the island of Catanduanes going to the seaport of San Andres or Virac.
Another way is to take RSL bus from Manila to Catanduanes that has terminals at Alabang near Metropolis or Ermita.
From Virac, Mamangal beach is about a 20-minute drive.
Going around the Island
Tricycle is the primary mode of transport within the capital town of Virac. PUJs and buses ply from Virac to the different municipalities daily on scheduled time. For the more daring and adventurous, the entire province could be reached by motorcycle.
Accommodations
• Terrazas de Ponti Mansions - Real Street, Calatagan Proper, Virac, Catanduanes
• JM Pension House - Gogon, Virac, Catanduanes
• Villa Tolledo Travel Lodge - Sta. Elena, Virac, Catanduanes
• Monte Verde Lodge - Danicop, Virac, Catanduanes
• Nitto Lodge - Cavinitan, Virac, Catanduanes
• Moonwalk Villa Resort - Moonwalk, Virac, Catanduanes
Rating:
0 people rated this.