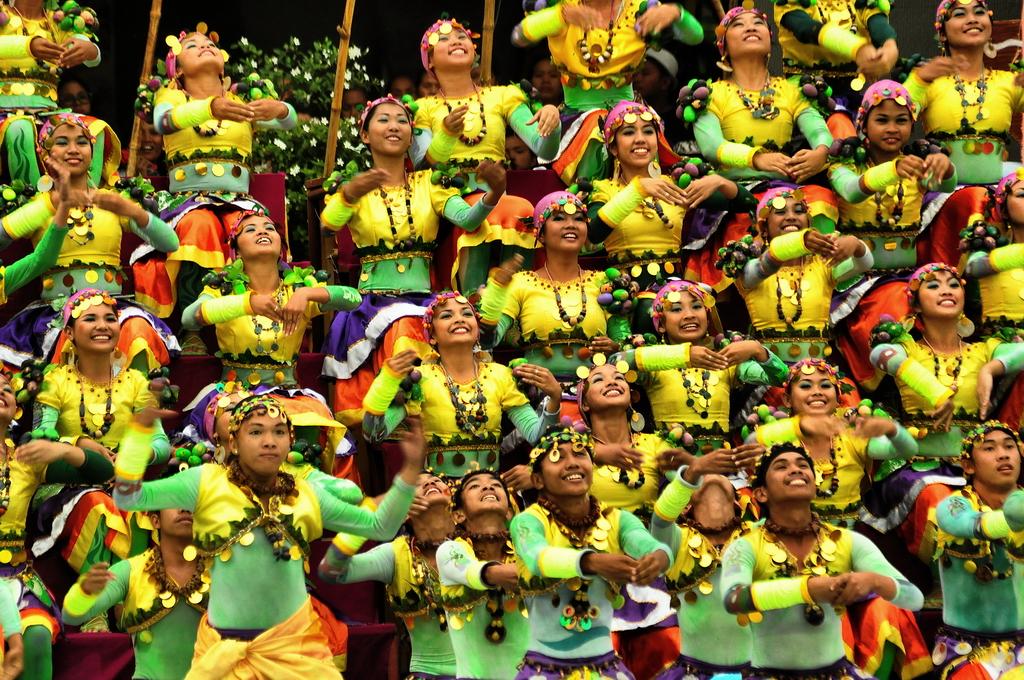 Tinagba Festival 2012
Overview
Tinagba Festival is a yearly celebration in Iriga City, Camarines Sur during the month of February. It is a harvest-offering occasion that also celebrates the feast of Our Lady of Lourdes. The festival originally started from the rituals of the earliest Bicolanos who offered their harvest to their gods as a way of thanksgiving and requesting for a more abundant harvest.
This festival in Bicol is all about offering the first harvest of crops and fruits. The event features a long procession of floats that are being pulled by carabaos.
There is a parade in carabao-drawn carts or motored floats packed with the best of the province's products. It's very colorful and made more amazing with marching bands producing lively sounds. The procession ends at the foot of the Emerald Grotto located at the top of Calvary Hill. After that, a mass is held, and later on, there is a distribution of the agricultural products to needy families in the town.
The highlight of the festival and the most awaited event by the viewers is the competition of street dancing.
The last celebration paved way to the introduction of the town's Science and Technology Park. Some of the activities done in the celebration are acrobatics, animalandia, quiz contest, film showing, techno dance competition, wall climbing, and science exhibit. One of the main programs in the celebration is a contest for Miss Rinconada and Miss Tourism. There's also a celebration for the Charter Foundation Anniversary of city.
Iriga City is fast rising as a modern town in the Bicol province which also offers wonderful tourist destinations. The people in the province are also known as Bicolanos; they are very hospitable and kind to their visitors.
Iriga is well known as the City of Crystal Clear Springs, with more than 30 natural springs scattered all over the area. It is also popular for its most famous natural landmark, the majestic Mt. Iriga, that offers a fascinating and breathtaking scenery of the Bicol River basin area.
Objective
Aside from offering their first harvest as a traditional celebration, the local government in the province also wants to promote eco-tourism in the city of Iriga by presenting their prides and originalities in the festival celebration.
Activities/Events
Extreme Bike Challenge

Tourism Expo

Inauguration of the Eco-Adventure Park

Youth Congress on Values Formation, Environment and Art Appreciation

Opening of the International Davis Cup Tennis Tournament

Mayor's Night

Exhibits

Film Showing

Sports Competition

Beauty Contest (Miss Iriga, Miss Tourism and Miss Rinconada)

Parade

Street Dance Competition

Last day of International Davis Cup Tournament
Gallery

Accommodations
Here is the list of some of the hotels in Iriga City, Camrines Sur
Parkview Hotel - San Roque, Iriga City - Camarines Sur, Bicol

Asog County Hotel - Highway 1 San Isidro , Iriga City - Camarines Sur, Bicol

Bersabaren Garden Resort - E. Corporal Street, San Isidro, Iriga City - Camarines Sur, Bicol
Accessibility (Camarines Sur)
By Air
From Manila, Cebu Pacific flies 3 to 4 times a day; Air Philippines/PAL Express flies twice per day (45 mins) and Zest Air flies daily to the Naga Airport (actually in Pili about 10kms East of Naga)
By Land
You can go to Cubao Terminal or Pasay Bus Terminal where buses going to Naga Camarines Sur can be found.
Buses operate daily going to Bicol:
Bus lines (Cubao) - Gold Line Tours, Isarog Lines, RSL, Raymond, Peñafrancia Tours, etc.

Bus lines (Pasay) - AMihan Bus and PhilTranCo.
Getting around the city
In downtown Naga City you can be able to roam around the place just by foot. If you don't prefer walking, tricycles and jeepneys are the main transportation and taxis are also available.
Trisikad, padyak or manpowered tricycles are also available in areas that mostly aren't included in jeepney and tricycle routes.
Buses, vans and Jeepneys are mostly used for traveling outside the city going to the connecting towns of Camarines Sur.
For other municipalities, jeepneys, tricycles and trisikad are available as a mode of transportation around the province.
Rating:
0 people rated this.