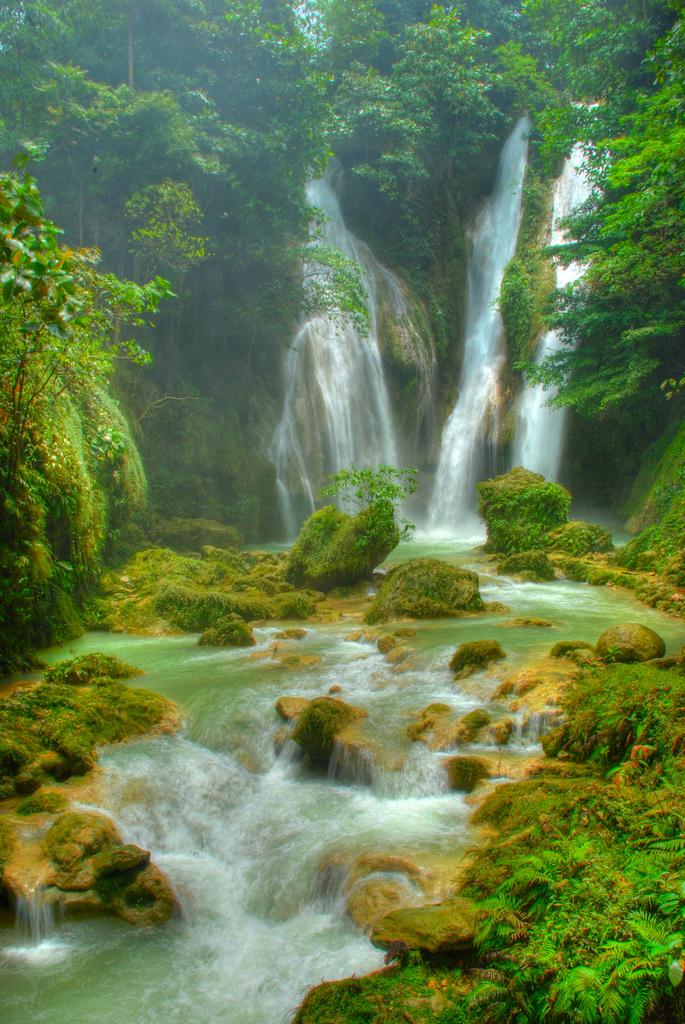 Mag-aso Falls got its name "Mag-aso" from the local dialect aso, meaning smoke. Mag-aso Falls is a place in Bohol that is overflowing with the beauty of nature. I came up with a short description of Mag-aso Falls and why it must be one on top of your must-visit list.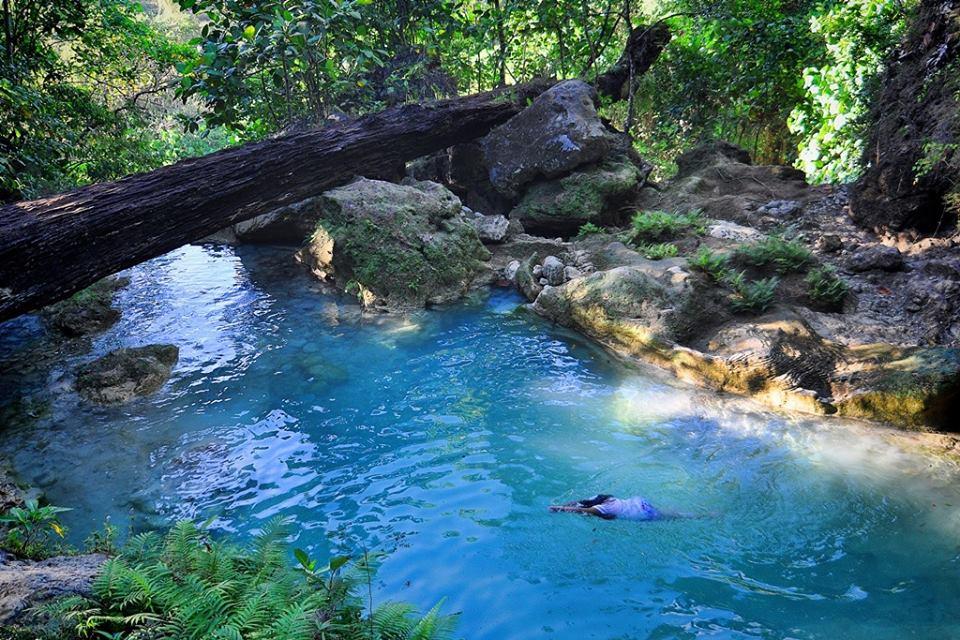 With a height of 25 feet, Mag-aso Falls is a twin falls surrounded by a foliage of forest. The falls is home to a diverse variety of plants including wild plants, giant ferns, and deep ravines. There is a deep natural pool carved out through the cascading waters.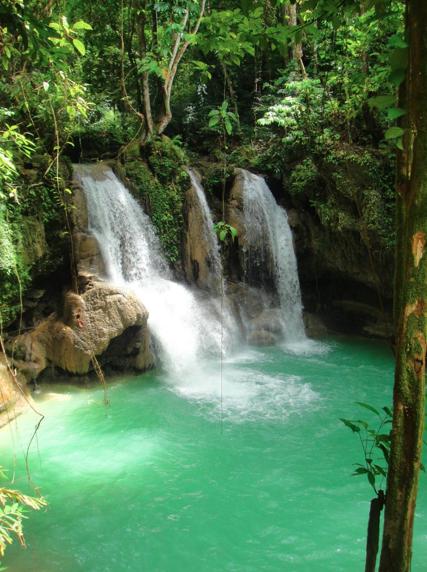 Be delighted! Featuring the scenic limestone, Mag-aso Falls offers much pleasure to every visitor. You may feel delight in the middle of a jungle, hearing the sound of the interminable chirping of the birds and the rush of flowing waters playing music to your ears.

Be thrilled! There are 197 steps with metal handrails leading towards the falls. The rough and challenging terrain of the falls can give much thrill to your adventurer spirit before embracing the falls.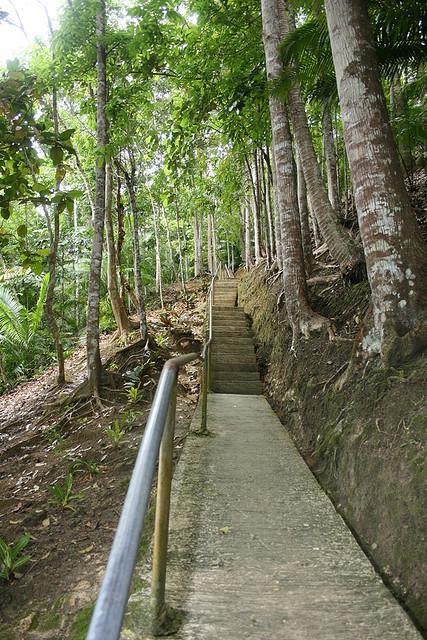 You must have endurance to trek its slippery steps and climb with the use of shrubs and stones as foothold and vines to pull you up. Visitors are advised to take the steps slowly and leisurely.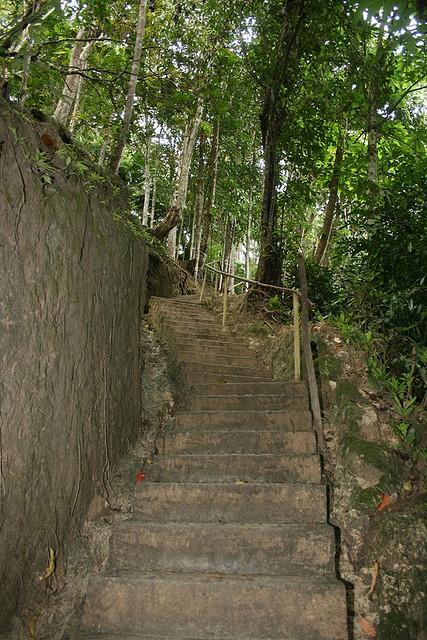 Be Pleasured! A hard trek to the falls will be washed away as you reach its highest point.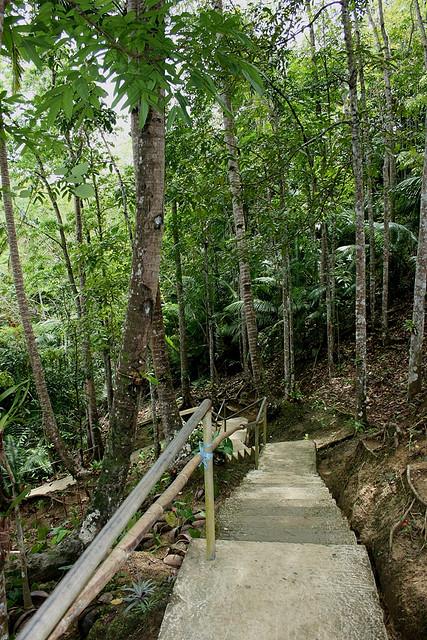 Swimming to its pool may give a refreshing dip and a relief after a long hike. Being on top of the falls will give you the view of the water streaming down through the rock boulders to the lagoon below.

How to Get There
Bohol is located in the Central Philippines and can be conveniently reached by air or boat. From Manila, just take a flight to Tagbilaran, which takes about 1 hour and 15 minutes. It is also possible to take a boat to Bohol, but will take 25 hours, and is only advisable if you have plenty of time at hand and enjoy a trip on sea, or have to travel on a rock-bottom budget or with a lot of luggage. Currently, there are numerous daily flights from Manila to Tagbilaran.

The Mag-aso Falls is located in the barrio of Mag-aso, Antequera, Bohol. It is about 20 kilometers from Tagbilaran City, roughly a 30 minutes ride away. For the traveler who wants to visit the falls, the area where the falls is located is very accessible. Buses and jeepneys ply the route to the town from Tagbilaran City. At the town proper, tricycles and motorcycles are available to bring you to the falls.
Accommodations in Tagbilaran:
• The Peacock Garden - Upper Laya, Baclayon, Bohol, Philippines 6301
• Amorita Resort - Easter A. Lim Drive, Brgy. Tawala, Barangay Tawala - Panglao Island, Bohol, Philippines 6340
• Panglao Blue Water Beach Resort - Panglao Island, Danao Beach - Panglao Island, Bohol, Philippines
• Amun Ini Beach Resort & Spa - Bas Dako, Candabong, Anda, Bohol, Philippines 6311
• Eskaya Beach Resort and Spa - Barangay Tawala, Panglao, Bolod Beach - Panglao Island, Bohol, Philippines
• Punta Cruz Diving Resort - Barangay Punta Cruz, Maribojoc, Philippines
• Nipa Hut Village Loboc - Valladolid, Loboc Near Maribojoc, Philippines
• Mabuhay Breeze Resort - National Highway 3778, Panglao Island Near Maribojoc, Philippines
• Hope Homes - Daorong, Danao, Panglao Island Near Maribojoc, Philippines
• Ocean Bay Beach Resort Cebu - Poblacion, Dalaguete, Dalaguete Near Maribojoc, Philippines

Rating:
0 people rated this.